CTG IT Solutions awarded Best Workplaces Europe
CTG IT Solutions has been named one of the Best Workplaces in Europe during the ceremony that took place on Thursday September the 21rst. After being certified Great Place To Work in Luxembourg and Belgium, and awarded #1 Best Workplace Luxembourg earlier this year, we were very proud to be part of the list of the companies in Europe to receive this recognition.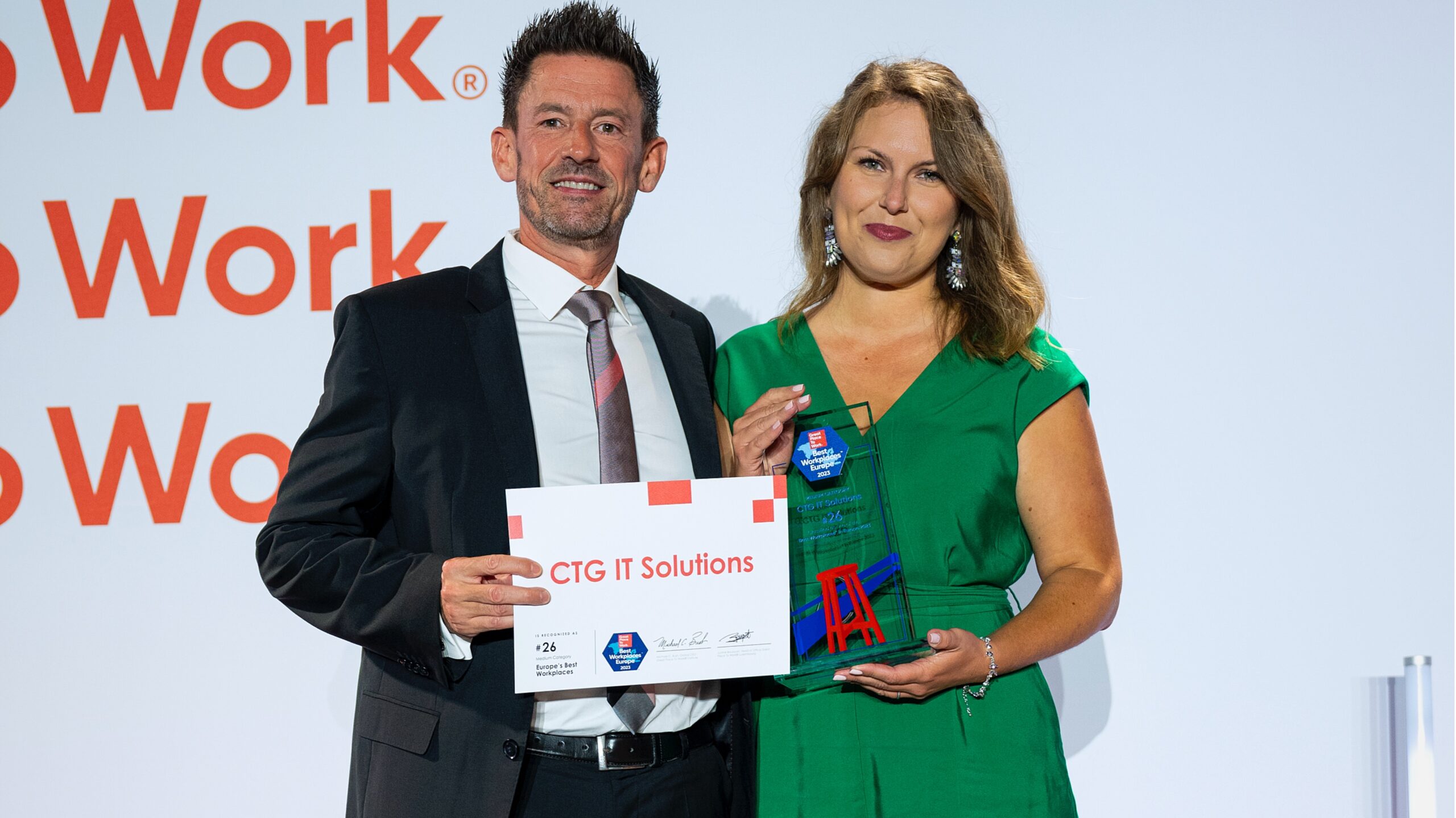 Best of all, our own colleagues are responsible for this achievement. They filled in the world-renowned Great Place To Work (GPTW) Trust IndexTM employee survey – designed to gain insight into how people feel about their employer and their work environment. The result? We're not only one of the Best Workplaces in our own country, but in all of Europe !
Reflecting the trust
The Trust Index employee survey is designed to illustrate how specific employee perceptions can influence their level of trust in their employer, and in the company's culture. More than 2.6 million European employees were asked to describe how they felt about their work environment. They ranked their employer on statements ranging from 'This is a psychologically and emotionally healthy place to work' to 'I feel I receive a fair share of the profits my company makes'.
Statements touch on a variety of elements related to respect, recognition, transparency and camaraderie – all elements that the Great Place To Work organization uses to determine just how great a workplace is. Through extensive research and experience, Great Place To Work is able to determine what it takes to make a company culture trustworthy, safe, and healthy for employees.
Determining the list
To be recognized as one of the Best Workplaces in Europe, a company must first rank very highly among other companies of the same size in their own country. Then, the highest-ranking companies of every size in each country are ranked in a single European list. Of the 3,350 participating companies – small, medium, large and multinational – only 150 Best Workplaces in Europe have been selected.
Happy People Produce Quality
"Mutual trust between our employees and CTG is the foundation of our shared success. In a world increasingly governed by numbers and algorithms, being recognized as one of the best workplaces in Europe is a source of immense pride for CTG IT Solutions. The trust of our employees proves that another path exists, and that we are on the right track.
We will continue to do what is necessary, and more, so that our consultants remain at the heart of our strategy, all together" said Frédéric Ribordy-Moullec, Managing Director. At CTG IT Solutions, we create a supportive and empowering work environment, to enable our colleagues to grow both personally and professionally. Together, we work towards a shared vision of growth, innovation and success. Happy People Produce Quality !