q-leap is very pleased to introduce you to the newest additions to its team!
q-leap team has grown in strength, due to incredible new talent !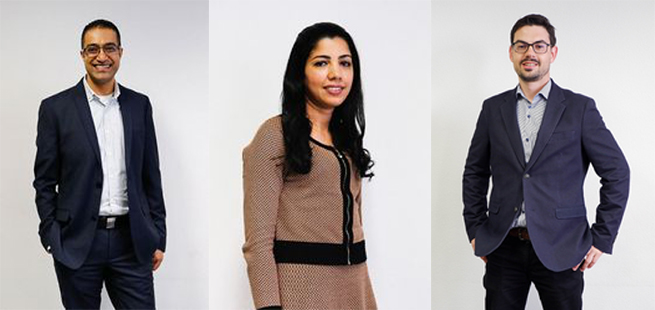 Over the past months, q-leap team has grown in strength, due to incredible new talent. We would like to take this opportunity to introduce you to the newest members of its team.
New Solution Architect: Raoul Neu!
Raoul is graduated with a master's degree in computer science with a specialization in Internet Computing from the Ecole Polytechnique Fédérale de Lausanne (EPFL), Switzerland, and also certified as AWS Solution Architect. He started his career at ELCA Informatique, a leading Swiss ICT Provider, where he worked as Android Developer. After working this position for 4 years, he took the role of an architect within ELCA Informatique. Here, he strengthened his security experience by working on a strong authentication solution, and, as lead architect in an agile project. Raoul's vision can be described in one word: Quality. Raoul's definition of quality is that all aspects – from functional to non-functional topics such as security and performance have to be covered before, during and after development to be able to focus after delivery on enhancements instead of bug fixing.
New Application Support Analyst: Sabrine Kalboussi!
With a keen interest in IT and Business Intelligence, Sabrine graduated with a bachelor degree, ranked 1st in her class, in IT applied to management, followed by a Master in Intelligent Methods for Decision Making, and a Master 2 in Business Intelligence. Sabrine believes that professional success is never an accident. Success is created with hard work, determination, perseverance, talent, learning and most of all, love of what she is doing or learning to do in her job.
New Head of IT Governance & Project Management: Dennis Monteiro
Dennis Monteiro graduated with a Bachelor in Business Administration from the University of Delhi, India. He is a well-skilled software and integration architect with 21+ years experience in the Information Technology industry, highly conscientious about both the quality and timeliness of all deliverables. Before joining the company, Dennis worked at RBC Investor & Treasury Services (leader in Fund Administration) in Luxembourg for 5 years and Toronto (Canada) for 4 years as a Solution Architect. Dennis has a natural ability to add value at each critical milestone by providing extensive knowledge and expertise in dealing with complex issues and keeping deliverables in focus.
[toggle title ="About q-leap"]
Founded in 2012 and based in Luxembourg City, q-leap is a consulting company with deep expertise in software quality. With over 40 experts in software engineering, testing and quality assurance, architecture, business analysis, IT integrating and project management, q-leap offers a pragmatic approach, focused on the implementation of application lifecycle management processes that enable IT teams to concentrate on their application delivery. We are present in a number of industry sectors : Banking & Financial Services, Healthcare, ICT / Telecoms & High Technologies, Industries & Services, Public Sector & Institutions, Transportation.
q-leap delivers and develops consultancy, audit, expertise, training and coaching to help organizations move their business forward with confidence. As well as extensive industry experience, our consultants possess industry recognised certifications such as ISTQB, Scrum, Prince 2, IQBBA… These standards are worldwide recognized to help organizations to deliver better quality solutions and quality management to the business.
[/toggle]