Murad Al-Katib named EY World Entrepreneur Of The Year 2017
Murad Al-Katib, President and CEO of Saskatchewan-based AGT Food and Ingredients Inc., was named EY World Entrepreneur Of The Year 2017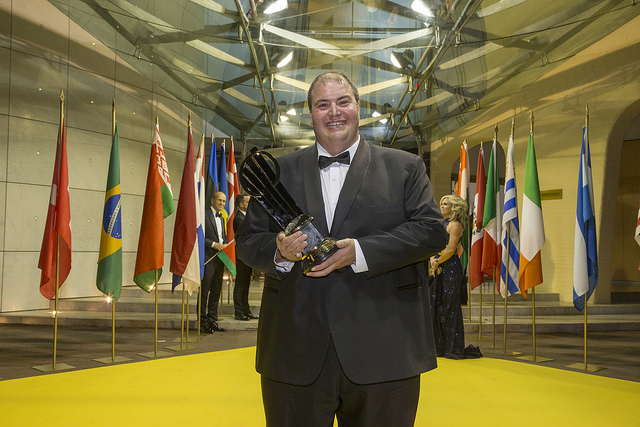 Murad Al-Katib, President and CEO of Saskatchewan-based AGT Food and Ingredients Inc., was named EY World Entrepreneur Of The Year 2017 at an awards ceremony held in Monaco's Salle des Etoiles. He was picked from among the 59 country winners from 49 countries vying for the title.
Murad started AGT Food and Ingredients in 2003 and it has since grown into the world's largest vertically integrated supply chain for lentils, chickpeas and peas. The business went public in 2007 and has revenues of US$1.49b, with more than 2,000 employees on five continents. AGT Food and Ingredients has been growing revenue sustainably by an average of more than US$100m each year for the past five years. The company exports approximately 23% of the world trade in lentils to more than 120 countries around the globe.
Jim Nixon, Chairman and CEO of Nixon Energy Investments and Chair of the EY World Entrepreneur Of The Year judging panel, says:
"The judging panel, with broad geographical and industry perspective, came to a unanimous decision after a vigorous, balanced and informed debate. Murad is an incredible entrepreneur who has demonstrated outstanding value creation, organizational reach and expansion. Through sustainable agricultural practices, he is making a positive impact on the global environment."
Murad Al-Katib, President and CEO, AGT Food and Ingredients Inc., says:
"I am deeply moved and honored by the recognition of this award. AGT is committed to building a successful and sustainable business. By taking risks and rethinking the approach to my industry, we have grown the business responsibly and transformed Canada's agricultural industry. I thank EY for the recognition on behalf of all of my colleagues who day in and day out are committed to our values and purpose."
Bryan Pearce, EY Global Leader – EY Entrepreneur Of The Year, says:
"Murad started his entrepreneurial endeavor from scratch and now has revenues exceeding US$1b. As with many successful entrepreneurs, Murad is able to grow his business by passionately communicating his vision to employees, suppliers and customers. Through supply chain innovation, he is leading the way in sustainable agriculture."
Mark Weinberger, EY Global Chairman and CEO, says:
"Through his vision and approach, Murad has transformed an industry and today leads a company which has seen exceptional growth in the last decade. He also demonstrates a clear purpose by embodying compassionate entrepreneurship, using his capabilities to make a positive impact by feeding millions and educating refugee families. Murad's success and passion make him an exemplary EY World Entrepreneur Of The Year winner."
About Murad Al-Katib and AGT Food and Ingredients Inc.  
Murad Al-Katib believes in a world where safe, affordable and sustainable protein will be available to all. Through the growth of AGT Food and Ingredients, he is realizing and leading this vision with the explosive growth of the vegetable protein industry.
Murad seized this opportunity 15 years ago in Canada's rural prairies by creating a business that would become the strategic link for lentil producers, by creating a direct connection between the agricultural producers and the world. Today, Canada is the world's largest lentil producer with Murad at the helm of the largest company in the sector.
Murad serves as the President and CEO, a board member and an executive committee member of AGT Food and Ingredients. He has guided AGT from start-up to a position as the world's largest vertically integrated supply chain processor of lentils, chickpeas and peas with 46 manufacturing facilities. Its 2016 revenues were US$1.49b and it has more than 2,000 employees on five continents.
The company has expanded considerably through a combination of organic growth and strategic acquisitions. It has completed 17 acquisitions in seven years on five continents, many of them in emerging markets. This has contributed to AGT's ability to consolidate the global pulse seed and staple food sector and it has diversified its business units in other areas such as pasta, rice, varieties of grains, food ingredients, protein and fiber products.
The concept of "compassionate entrepreneurship" underpins Murad's world outlook and purpose-driven approach. He feels strongly about food security, famine food aid and emergency refugee food response which are his lifetime causes.
By accessing his global supply chain and manufacturing and distribution networks, he has delivered over four million family ration cartons to international agencies for Syrian refugees under food aid tenders. Murad was honored and recognized for this philanthropic work: in 2016 he was named Global Citizen Laureate by the United Nations Association in Canada, and most recently in March 2017, he was one of four honorees of the Oslo Business for Peace Award.
[toggle title ="About EY"] 
EY is a global leader in assurance, tax, transaction and advisory services. The insights and quality services we deliver help build trust and confidence in the capital markets and in economies the world over. We develop outstanding leaders who team to deliver on our promises to all of our stakeholders. In so doing, we play a critical role in building a better working world for our people, for our clients and for our communities.
EY refers to the global organization, and may refer to one or more, of the member firms of Ernst & Young Global Limited, each of which is a separate legal entity. Ernst & Young Global Limited, a UK company limited by guarantee, does not provide services to clients. For more information about our organization, please visit ey.com.
About EY World Entrepreneur Of The YearTM
EY World Entrepreneur Of The Year is the world's most prestigious business award for entrepreneurs. The award makes a difference through the way it encourages entrepreneurial activity among those with potential, and recognizes the contribution of people who inspire others with their vision, leadership and achievement. As the first and only truly global award of its kind, Entrepreneur Of The Year celebrates those who are building and leading successful, growing and dynamic businesses, recognizing them through regional, national and global awards programs in more than 145 cities in more than 60 countries.
[/toggle]