HighSide en route vers San Francisco
Dirigée par Aaron Turner au Luxembourg, la start-up HighSide a remporté la finale régionale de la Startup Worldcup organisée ce 6 février dans les locaux d'EY Luxembourg. La jeune pousse, spécialisée dans la cybersécurité, représentera la Grande Région lors de la finale du concours international à San Francisco le 22 mai.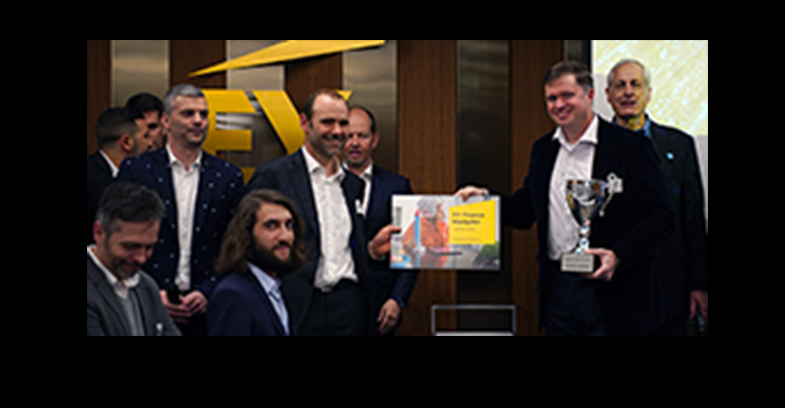 Pour la troisième année consécutive, EY Luxembourg, en partenariat avec la House of Startups, accueillait l'une des cinquante finales régionales de la Startup Worldcup, un événement d'envergure internationale ayant pour but d'interconnecter les écosystèmes de start-up à l'échelle mondiale.
Au terme de la soirée, le jury, composé de personnalités du monde entrepreneurial et financier au Grand-Duché, a désigné HighSide comme grand gagnant de la compétition.
Une alternative aux messageries classiques
Née au Luxembourg sous le nom d'HotShot, mais en passe de devenir HighSide suite à une fusion, la start-up propose une plateforme de messagerie cryptée complète, visant à restreindre l'accès aux données uniquement aux individus autorisés. En distribuant des identités et des accès, HighSide élimine également l'utilisation de mots de passe.
« Destinée aux organisations qui recourent à des données réglementées et/ou sensibles, la solution permet ainsi de réduire considérablement leur exposition aux menaces générées par e-mail, aux risques de phishing et de cybercriminalité », a expliqué l'Américain Aaron Turner, président et CSO de HighSide, qui a pitché lors de l'événement.
Un environnement propice à la cybersécurité
Installée au Technoport, HighSide a réussi à lever quatre millions d'euros et s'apprête à réaliser une levée de fonds plus importante en fin d'année. Elle a trouvé dans le Luxembourg un lieu propice à son développement. « Le pays a réussi à construire un écosystème basé sur la confidentialité, sur la protection de la vie privée et des données, notamment de par son activité dans le domaine financier », a souligné Aaron Turner.
Forte de ses atouts, HighSide représentera le Luxembourg et la Grande Région lors de la finale du concours le 22 mai prochain dans la Silicon Valley, pour tenter de remporter le million de dollars en investissement promis au vainqueur.
9 autres start-up prometteuses
Mise sur pied par Pegasus Tech Ventures, la Coupe du monde des start-up, dans sa version luxembourgeoise, accueillait neuf autres finalistes sélectionnés pour la qualité de leur projet : Adapti.Me, Anote Music, Food4All, Goldbaum, Hotailors, MyMedBot, OQ Technology, UFOdrive et Zreality. Cette année, chacun d'entre eux a pu bénéficier d'une préparation à l'événement organisée par la House of Startups.
Divers critères ont été pris en compte par le jury pour désigner le vainqueur : l'idée et le concept de la start-up, sa capacité à résoudre des problèmes et à répondre aux besoins du marché, sa capacité d'attraction, son avantage compétitif, son business plan et sa pérennité, la force de son équipe ainsi que la qualité de la présentation le jour de l'événement.