Golden-i : Márton Fülöp élu CIO of The Year 2018
La communauté ICT luxembourgeoise était rassemblée ce jeudi au siège de PwC Luxembourg, à l'occasion du Gala Golden-i. Après des échanges de points de vue passionnants autour de l'intelligence artificielle, a eu lieu la très attendue cérémonie de remise des awards. Márton Fülöp, COO de Docler Holding, a été élu CIO of The Year par la communauté digitale luxembourgeoise.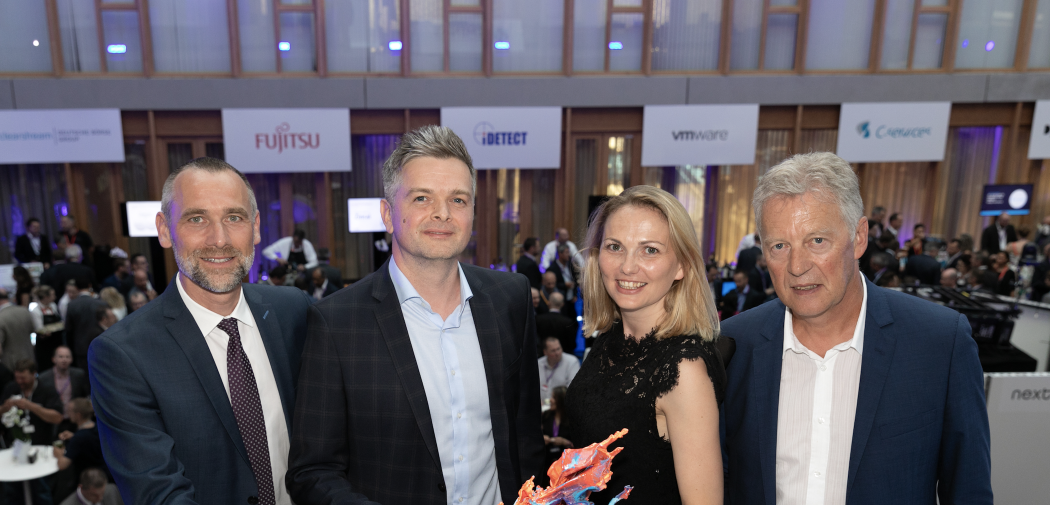 La 11e édition de Golden-i, le gala dédié aux dirigeants du secteur digital au Luxembourg, était organisé, ce jeudi, dans un tout nouveau lieu : Crystal Park, le siège de PwC Luxembourg, principal partenaire de l'événement depuis dix ans. C'est là, au cœur de l'Atrium, devant un parterre de 650 convives, qu'a été remis le titre de CIO of The Year 2018 à Márton Fülöp, COO de Docler Holding.
Le prix a été attribué à la suite d'un vote ouvert aux membres de la communauté ICT au Luxembourg et des échanges entre anciens lauréats du prix. Trois dirigeants avaient finalement été nominés. A côté de Márton Fülöp, se trouvaient ainsi Eric Mansuy, de KBL ebp, et Vincent Eggen, de Pictet Technologies.
Une importante contribution à l'économie luxembourgeoise
Quelques minutes plus tôt, c'est l'APSI qui saluait la contribution digitale de Docler Holding en faveur de l'économie luxembourgeoise en lui remettant son Flagship Award. Le COO de Docler Holding s'est dit très honoré de voir le travail de sa société, installée depuis cinq ans au Luxembourg, reconnu. Le groupe d'origine hongroise a développé au Grand-Duché une solide équipe technique, comptant plus de 200 personnes, pour faire évoluer ses solutions technologiques dans le secteur du divertissement.
Le gala Golden-i a aussi salué deux autres acteurs. La start-up fintech Finologee a été honorée du Start-up Award de l'APSI. D'autre part, Cloud Community Europe Luxembourg a attribué son award « Best Cloud Service Provider of The Year » à Telindus pour sa solution cloud U-Flex.
Préparer l'arrivée de l'IA et réfléchir à son impact
Golden-i, en accueillant deux orateurs d'exception, Olivier Babeau, président du think tank français Institut Sapiens, et Brian Manusama, Senior Director au sein de Gartner, a permis un très intéressant échange de points de vue autour de l'intelligence artificielle. Alors que le second a invité l'audience à bien appréhender cette technologie prometteuse pour créer de la valeur à moyen et plus long terme, le premier a initié une réflexion sur l'impact de cette évolution sur nos vies et notre humanité.
Enfin, le gala a une nouvelle fois offert à l'ensemble des participants et à ses partenaires des échanges de qualité, pour une meilleure construction du Luxembourg digital de demain.