Vulnerability Management Services, the solution you can no longer do without
Qualys and Excellium join their force to provide the ability for organizations to manage their vulnerabilities from the asset management to the remediation with a contextualized approach.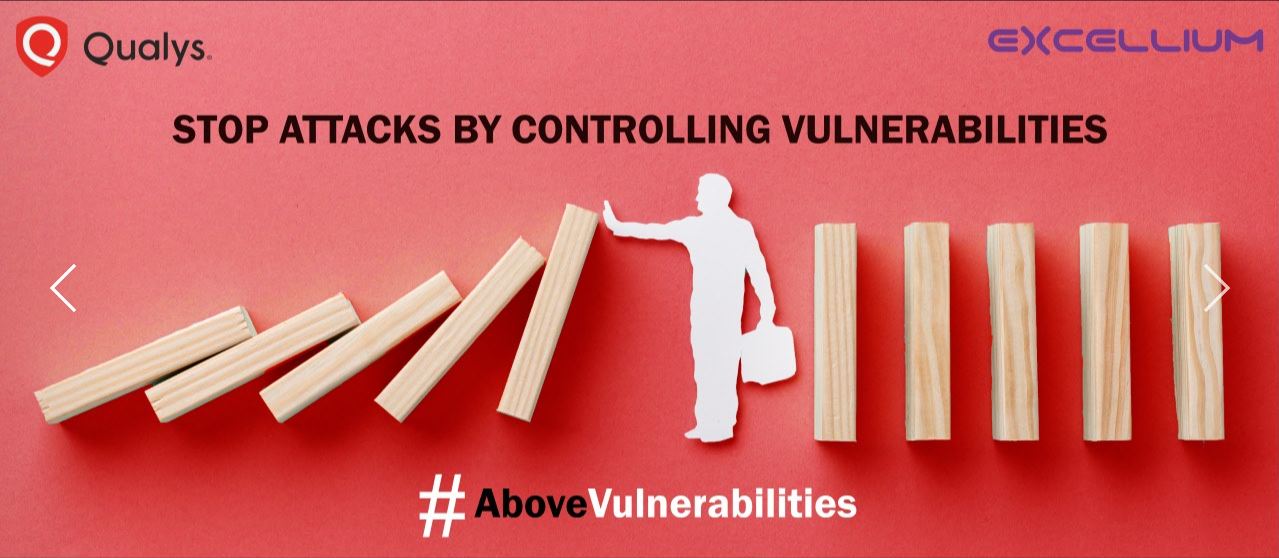 Vulnerability management challenges
Having an efficient control of its vulnerabilities can be a headache for IT teams. Organizations face many challenges when struggling with the vulnerabilities.
• Allocating resources: organizations may lack available IT resources, knowledge and processes to adequately design and execute an efficient vulnerability management program.
• Maintaining an up-to-date inventory
• Managing a high volume of data: organizations identify a high number of vulnerabilities in their network. They spend most of the time structuring the data to extract valuable outputs instead of orientating the effort on the security of their assets.
• Identifying risk location: prioritization and remediation plan often focus on assessing the criticality of the vulnerability forgetting other factors such as the criticality of the asset itself and the potential business impact.
• Performing an efficient remediation program: as a security department can almost independently work on the prioritization plan, several departments must engage in the remediation plan within a common approach and objectives.
Vulnerability management landscape
From year to year, the vulnerability landscape has kept growing. Qualys researchers have analyzed that 7+ million vulnerable instances opened to potential attack across networks of global organizations.
All known vulnerabilities are referenced by Common Vulnerabilities and Exposures (CVE). As CVEs are publicly released, everyone has equal access to the information: companies as well as hackers. For that reason, designing and running an efficient vulnerability management program is no longer a luxury but a must-do. It helps maintain a proper cybersecurity posture and not lose the race against attackers. Any breach into an Information System can involve irremediable damages on a brand reputation. Furthermore, it can also cause the loss of customer's data or intellectual property.
More than two-thirds of companies over the world anticipated either a decrease or a no-change in their IT budget for the "Covid-19 recovering phase". In the meantime, about 80% declared not having adjusted their budget according to the business impact. As the market keeps lacking skilled cybersecurity staff to meet the growing demand, organizations are forced to do "more with less".
From Qualys'side
From the market side, Qualys, as a vulnerability management leader, focuses its efforts on providing solutions to meet these challenges with an All-in-One product called VMDR (Vulnerability Management, Detection & Response) an easy-to-deploy cloud-based tool, which assists operational teams during all phases of vulnerability management.
Qualys Vulnerability Management, Detection & Response offers a Built-in Orchestration by delivering a toolbox meeting Vulnerability Management needs in a single app workflow, VMDR automates the entire process and significantly accelerates an organization's ability to respond to threats, thus preventing possible exploitation.
Qualys VMDR split the vulnerability management into modules:
Asset management: The first phase consists of getting a view on what's active in a global hybrid-IT by creating and keeping the asset inventory updated. VMDR enables customers to automatically discover and categorize known and unknown assets. It also help continuously identify unmanaged assets, and create automated workflows to manage them effectively. After data are collected, customers can instantly query assets and any attributes to get deep visibility into hardware, system configuration, applications, services, network information, and more.
Vulnerability management: VMDR enables customers to automatically detect vulnerabilities and critical misconfigurations per CIS benchmarks, broken out by asset. Misconfigurations, unlike vulnerabilities, do not have formal CVE IDs associated that can leave assets out of compliance and vulnerable to attack. VMDR continuously identifies critical vulnerabilities and misconfigurations on the industry's widest range of devices, operating systems and applications.
Threat detection & prioritization: Vulnerability Management, Detection & Response uses real-time threat intelligence and machine learning models to automatically prioritize the vulnerabilities posing the most significant risk to your organization. Indicators, such as Exploitable, Actively Attacked, and High Lateral Movement bubble up current vulnerabilities at risk. In the same time, machine learning models highlight vulnerabilities most likely to become severe threats providing multiple levels of prioritization. Further prioritize remediation by assigning a business impact to each asset like devices containing sensitive data, mission-critical applications, public-facing, accessible over the Internet, etc.
Response: After prioritizing vulnerabilities by risk, VMDR rapidly remediates targeted vulnerabilities, across any size environment, by deploying the most relevant superseding patch. Additionally, policy-based, automated recurring jobs keep systems up to date providing proactive patch management for security and non-security patches. This significantly reduces the vulnerabilities the operations team has to chase down as part of a remediation cycle.
From Excellium's side
At Excellium, the new "Vulnerability Management as a Service" a.k.a VMaaS service allows to outsource the vulnerability management workload to a specialized security team.
The service is adapted to customers scope and needs and will evolve the maturity gain over time. Excellium provides a contextualized view of vulnerabilities enabling to assign them to business risk and to prioritize remediation. The approach is to work in collaboration with clients to accompany them in the resolution of their vulnerabilities bringing maturity gain.
Moreover, Excellium permits to validate the exploitability of the vulnerabilities by services such as penetration test, breach & attack simulation, or code review.
With this Service, Excellium enables to outsource the knowledge and the operational workload to manage and process the high volume of d vulnerabilities. Moreover, the service allow to maintain an up-to-date asset inventory keeping a continuous identification of localization of risks and performing an efficient remediation program adapted to your organization.
"An externalized Managed Services to manage contextualized IT vulnerabilities"
Excellium & Qualys synergy
Excellium and Qualys will celebrate their 7th Partnership Anniversary In 2021.
With Qualys' scans included in the Excellium SOC services and more than 35 success stories, Qualys and Excellium have developed an end-to-end knowledge forming an efficient task force from the tool to the professional services.
Today, Qualys and Excellium join their force again to provide the ability for organizations to manage their vulnerabilities from the asset management to the remediation with a contextualized approach.
The synergy of Qualys VMDR solution and Excellium's VMaaS offers an easy-to-deploy turnkey solution that provides quick, concrete, and exploitable results to the management and the security team.