PwC Cybersecurity & Privacy Day 2023
Highlights of the day and winners of the Cybersecurity & Privacy Solution of the Year - People's and Jury's Choice Awards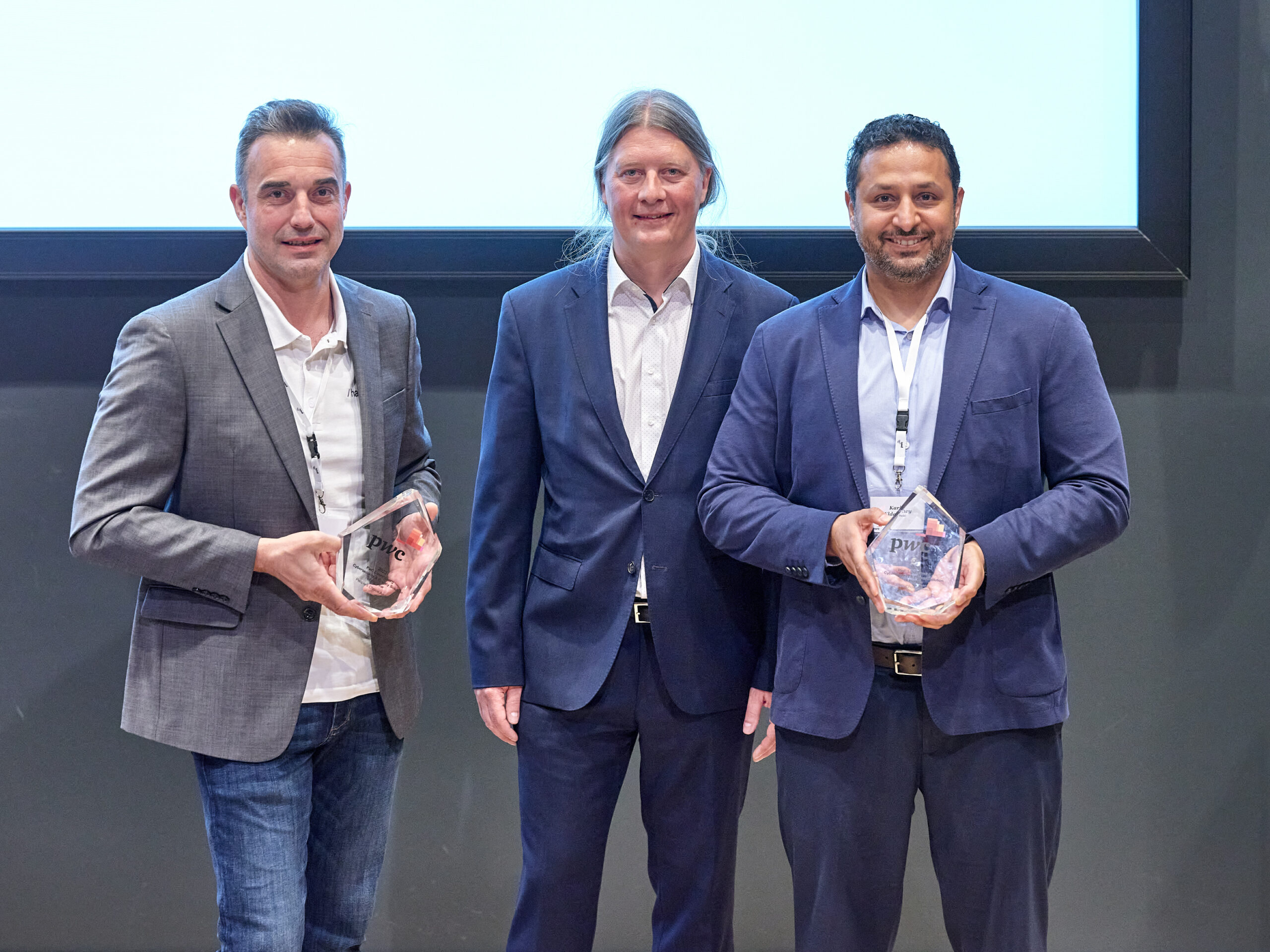 Press Release, Luxembourg, 09 June 2023
Another successful edition of the PwC Cybersecurity & Privacy Day came to an end         on 8 June 2023 at PwC Luxembourg's Crystal Park premises. A total of 205 attendees and speakers took part in a day filled with keynote speeches and workshops, discussing the main topic of Leadership for the Cybersecurity and Privacy ecosystem. Furthermore, both the Jury's and the People's Choice Award were presented at the end of the day, with Confidential winning the Jury's Choice Award and Hackuity taking home the People's Choice Award.
After a few introductory words by Koen Maris, Advisory Partner and Cybersecurity & Privacy Leader at PwC Luxembourg, François Thill, Director cybersecurity and digital technologies, Ministry of the Economy, kicked off the keynote speeches by discussing the importance of leadership in cybersecurity. He stressed the problems that the field of cybersecurity is facing, such as the asymmetry of information and the lack of incentives to share information for the sake of scalability and affordability, and emphasised the importance of connecting with your peers, promoting research, as well as to stop classifying information. On leadership, Mr Thill stated: "Distinguishing leadership from authority helps us begin to see that if we understand leadership as a practice, as an activity, then it becomes available to anybody high or low, any place or position."
Clément Domingo (SaxX), Ethical Hacker, Co-founder of the NGO Hackers Without Borders, Cybersecuriy Expert, Ransomware specialist and observator of the African cyberspace, introduced the attendees to the (not so fancy) face of cybercrime, presenting how criminals can be tracked, and referring on how to make the internet safer and better every day.
Data is everywhere in a business, but yet the DPO works very much alone: how this meaningful role, which is generally linked to a legal background, can more effectively communicate with top management to buy into their data protection work and justify the budget that is needed, was at the heart of Tim Clements, Business Owner and Privacy Professional, Purpose and Means keynote speech. DPOs need to make their work resonate and more valuable to their colleagues.
Tine A.Larsen, President, CNPD (Commission Nationale pour la Protection des Données) joined us for a second time as a keynote speaker after her intervention in 2021, discussing the need for a privacy leader for organisations. Indeed, designating this role is fundamental, yet there is no widely accepted definition as of now and as opposed to the role of the DPO, every Privacy leader role can be defined differently by each company. In Tine A. Larsen's opinion, the fields of a DPO and privacy leader can overlap, such as raising awareness, identifying risks related to data protection, but in the very dynamic field of data protection and privacy, every organisation should have a privacy leader.
Tim Cook, Partner at Acertitude & MD of Kafue Consulting, discussed the significance of the role of CISOs. Indeed, CISOs should be reminded that they are very connected and that cyber warfare is a non-kinetic threat that is very present. CISOs have a strategic importance within a firm, they are problem solvers and act like a parachute for their company. On the basis of this observation, he introduced the CISO maturity model, defining the different faces a CISO profile can have: from merely technical support that challenges the existing cybersecurity culture, to shaping attitudes, to defining a new firm culture, representing the highest level of maturity.
With an inspiring speech on the Imposter Syndrome, Angela Trego, President and Founder of Angela Trego, reminded us that all of us have doubts and tend to fall into patterns that are harmful and lead to high stress, and bring us to not live up to our full potential. Through several tools and tips, the attendees were shown how they can overcome these feelings and move into an environment of confidence that will benefit their organisations as well.
Maxime Clementz, Ethical hacker & Cybersecurity Senior Manager, PwC Luxembourg enlightened the audience with the latest trends in cyberattacks and discussed why AI is only a part of the solution. From state-sponsored attacks, hackers-for-hire, hacktivists to cybercrime, political destabilisation through espionage, to commercial attacks through phishing: the work of Ethical Hackers helps us navigate and face the threats of the internet and understand them better.
Jelena Zelenovic, CISO, European Investment Bank, closed the keynote speeches with her inspiring talk on the necessity of leadership and diversity in cybersecurity, especially in an environment that is still very dominated by men. Overcoming this requires a collaborative mindset, more women in leadership roles and more women supporting each other to break the barriers and promote each other's achievements. Also, in cybersecurity, there is more than just the need for diversity based on gender. Cultural diversity is also important because it allows us to better understand the different ways people approach security, which then allows us to come up with better solutions.
Koen Maris, Advisory Partner and Cybersecurity Leader PwC Luxembourg, closing the event:
"What did we learn today? We should embrace our doubts. Especially as a leader, it is normal to doubt yourself as well. You can use these doubts and learn from them. But don't let yourself be squeezed and crushed by them. Also, as a CISO for example, you might not always have all the answers of an incident immediately. What can help, however, is setting up the right culture within a firm, acknowledging the need for the right technical competencies and designating the right roles, from Privacy leader to DPO, so that you and the team you are leading can live up to its full potential and push the limits of what is possible."
PwC Cybersecurity & Privacy Day 2023 Pitching Competition – Cybersecurity & Privacy Solution of the Year – People's and Jury's Choice Awards
After an international call for submissions, PwC Luxembourg selected five cybersecurity companies with relevant solutions for the Luxembourg market – Confidencial (USA), Enginsight GmbH (Germany), Hackuity (France),TrueScreen S.r.l. (Italy), and Velotix (USA). The organisers would like to thank all of the companies for participating, for presenting their solutions, their fantastic pitches and wish all five the very best.
The winner of the Pitching Contest's – the Cybersecurity & Privacy Solution of the Year – People's Choice Award – is Hackuity. It is awarded by vote from the audience for their favourite pitch. We thank the audience for their active listening and vote and want to congratulate Hackuity for winning this award!
The second award, the Cybersecurity & Privacy Solution of the Year – Jury's Choice Award, is conferred to the candidate that demonstrates excellence at all levels, from strategy to execution by a special jury. The members of this year's Jury were Donia El Kateb, Senior Information Security Officer, EIB, Krystina Gray, Head of Data and Technology Risks, HSBC Continental Europe, Luxembourg & HSBC Private Bank (Luxembourg) S.A., Roman Borisovich, Executive Director, Sardina Systems S.à.r.l. Luxembourg, and Lily Wang, Principal, Expon Capital. The jury awarded the prize to Confidential. We congratulate Confidential and thank the Jury for their participation!