Promouvoir une utilisation concrète et innovante du Cloud
Retour sur les lauréats du prix « Cloud Innovation Project of the Year 2022 » by CCEL.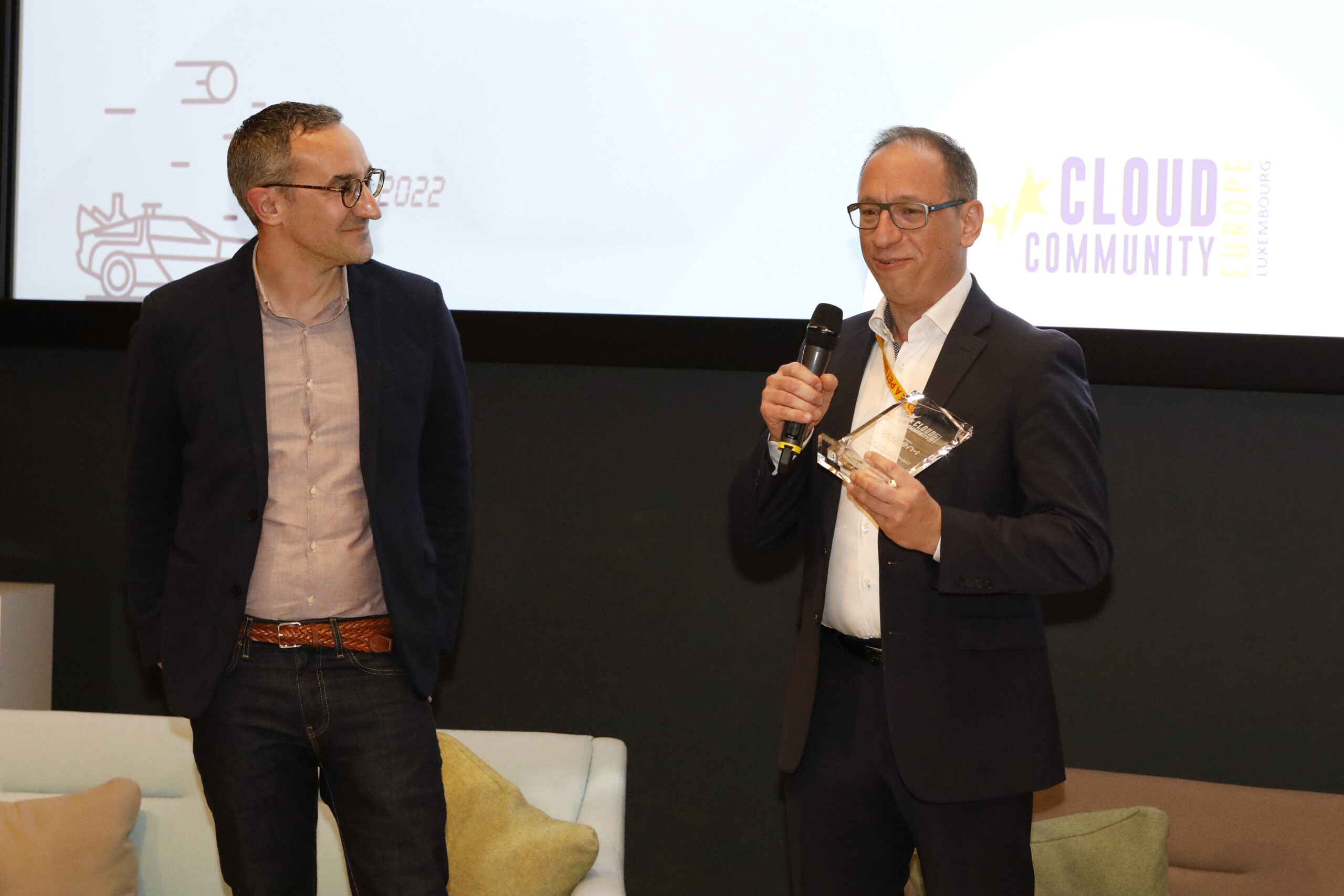 A l'occasion du Gala Golden-I, Cloud Community Europe Luxembourg a remis son prix du « Cloud Innovation Project of the Year ».
Cette reconnaissance est accordée à un projet qui, en s'appuyant sur des solutions cloud, contribue à l'amélioration de l'agilité de l'entreprise.
Trois projets ont été distingués par le jury dans cette catégorie :
– Advanzia Bank, pour le projet «Omni-Channel UX : Accelerating Business Growth Through Cloud», qui met en œuvre une plateforme numérique évolutive, native du cloud, fournissant des points de contact unifiés et omnicanaux pour les clients à travers l'Europe ;
– Clearstream, pour le projet «Clearstream Data Layer», mettant en œuvre une nouvelle infrastructure pour le traitement des big data ;
– Husky Technologies, pour le projet «Advantage + Elite WE CALL YOU», qui fournit un nouveau service 24 heures sur 24 et 7 jours sur 7, basé sur une plateforme cloud, qui surveille, réagit et s'adapte pour maintenir la performance des outils vendus par l'entreprise à ses clients tout au long de leur cycle de vie.
C'est ce dernier projet qui, finalement, a reçu l'award.
Le cloud au service d'un support proactif
La solution cloud mise en place par Husky Technologies permet de collecter des informations sur les performances des installations vendues par l'entreprise à des clients. Grâce à l'analyse de ces données, la société peut offrir à ses clients un service de support pro-actif et même prédictif, hautement transparent, à ses clients.
« En surveillant 24 heures sur 24 et 7 jours sur 7 les principales variables du système, nous sommes en mesure de contacter nos clients avant qu'ils ne connaissent des problèmes et des pertes de productivité », a expliqué Jean- Christophe Witz. « Nous avons développé quelque chose qui n'est pas seulement une nouvelle façon pour Husky de servir ses clients, mais qui constitue une réelle innovation dans notre industrie. »
Des solutions pragmatiques et concrètes
« Il était important pour le jury de découvrir des applications pragmatiques et innovantes dans le domaine du cloud. Ce que Husky a montré avec sa solution, et qui a donc convaincu le jury, c'est un niveau de transparence, de pro-activité et de prédictivité important. Il s'agit d'une application très utile qui démontre à quoi peut servir la technologie du cloud avec un impact positif direct sur leurs propres clients », a déclaré Armin Neises, CEO de Waves, lauréat du prix « Cloud Tech Innovator » en 2021, et co- président du jury.
« Si les deux autres finalistes avaient aussi des projets de très bonne qualité, la plateforme conçue par Husky nous montre de la manière la plus tangible et concrète toute la valeur commerciale qu'une approche cloud peut apporter, a expliqué Nicolas Sanitas, Senior Advisor et Digital Community Coordinator chez Luxinnovation, co-président du jury. Avec ce projet, Jean-Christophe Witz et son équipe montrent la voie aux entreprises manufacturières du pays : les 100 clients connectés à leur solution entièrement opérationnelle et sécurisée sont la preuve que le cloud est aujourd'hui un outil quasi incontournable de la digitalisation de l'industrie. »
Luxembourg Cloud Awards 2023 : applications are opened!
For the 2023 edition, two prizes will be awarded for the following categories:
Cloud Innovation Project of the Year
The Cloud Innovation Project award aims to celebrate excellence and innovation in the scope of cloud-based "solutions-as-a-service". Organizations of any size, any vertical may enter.
The recognition will be given to a project where Cloud solutions are transforming the agility of the business. The achievements may be relative to cost structure optimisation of the technology investment, the agility and the flexibility in scale and/or in time to go in production with an IT project or the complexity solved, and the maturity gained in best practices including availability and security. The Cloud Innovation Project will definitively go to a realization that creates value and makes impact.
A further focus is given by the Go to Market Realization and the provided functionality offered through cloud resources. Of course, the provided services need to comply with the requirements regarding data security and data privacy in relation to customers data sensitivity and compliance.
Cloud Tech Innovator of the Year
The Cloud Tech Innovator award aims to emphasis the creativity of new product or solution created thanks to the power of Cloud resources (could they are IaaS, PaaS, SaaS or hybrid). The competition is open for Cloud native start-ups (aged less than 5 years) in two contexts: Cloud consumer that turns the Cloud resources in an innovative product or solution (in this case, the start-up solution is a business solution 100% Cloud-based: i.e. Cloud Fintech, Regtech, Spacetech, Biotech, etc.) or Technology start-up that offer new advanced Cloud features (in this case, the start-Up offers Cloud component: i.e. Cybersecurity feature, Cloud migration tools, Advanced Cloud options (resilience, connectivity, devops tools, etc.).
A particular focus is given to the originality and creativity of the solution. The prize is also open to concepts, test labs, or initiatives, etc. not yet in production.
Further details on the application procedure and the application forms are now available on CCEL website.
The deadline for submitting your application is Friday March 17th 2023.