Our opportunity to make tech a lasting force for good: let's not waste it!
A new article written by Pat Gelsinger, CEO of VMware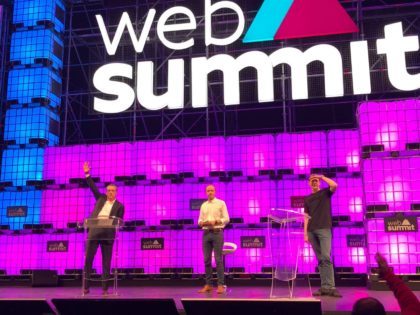 Recently I had the pleasure of participating in a debate at Web Summit addressing a critical topic: "Future of Tech: Will Everyone Benefit?" As tech breaks out and reshapes many aspects of business and humanity, will all of this breakthrough innovation create a rising tide that lifts all boats, regardless of geography, background or culture? Or will the advantages of tech innovation be limited to a fortunate few?
I have a deep passion for this subject, and I strongly believe that tech will benefit everyone on the planet. We all have a stake in determining the course of tech innovation and whether it delivers on its full potential. The truth is that tech itself is neutral, it's neither good nor bad. It's about how we apply it to the problems of the day.
I don't profess to have all the answers, and there are no simple solutions to the complex global challenges we face. But after nearly four decades working in tech, I'm very hopeful and fired up about the future. I believe we have an opportunity to drive positive impact at mass-scale over the next decade, both as individuals and by working together as a global community.
Applying tech to the problems of today – and tomorrow
Part of the reason I'm optimistic is the combination of four extraordinary and additive "superhero" capabilities we now have at our disposal: Mobile + Cloud + AI + IoT. Together, they will have a transformative effect on quality of life around the world. Mobile provides unprecedented reach. Cloud delivers previously unimaginable scale. Deep-learning artificial intelligence enables us to mine massive amounts of data in real time and use those insights to create entirely new business models. And the Internet of Things connects the physical and digital worlds and brings technology into every dimension of human progress. So how can we put these capabilities to work to address some of the biggest challenge we face?
Let's consider the main barriers to quality of life for the planet's rapidly expanding population, and how tech is driving real change.
First, health. While the risk of a pandemic has been ever-present for millennia, deep-learning algorithms are creating breakthrough drugs, improving diagnosis, and designing treatment plans far more effectively than any previous approach. Human Genome/DNA sequencing has enabled a vast leap in our understanding and treatment of disease. With advances in telemedicine, we have an opportunity to open up access to modern healthcare to billions of communities in remote, underserved parts of the world. According to the Gates Foundation, we now have what it takes to eradicate Malaria by 2040. And with gene replacement and bionic capabilities, eliminating blindness on a global scale is within the realm of possibility. And
"The pace of tech evolution right now is the fastest we've ever experienced."
Secondly, the impending environmental crisis – arguably our most daunting challenge. As we try to clean up the aftermath of the industrial age to sustainably manage carbon, water and waste, significant advances in renewable power sources give us hope that we can solve the pivotal challenge of sustainable power generation. Large-scale IoT and smart-city initiatives are tackling the negative environmental impact from transportation and building management (roughly 25 and 20 percent of global emissions respectively), dramatically increase the energy-efficiency of the spaces where we live and work. By 2050, zero-emission electric vehicles will represent an estimated 75 percent of global car sales. And tech innovation is also helping drive new approaches throughout the lifecycle of water and waste. The Internet of Things has the potential to unlock extraordinary potential in the Circular Economy and is allowing us to track and 'sense' the health of the planet with greater granularity and accuracy than ever before.
Thirdly, extremism. There are clearly no easy answers here, but I believe the key is hope which springs from education (fueled by the broader access to the internet and low-cost mobile phones) and opportunity, which is rooted in economic growth. Job creation is also a critical piece of the puzzle. Tech will certainly be at the center of job creation for the next decade, creating totally jobs that are built for the future – a recent study by The Institute For the Future estimated that 85% of jobs that will exist in 2030 have not been invented yet. It's our job to expand investment and access to skills training to ensure that this tech-enabled evolution reaches everyone.
Finally, we come to poverty. While we've made steady progress, there are still 700 million people living on less than €1.90 a day. With poverty still centered in rural areas, the low-cost mobile phone has become a game-changer and as critical to farmers' success as livestock, seeds, water and fertilizer. It empowers them to gain access to micro-loans, real-time pricing, weather forecasts, and critically direct access to information on best practices in animal husbandry, crop rotation, varietals and more.
Pointing Ourselves Forward
Each of these challenges is incredibly complex, and we know that technology is not a panacea for all that ails our global community. Yet I would argue that tech innovation is the most powerful tool we have at our disposal, as we work collectively to address these big barriers to human progress and quality of life.
Consider this: The pace of tech evolution right now is the fastest we've ever experienced. Yet it's also the slowest pace of tech innovation for the rest of our lives. In periods of stunning and disruptive change like this, it's easy to let fear get the better of us. Let's not lose sight of the fact that technology is inherently neutral. It's our job to ensure that all the incredible innovations we're driving deliver on their full potential over the next decade, by providing value for everyone versus a select few. Now more than ever, we in the tech community have an individual and collective responsibility to get engaged and take action, not only in our own businesses but also in shaping policy and regulatory frameworks globally, in order to ensure we maximize technology for the greater good.