Marcher pour l'environnement
Orange Luxembourg vous invite à marcher pour l'environnement en partenariat avec la start-up No Big Deal et l'association Serve The City.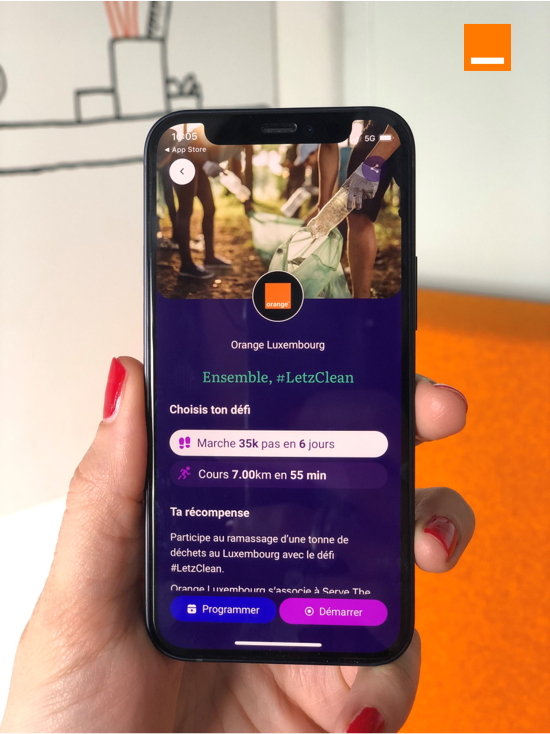 L'opérateur invite ses collaborateurs et tous les volontaires à relever un défi sportif en faveur de l'environnement en collaboration avec No Big Deal et Serve The City. Le challenge « LetzClean » propose de marcher 35 000 pas en 6 jours ou de courir 7 kilomètres en 55 minutes. Une fois 1000 challenges relevés, Orange financera la collecte de 1 tonne de déchets par les bénévoles de l'association Serve the city. 
Lancée fin 2020, la start-up No Big Deal vous invite à relever divers défis sportifs, environnementaux ou sociaux pour contribuer et soutenir des initiatives citoyennes. Pour chaque défi relevé, vous obtenez une récompense qui prend la forme soit d'un avantage auprès d'une enseigne commerciale soit d'une donation pour une bonne cause. 
Des défis au service de la communauté  
Ce vendredi, Orange Luxembourg et No big Deal lancent un nouveau challenge. L'opérateur invite ses collaborateurs et tous les volontaires à relever le défi « LetzClean ». Ce défi propose de réaliser 35.000 pas en six jours ou 7 kilomètres en courant en moins de 55 minutes. Pour participer, rien de plus simple, il suffit de télécharger l'application No Big Deal, de créer un compte et de choisir le challenge LetzClean by Orange. Vous pouvez réaliser votre défi librement le ou les jours de votre choix. 
Contribuer au ramassage d'une tonne de déchets  
Pour chaque défi réalisé, Orange Luxembourg s'engage à soutenir le mouvement citoyen Serve the City, en finançant la collecte, le transport et le traitement d'un kilogramme de déchets ramassés par des bénévoles. Le défi prendra fin lorsqu'une tonne de déchets sera ramassée. Cela correspond donc à 1000 défis relevés. 
Agir pour le changement, pas à pas  
« Nous constatons souvent que les gens sont préoccupés par l'environnement, mais qu'ils ne savent pas toujours par où commencer. Avec cette initiative, agir pour la planète est aussi simple que de mettre un pied devant l'autre. Nous souhaitons donner à chaque personne un sentiment d'impact et de réussite qui l'encourage à faire une autre action, puis une autre… C'est l'objectif de ce partenariat. » explique Quentin Delforge, co-fondateur de No Big Deal. « Travailler avec Orange autour de cette campagne LetzClean nous a semblé tout naturel dès le départ. Le développement durable fait partie intégrante de leur ADN et se traduit dans tout ce qu'ils font, en particulier ici au Luxembourg. » 
« Cette initiative s'inscrit dans la continuité du lancement de notre programme « RE ». Dans une optique de préservation de l'environnement et avec la volonté de sensibiliser les consommateurs à cet enjeu nous proposons le REcyclage, le REconditionnement, la REparation et la REprise des téléphones mobiles. Ce programme est au cœur des engagements stratégiques du groupe Orange pour 2025. » commente Barbara Fangille, Head of Communication Orange Luxembourg. 
Soutenir No Big Deal et l'écosystème innovant  
D'autre part, Orange Luxembourg est fortement engagé aux côtés des start-up innovantes comme No Big Deal. Au-delà de ce partenariat d'un nouveau genre, l'opérateur propose d'autres initiatives de soutien à l'écosystème de jeunes acteurs innovants. A travers Orange Fab, Orange Luxembourg a créé un programme d'accélération du développement des jeunes acteurs innovants. L'opérateur propose aussi, en partenariat avec la communauté Silicon Luxembourg, la série de capsules vidéo « The Elevator ». Dans celles-ci, des dirigeants de start-up luxembourgeoises ont 30 secondes, le temps de la montée du très symbolique ascenseur du Pfaffenthall, pour présenter leur activité.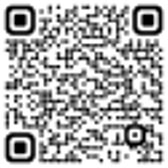 Accédez directement au challenge « LetzClean » en scannant le QR CODE.