TRANSFORMATION & ORGANISATION
Last call for the next "ISTQB Certified Test Analyst Advanced Level" Training at q-leap.
The next ISTQB Certified Test Analyst Advanced Level Training session at q-leap premises will take place on Monday 29th January. This session is 100% confirmed and spaces are still available!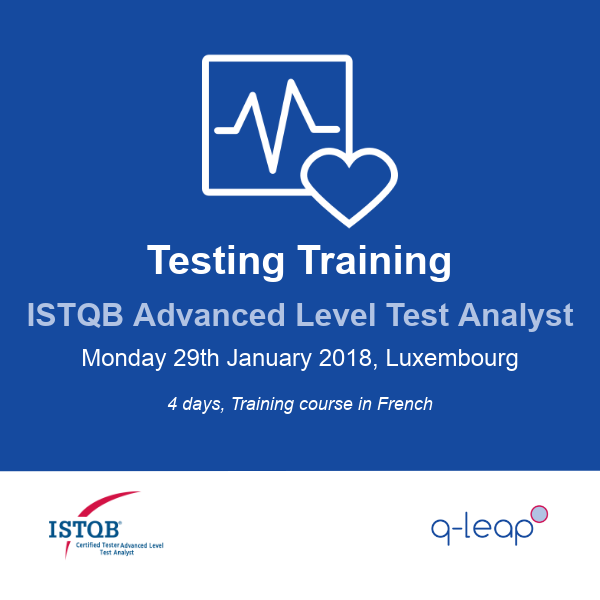 The Advanced Level Test Analyst qualification is aimed at people who have achieved an advanced point in their careers in software testing. This course contains many real world practical examples and will give you an advanced understanding of test design techniques.
The Advanced Level qualification is aimed at anyone involved in software testing such as:
Testers
Test analysts
Test engineers
Test consultants
Test managers
User acceptance testers
Software developers
This Advanced Level qualification is also appropriate for anyone who wants a deeper understanding of software testing, such as project managers, quality managers, software development managers, business analysts, IT directors and management consultants.
More info here: https://www.q-leap.eu/index.php/class-room-training/161-istqb-the-certified-advanced-level-in-software-testing
Would you be interested in these training and certification? 
Date: Monday 29th January 2018.
Location: q-leap SA – 13, rue Beaumont – L-1219 Luxembourg City – Luxembourg
Duration: 4 days
Language: French
Status: 100% Confirmed
Exam & certification: This course provides you with the necessary knowledge to take the Professional exam after the course. 
[button color="blue" link="https://www.q-leap.eu/index.php/q-leap-solutions/training-services-3/25-ask-us/training-services/153-registration-training-services"]REGISTRATION [/button]
Request a training date or course, should you need any further information, please do not hesitate to contact us:
Training Services Department
Email: training@q-leap.eu
Tel: (+352) 20 21 17 34
[toggle title ="ABOUT Q-LEAP"]
Founded in 2012, q-leap is a company based in Luxembourg City. q-leap provides testing & quality assurance solutions with the aim to ensure the expected software quality across all major platforms: web, mobile, enterprise and Internet of Things.
q-leap's team is comprised of over 35 experts in software engineering, testing, architecture, business analysis and project management who support or complement organization's in every phase of the application development lifecycle. Depending on the customer needs, q-leap can deliver its competencies though consultancy, audit, expertise, training and coaching as well to help organizations move their business forward confidently.
Testing:We perform software testing campaigns to provide stakeholders valuable information about the quality attributes of the software.
Software Quality Assurance:We improve and manage the quality of your software to make sure it satisfies the user.
Training:We train and coach your team so that they can apply testing and software quality assurance principles in their daily work.
More info and to contact q-leap
www.q-leap.eu
contact@q-leap.eu
20 21 17 00[/toggle]