Lancement de la nouvelle édition de Fit 4 Start
Le ministère de l'Économie et Luxinnovation lancent la 12ème édition de Fit 4 Start, le programme luxembourgeois d'accélération. Les jeunes pousses actives dans les domaines des TICs, des technologies de la santé et de l'espace sont invitées à poser leur candidature jusqu'au 4 octobre 2021. La nouveauté de cette édition est un programme spécial dédié au super-calcul et à l'analyse de données qui permettra aux cinq start-up sélectionnées de profiter d'un programme sur-mesure impliquant le superordinateur luxembourgeois MeluXina.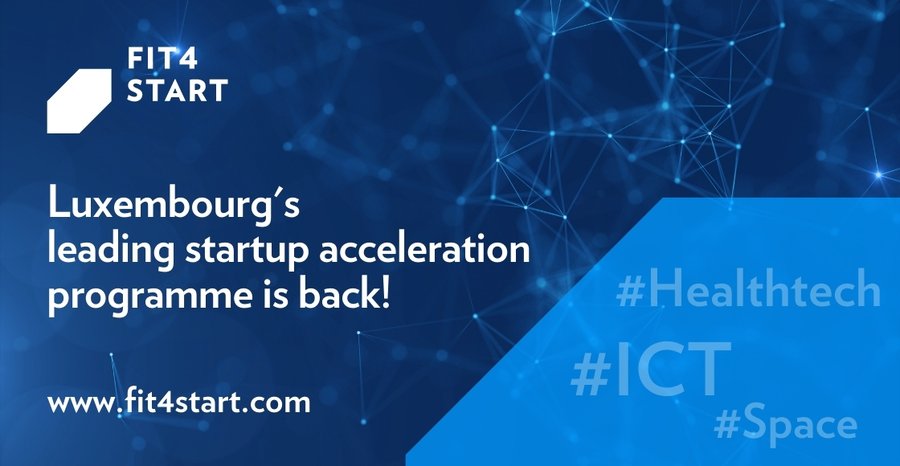 Initié en 2015 par le ministère de l'Économie et piloté par Luxinnovation avec le soutien du Technoport et du Luxembourg-City Incubator, Fit 4 Start est devenu au fil des années un programme-phare, incontournable pour le lancement et l'accélération des jeunes pousses à Luxembourg. Fit 4 Start offre aux entrepreneurs un coaching intense, un financement de pré-amorçage attractif et un accès à des réseaux clés.
Cette 12ème édition va durer six mois, de janvier à juin 2022. Elle s'appuiera sur les succès passés dans les domaines des TICs, des technologies de la santé et de l'espace pour donner aux jeunes start-up de tous les secteurs l'opportunité de bénéficier d'un programme spécial conçu autour du super-calcul et de l'analyse des données. Les jeunes pousses innovantes de moins de cinq ans et constituées d'au moins deux personnes sont éligibles à Fit 4 Start. Parmi les 20 sociétés qui seront présélectionnées, cinq pourront bénéficier de ce programme incluant le calcul de haute performance et l'analyse de données. L'annonce de la liste des start-up présélectionnées sera faite le 22 octobre 2021.
Le calcul de haute performance et l'analyse des données sont au cœur de l'économie des données qui est en pleine émergence. Les start-up et les PME peuvent largement tirer profit de ces technologies et le Luxembourg a, cette année, inauguré son centre national de super-calcul qui offre à la fois un accès à des infrastructures numériques de pointe et à des procédures sur-mesure pour accompagner les utilisateurs. Le centre national luxembourgeois de calcul de haute performance adapte son service d'utilisation et d'accompagnement aux besoins individuels des entreprises de toutes tailles. Pour cette édition de Fit 4 Start, il offre un programme dédié incluant un accès à des capacités de super-calcul.
L'écosystème numérique du Luxembourg est reconnu pour la qualité de ses infrastructures, sa connectivité, son expertise en cybersécurité, ses capacités de stockage de données et pour la récente installation de ce supercalculateur national orienté sur l'innovation. Le Luxembourg développe en parallèle une forte culture de communauté numérique où les jeunes pousses, tout comme les petites et grandes entreprises, bénéficient de mécanismes de collaboration, d'un accès rapide aux compétences et d'échange de meilleures pratiques. Dans un monde connecté en transformation rapide, combiner une infrastructure numérique et de super-calcul forte avec une culture collaborative est un différentiant majeur.
"Permettre un accès à MeluXina au travers de Fit 4 Start donne un avantage compétitif aux start-up à fort potentiel sélectionnées à travers les secteurs par ce programme d'accélération", souligne Stefan Berend, Head of Start-up Acceleration chez Luxinnovation. "Nous y voyons une opportunité incroyable de nourrir les grandes ambitions de ces entrepreneurs en technologie qui veulent proposer des produits et des solutions avancés sur les marchés européens."
Les start-up intéressées peuvent poser leur candidature à cette édition de Fit 4 Start jusqu'au 4 octobre 2021 sur www.fit4start.com.
Communiqué par le ministère de l'Économie
In the same category
Introduces industry's first full-stack Net Zero Action architecture, includes NTT's Private 5G, Edge Compute and IoT solutions.
The project involves deploying and provisioning NTT's private 5G to build the most extensive private network in the United States.
Vincent Bouckaert discusses the need for all Open Finance players to leverage best practices and industry standards to ensure maximum security.