Jean-Christophe Witz, CIO of the Year 2022
Retour sur la soirée de Gala Golden-i qui, pour sa 15 e édition, a mis l'accent sur la conduite du changement.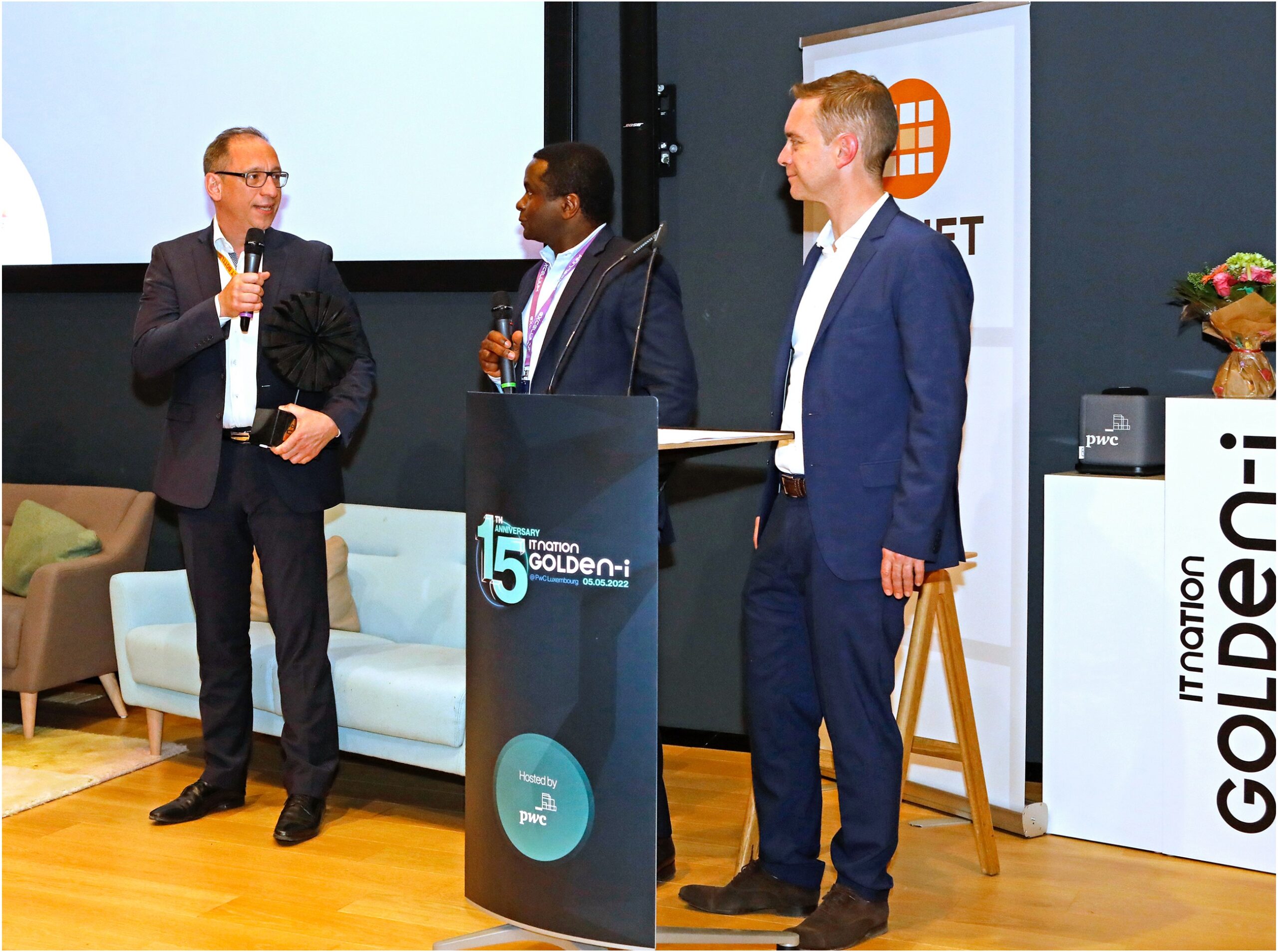 Pour fêter leur 15e anniversaire, ITnation et le Gala Golden-i étaient très heureux de pouvoir à nouveau accueillir l'ensemble des acteurs de l'écosystème numérique luxembourgeois en présentiel. Le siège de PwC, partenaire historique de l'événement, a fait le plein de convive, pour une soirée à la fois inspirante et conviviale. Sur le parvis, une DeLorean (cette mythique voiture de la trilogie « Back to the Future » avec laquelle Marty et Doc Emmett Brown voyagent dans le temps) donnait le ton.
Se dépasser collectivement
Cette édition de cet événement incontournable de la communauté Tech nous invitait à revenir sur le chemin parcouru, au fil de ces 15 dernières années, pour mieux regarder vers l'avenir. « Your Future is whatever you make it. So make it a good one », énonçait le scientifique de génie, quoique tout de même un peu fêlé des films de Robert Zemeckis. Le monde change, et les Tech Leaders sont appelés à jouer un rôle clé pour nous offrir un avenir meilleur. « Driving the change », dès lors, a été le thème central de la conférence, qui a donné la parole à deux femmes d'exceptions.
Christine Majérus, championne luxembourgeoise de cyclisme, tout d'abord, a évoqué les clés du dépassement de soi. Nous rappelant, dans ce contexte, l'importance de l'équipe, de la confiance, du respect de l'autre pour arriver à se dépasser, non pas personnellement mais collectivement. « En se fixant les bons objectifs, en développant une culture collective de la réussite, on peut grandir ensemble, a-t-elle expliqué. Pour aller plus loin, il ne s'agit pas d'essayer d'être quelqu'un d'autre, mais de chercher à être la meilleure version de soi-même. »
Driving the change
Sabine Everaet, Former EMEA CIO of Coca-Cola, partageant son expérience, a indiqué la voie aux CIOs dans la conduite du changement. Le défi qui leur incombe, dans le contexte actuel, est de « transformer le business tout en contribuant au renouveau de l'activité, en redéfinissant la proposition de valeur adressée au consommateur et au client, les process et les méthodes de travail de chacun, a-t-elle résumé. Pour cela, il doit s'appuyer sur les fondements de l'IT tout en mettant en œuvre les nouvelles technologies les plus avancées. » Elle n'a pas manqué de rejoindre le discours de Christine Majérus pour conclure sur l'importance de la culture d'entreprise, l'esprit d'équipe, l'exigence de casser les silos, entre autres choses, pour parvenir à mener à bien la transformation numérique des organisations.
Ces deux présentations ont précédé un échange avec plusieurs « Digital Leaders » locaux, Anne-Sophie Preud'Homme (COO – PwC), Philippe Jäggi (CIO – Laboratoires Réunis – CIO of The Year 2020), Abraham Takom (Director, Information Technology – Lombard Internation Assurance, CIO of The Year 2021), Benoît Wtterwulghe (Advisory Partner – BDO – CIO of The Year 2011). Avec eux, nous avons évoqué comment évoluait la fonction de CIO/COO, appelée à contribuer de plus en plus au changement.
Et le CIO of The Year est…
Ce jeudi, la 15e édition du Gala Golden-i a une nouvelle fois mis à l'honneur les acteurs de l'écosystème numérique luxembourgeois. Au terme d'échanges inspirants, autour du rôle des « Tech Leaders » sur la conduite du changement, l'événement a consacré Jean-Christope Witz, CIO de Husky Technologies CIO of The Year 2022. L'acteur industriel est aussi reparti avec le prix de Cloud Innovation Projet of the Year, décerné par Cloud Community Europe Luxembourg. L'APSI, pour sa part, a décerné son Start-Up Award à Passbolt et son Flagship Award à UFO Drive.