Instant geek: Top 5 des cadeaux tech à offrir pour Noël
Recommandés par les membres d'Agile Partner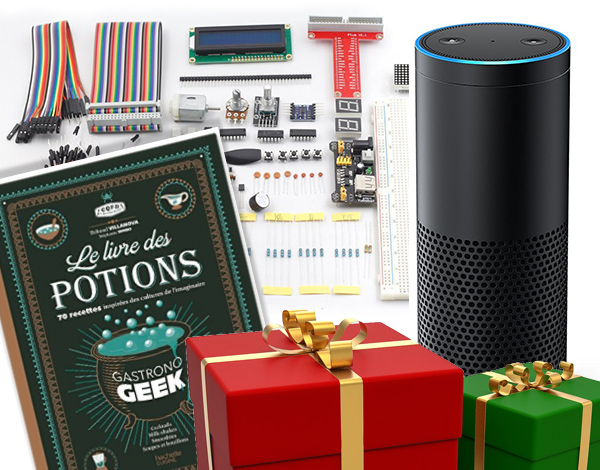 Recommandé pour les enfants âgés de 8 à 12 ans, le Piper Computer Kit est le cadeau parfait pour les initier à l'utilisation de l'électronique et du code à travers l'édition Rasperry Pi de Minecraft.
Le kit est composé d'une boîte en bois comprenant un écran de 7'', une petite batterie de 5V, de hauts parleurs mini stéréo avec prise jack et USB, du kit Rasperry Pi et d'une carte SD.
Une chose à savoir tout de même : le kit n'est disponible qu'en anglais, en mandarin et en japonais.
Avis aux lecteurs de manga et aux cinéphiles qui ont apprécié l'adaptation cinématographique du « Ghost in the shell » de Masamune Shirow, l'éditeur de BD Glénat vient de sortir la « Perfect Edition ».
Via trois épais volumes, cette nouvelle édition contient la trilogie Ghost in the Shell, Ghost in the Shell 2: Man-Machine Interface et Ghost in the Shell 1.5: Human Error Processor. Le tout ayant été revu par l'auteur et se voulant beaucoup plus fidèle à l'original : sens de lecture japonais, onomatopées sous-titrées, écritures de l'auteur respectées…
Jeu de cartes adoré autant par les enfants que par les adultes, Unlock! est un jeu coopératif inspiré des escape rooms. Plutôt qu'être enfermés dans une salle pendant une heure, vous pouvez rester autour d'une table et tenter de résoudre les énigmes en moins de 60mn. Expérience garantie !
A noter : une application du même nom (Unlock !), disponible autant sur Android que sur iPhone, est à télécharger avant de se lancer. L'application permet de guider le jeu, de saisir des codes, d'actionner des machines et de délivrer des indices si vous séchez.
Avec ce cadeau, vous ferez profiter celui ou celle que vous gâterez d'une large sélection de films, de séries et de jeux. Avec Fire TV Stick, accédez au contenu d'Amazon Prime Video, de Netflix, de Spotify et de YouTube hyper facilement.
Encore mieux ! Les membres Amazon Prime peuvent accéder à des centaines de films, de séries supplémentaires et même à du stockage illimité de photos, sans coût supplémentaire.
Prérequis : pour commencer le streaming, il faut disposer d'une TV HD et d'une connexion Internet haut débit.
En cette fin d'année, et avec la sortie toute récente du dernier film de la saga inter-planétairement connue Star Wars « Le dernier Jedi », c'est LE cadeau de fin d'année à offrir à ses proches.
C'est le plus grand modèle et le plus détaillé jamais conçu parmi toutes les constructions LEGO. 7 500 pièces ! Et surtout, d'autres éléments sortiront prochainement afin de pouvoir parfaire à l'infini cette œuvre d'art.