Hybrid IT has come of age
There's no such thing as a greenfield environment, unless you're a very small start-up.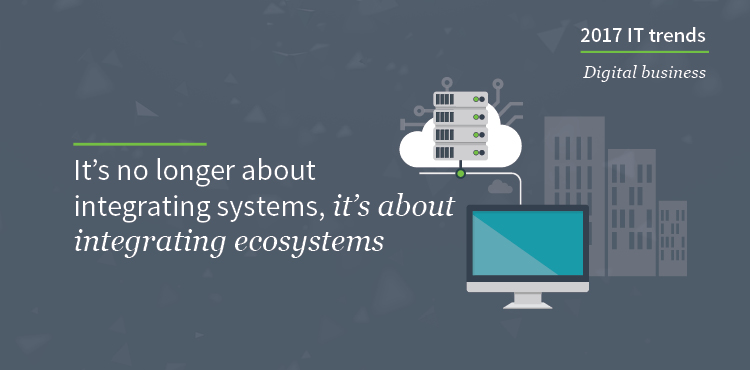 Today, the world of IT is truly hybrid. There's no such thing as a greenfield environment, unless you're a very small start-up. This means you need to manage a blend of on-premise and cloud-based assets ─ and your cloud assets typically won't be delivered by a single provider.
We believe this will have implications on the skills sets that businesses require. In the world of hybrid IT you need to be able to treat your on-premise assets like software, and be skilled in managing cloud-based infrastructure and software. The focus will move from 'units of build' to entire workloads that are underpinned by a complete reference architecture that has been tested and validated and has clear scaling metrics. These workload reference architectures are characterised by the level of automation at the provisioning, transition, and operational cycles. The way you design and operate systems in a hybrid IT environment is vastly different – as is the breadth of skills required.
It's not systems but ecosystems that need integrating
In a hybrid IT environment, people need to work in multi-party, multi-vendor ecosystems. So you need individuals with a collaborative mindset, who can look inside and outside the organisation – across a very porous business boundary – and draw on resources that aren't necessarily on your payroll and assets that aren't on your balance sheet. In the world of hybrid IT, it's no longer about integrating systems, it's about integrating ecosystems.
That's easier said than done. Migrating to and managing a multi-party, multi-platform IT environment is complex. How do you ensure orchestration and automation and ensure that workloads move seamlessly between the various platforms and your on-premise environment? What about metering and billing? What about your data ownership and metadata access? How do you leverage common service abstractions? How do you ensure security and compliance? Today, even large enterprises with substantial IT budgets – which in the past were able to keep pace with change with an insourced IT model – are realising that they don't have the skills required to operate a hybrid environment.
This may well stimulate discussions in the market about the merits of engaging with cloud brokers or specialist hybrid IT managed services providers that can offer an end-to-end 'service layer' or a lifecycle of managed services that includes service design, transition, and operational steady state services to eliminate this complexity.
[colored_box color="blue"]
Previous Top Digital Business Trends:
–       #1: Renewed focus on ownership and access to data and metadata
–       #2: Automation and DevOps becomes a business concern
–       #3: Centralised transactional models are coming under attack
[/colored_box]