GEN-ération numérique: Agile Partner est fière de compter l'association Grand Est Numérique parmi ses partenaires
Agile Partner est également sponsor du 5ème salon #GEN organisé par l'association les 21 et 22 septembre prochain.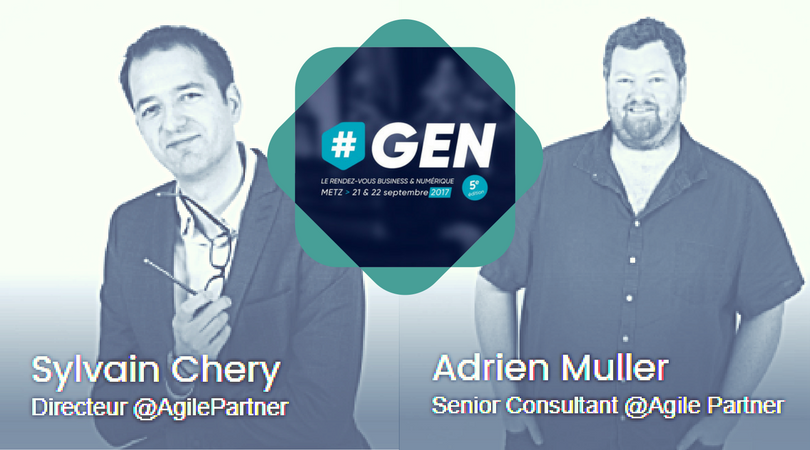 Nouvellement partenaire de l'association messine Grand Est Numérique, Agile Partner est également sponsor du 5ème salon #GEN organisé par l'association les 21 et 22 septembre prochain au Centre des Congrès de Metz. Pour cet évènement, Sylvain Chery et Adrien Muller, membres de la société, tiendront un talk pour un workshop dédié aux méthodologies agiles.
De belles opportunités à venir !
Depuis sa création en 2004, Agile Partner a généré plusieurs partenariats et donc développé son réseau au sein des communautés "IT" (Startup Weekend  , WIDE ou encore Code Club Luxembourg) et "entrepreneuriat" luxembourgeoises (Silicon Luxembourg).
Ce nouveau partenariat avec l'association Grand Est Numérique et la participation au salon #GEN sera l'occasion de partager des connaissances, des contacts, saisir de nouvelles opportunités et promouvoir toujours davantage un écosystème dynamique centré sur le numérique. 
Mêmes attentes, mêmes objectifs
Agile Partner se reconnait bien à travers GEN. Elle aussi prend part dans de nombreux projets d'innovation et de développement numérique: depuis plusieurs années, Agile Partner agit pour Startup Weekend Luxembourg, à l'image de GEN pour Startup Weekend Metz.
Découverte de l'Agilité
Les méthodes agiles de gestion de projet seront présentées la journée du jeudi 21 septembre 2017 aux alentours de 16h par Sylvain, CEO d'Agile Partner et coach agile; et Adrien, software craftsman developer et coach agile lui aussi.
#Teaser du workshop: "Les méthodologies agiles sont un ensemble de concepts basés sur du développement itératif et incrémental où les demandes et les solutions évoluent au travers de collaboration en auto-organisation et dans des équipes pluridisciplinaires. Durant cette session, vous allez découvrir l'esprit dit agile avec de la pratique et du fun. Vous aurez aussi l'occasion de comprendre comment les valeurs agiles sont incarnées dans l'un des frameworks les plus populaires: SCRUM. Vous repartirez de cette session avec des exemples concrets et quelques éléments pour démarrer dès demain votre voie dans l'agilité !"
-50% sur le billet d'entrée grâce à notre code promo spécial speaker !
Cette année, plus de 1500 professionnels du numérique sont attendus pour ce salon. C'est l'occasion pour notre entourage professionnel de rencontrer de nouvelles personnes partageant les mêmes intérêts que sont le développement, les technologies et l'innovation.
Ainsi, nous vous invitons à vous rendre sur le site de l'évènement #GEN, vous y inscrire rapidement et y entrer le code promo SPEAKERS2017.
Nous sommes ravis de vous faire partager cette offre et vous invitons à venir voir, écouter et en apprendre plus avec nos coaches lors de leur workshop sur l'Agilité !
Stop thinking, start acting… and save the date !
Date: Jeudi 21 et vendredi 22 septembre 2017
Lieu: Centre Foire et Congrès de Metz Métropole
Inscription en ligne: https://www.weezevent.com/gen5
Code promo -50%: SPEAKERS2017