Fujitsu accompanies SES on their journey to the Cloud
SES is a leader in global content connectivity solutions, operating the industry's only multi-orbit constellation of over 70 satellites in Geostationary and Medium Earth orbits. It provides satellite-based video services to over one billion people around the globe, and delivers high-performance connectivity services to companies and governments worldwide. By leveraging a vast and intelligent, cloud-enabled network, SES is able to deliver high-quality connectivity solutions anywhere on land, at sea and in the air. This allows extending Telco/MNO network reach, supporting cloud transformations for remote industrial operations, enabling in-flight and maritime connectivity and much more. Founded and headquartered in Luxembourg, SES has more than 20 offices and over 2,100 employees around the world.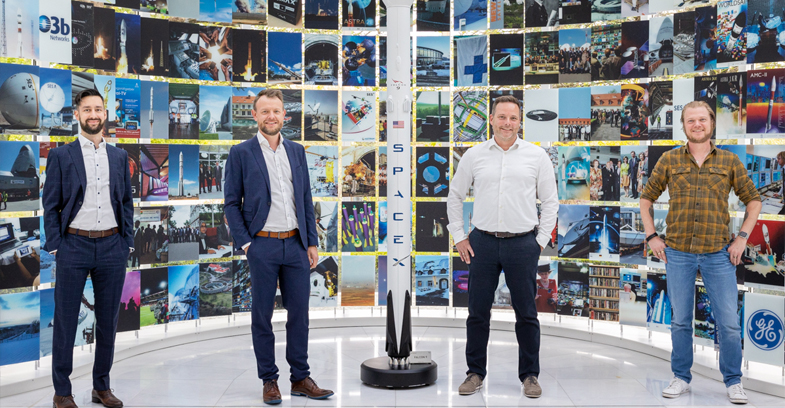 As part of making it easier and faster to work with their customers, SES is migrating its various activities and operations to cloud. "We embrace cloud in a holistic way, being a cloud-native leader in the satellite operator and cloud service provider markets," says Stefan Okhuijzen, Senior Vice President, Information Systems & Services Design and Implementation at SES.
The company was among the pioneers in the industry who understood the benefits that cloud-based operations could provide, such as enabling agility and innovation, and saw the possibility to reduce costs by moving away from reliance on on-site data centres and using the hyperscale that cloud provides. "Traditional hardware-based applications are slow to change, while in the cloud, many applications are software-defined and quick to deploy," Stefan Okhuijzen explains. "As a business we need to optimize ourselves, and migration to the cloud is enabling this." In that sense, SES has selected Microsoft Azure as their target platform of choice.
Choosing a global partner with specialized experts 
To carry out a project with such a large scope while avoiding disruption to operations, SES needed to find a technology partner that had an excellent track record, with the right experts based both locally and globally, as well as an equally ambitious mindset. They found the ideal partner in Fujitsu, a company with locations around the world, including a large team on the ground in Luxembourg. "Fujitsu could provide the right resources at the right time and offers a high level of partnership. Most importantly, their team wanted to grow with us on this journey," recalls Stefan Okhuijzen.
Fujitsu placed a great deal of importance on putting together the right team for the migration project. "What we do is we look for the best people all around the world that have already worked on this kind of project, to find the right people to support our local customers," explains Cédric Jadoul, Service Director at Fujitsu Luxembourg. "In Luxembourg, Cloud is gaining momentum, and SES is one of the companies that are making a really big transformation in this regard. In addition, what they do in space and the connectivity services they deliver everywhere on earth, transform the lives of millions. It is simply exciting and a huge honor for all of us at Fujitsu to play our part in this space industry leader's cloud transformation," he says.
In addition to finding the right people for the project, Fujitsu also offers access to its global expertise. "We have a huge network behind us. For each and every topic we have a team of specialists, constantly exchanging knowledge and ideas across Europe and worldwide," says Daniel Sahler, Head of Multi-Cloud Services at Fujitsu Luxembourg, who also owns the project management role in the project. Cédric Jadoul agrees: "We don't only bring pure data centre transformation to this project, but we can also support all of the additional layers on top of the infrastructure. For example, if a customer wants applications on the cloud, we have specific teams available to support them with this," he says. "On top of that", Daniel Sahler continues, "we are in very close relationship with our strategic alliance partner Microsoft, on local and global level, to provide the best customer experience possible."
"We are very happy to see Fujitsu, one of our strategic Azure partners in Luxembourg, collaborate with SES on their Cloud transformation", comments Candi Carrera, Country Manager at Microsoft Luxembourg.
Risk mitigation through governance and a focus on security
After initial talks, the four-year Azure Migration Project launched in mid-2020. One of the first tasks for the team was putting a strong governance model and work process in place to mitigate the risks inherent in such a major undertaking. "We have people from each department involved, from security engineering to operations, as well as a core team that meets on a daily basis to speak about current migrations," says Daniel Sahler. Reflecting the strategic importance of the migration, the project team also takes part in regular board meetings and steering committees on management level.
Security is one of the key criteria and is analyzed at every stage. "Security is the first thing we discuss for each workload migration," explains Dennis Slingerland, Tech Lead for the project at SES. "It can be complex, so we need to do it in the right way. And once the security aspect is done, the rest flows naturally," he says. Dennis Slingerland himself has an important role to play in mitigating risks: "Dennis is our tech lead as well as change manager, which tremendously helps to keep up the speed of adoption," notes Daniel Sahler.
Becoming more efficient through an agile approach 
The migration team started with 'quick-win' projects, to ensure there were no issues and to build trust and credibility. They have now successfully completed bigger migrations, such as the internal SAP system at SES, and have become even more efficient with each new workload. "We have now moved towards a more factory-like approach. Every workload has differences, but we have a standardized way of working, so increasing the workload makes sense," says Dennis Slingerland. Daniel Sahler agrees: "The factory approach is where we want to be," he says. "We started from zero, where everything had to be created from scratch, and we are always evolving, saying, 'what we did was good, but what can we do better?'"
Transforming mindsets through education and support
 SES is a cloud-first company with advanced level of understanding of the benefits that cloud brings, to daily operations including, and decision-makers at the higher levels of the company were fully on board with the cloud migration, which also ensured success of the project of such scale. "Migrating to the cloud is not just a technology shift but an enabler for the transformation of our whole company, and SES is fully ready for it," says Stefan Okhuijzen.
Committed to supporting this cloud mindset, Fujitsu and SES worked together to offer up training and internal events to help employees better understand the migration and the tangible improvements it would bring. "The migration engineers at Fujitsu went out of their way to help our IT engineers, making sure we understand all the benefits that the cloud migration brings us and how it will enhance performance and transform the way of working," says Dennis Slingerland. The project team noticed a very enthusiastic acceptance of the migration as staff across different departments begins to see the benefits of this transformation.
More than just a partnership
Team members from both companies emphasize that they have gone beyond a traditional collaborative service partner relationship and now regard each other as colleagues.
"It's a tight team," says Dennis Slingerland. "This is something extremely helpful, because as you get to know someone, you're able to already have a feeling about the other person's needs," he says.
"When you have super ambitious goals, you need to have a well-organized team. We spent a lot of time together so it is important that the team collaborates well and at the same time has some fun doing this. The team is really enjoying the work and this excitement inspires others," he says. "We've hired a lot of cloud talents recently, in part thanks to this project as it demonstrates that we're working on exciting topics. The dynamics between the two companies attracts people," he says. 
Setting the bar higher and higher
SES is among the leading companies in Luxembourg to make transformation to the cloud, not only for their own operations but also for the services for their customers, and increasingly more companies are following this example. The project started out with a clearly defined scope and the initial aim to move about 50% of operations to the cloud. However, with the first set of migrations already behind them, and the efficient production-line process the team has developed, the project is set to meet its original targets a year earlier than planned, allowing the company to think much further ahead and plan for longer-term.
"Our first step is to get into the cloud, and then once we're there we can optimize to make our applications more cloud-native and make the best use of the features the cloud has to offer," explains Stefan Okhuijzen. "The more we move into the cloud, the better we get!"