Excellium Services and BitSight: which level of control do you have on your cybersecurity supply chain?
Contern – Luxembourg, 19th October 2021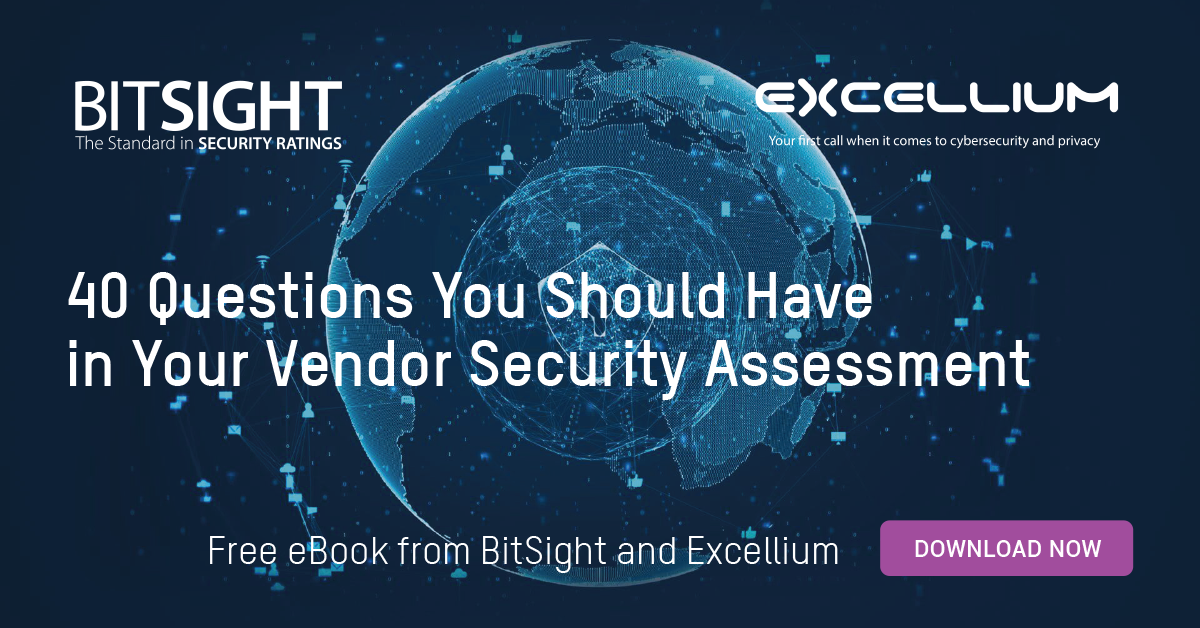 Organizations are used to conduct mature processes to onboard a third-party, through sourcing, procurement, or vendor management. However, such processes do not often cover the long-term perspective and controls about any change that may occur within their partners. Manual interactions with the third-parties have an expensive cost and require staff that are focused on other concerns. Evaluation of the cybersecurity posture of third parties do not diverge from that trend. However, as a breach in a supplier's Information System may have a huge impact on your own, how to conciliate a proper risk assessment and agility in an ever-growing interconnected world?
Excellium Services, Luxembourg's leading provider of cybersecurity services, selected BitSight, Europe's leader in security ratings, to design a security rating as a service offering, helping companies to be provided a cost-efficient and recurrent overview on the cybersecurity posture of its third-parties.
This service is available to all our Security Operations Center's customers, as part of the service, but also, to all our customers on demand.
Bringing automation and continuous assessment
According to Gartner's research, less than a third of companies at once yearly reassess the risk involved by third parties. With BitSight technology platform, this process can be largely automated, by processing a set of observable data, from the rated company's digital resources to threat intelligence databases. Any unnoticed change in a supplier's security can monitored, as global rating is reported over the time with executive dashboard, and more than twenty risk vectors are evaluated in detail.
Consulting services
In late 2020, we developed our portfolio, by applying security rating capacities to our clients' environment for benchmark purpose. BitSight platform indeed allows he organizations to know where they stand compared to their sector.
By leveraging BitSight technology, Excellium Services continues to improve its cybersecurity maturity program offering, by including and analysing third-party risk management. Through consulting services, our experts help our clients securing their supply chain.
What's next?
To learn more about the security rating as a service offering, and the benefits for your company, do not miss Excellium Services and BitSight's afterwork in November. Our experts will share with you more details about securing your supply chain. More info about the partnership on : https://bitsightfreeebook.com/excellium-book/
 [toggle title ="More info about…"]Excellium Services
Excellium's experience and expertise help clients make the right decisions in the development, implementation and management of their cybersecurity. Excellium offers its clients the services of a local, flexible, innovative and reactive partner with strong expertise in the protection of intangible assets.
Contacts: contact@excellium-services.lu +352 26 20 39 64 https://excellium-services.com/
BitSight
BitSight is transforming the way that the global marketplace addresses cyber risk with cybersecurity ratings and analytics. The BitSight Security Ratings Platform applies sophisticated algorithms, producing daily security ratings that range from 250 to 900, to help organizations manage their own security performance; mitigate third party risk; underwrite cyber insurance policies; conduct financial diligence; and improve national security. With 2,300 global customers and the largest ecosystem of users and information, BitSight is the Standard in Security Ratings. Learn more at bitsight.com.[/toggle]