Ensure Agility & Security with a Hybrid IT Strategy
Join Peter Jarman, Principal Architect at Infosys and Ross Garrett […]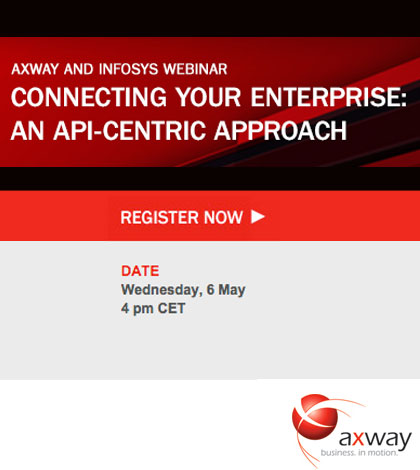 Join Peter Jarman, Principal Architect at Infosys and Ross Garrett with Axway for this webinar. Learn how an API First strategy enables an API-centric architectural approach to integrating your on premise IT infrastructure to the world of Cloud and Mobile.
FREE whitepaper to all attendees.
Learn key findings and best practices:
How do you support today's demands for agility, connectivity and flexibility while ensuring security, visibility, governance and compliance of your data flows?
What is the best solution for connecting your on premise applications with cloud-services without having to rethink your complete IT architecture?
How can you reduce the cost of IT while increasing the speed of service delivery?
Find out how Axway and Infosys can help you create a hybrid IT environment and transform your existing IT infrastructure into easy-to-consume services and micro-services, bridging the gap between on premise and cloud.
Get your copy of the whitepaper "Connecting Your Enterprise – An API-Centric Approach" on attending.
Register now for this Axway and Infosys webinar: "Connecting Your Enterprise – An API-Centric Approach".