Dynamics 365 and Microsoft Teams, a seamless and connected experience
We are facing every day the challenges of having too much business softwares. We are spending time switching between emails, team, Document Management tool, CRM, ERP…, searching information, contacts, documents. When you are interrupted by a colleague while on the phone, it is sometimes difficult to return to your tasks, to remember what you were working on and to retrieve the information you were searching for.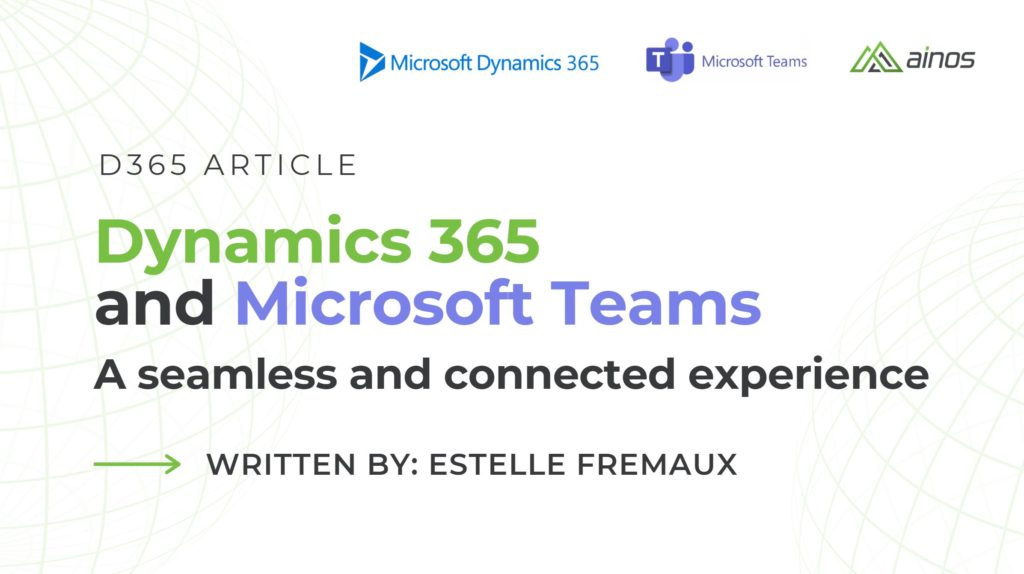 We all want to reduce those disruptions by bringing together our communication tools with business process and information in one unique ecosystem.
The answer:  Dynamics 365 and Microsoft Teams. With new features presented for the April 2021 release, Microsoft improves your workspace and proposes a seamless and connected experience. You will be able to work in a unified workplace and collaborate within your company and with customers.
Features view in Teams
What can you expect of the Dynamics 365 and Microsoft Teams collaboration? :
No need to connect in Dynamics, all your apps are available in Teams
Manage your Dynamics data on your dashboards in Teams
On the Files tab in the connected Team channel, you can find the uploaded files that will be associated with the right Dynamics 365 record. Equally upload them in Dynamics, Teams or sharepoint, you will find them in the same folder.
Use Dynamics Bot from the Dynamics 365 app for Microsoft Teams to be able to search and show records within the Teams interface. For example, this could be a query to 'show the account XXX", or search across Dynamics records using a keyword(s).
Features views in Dynamics:
Dial to call in teams directly from dynamics: embedded Teams dialer experience for Dynamics 365 as well as an extensible video or audio Teams meeting experience that seamlessly ties back to Dynamics 365 Sales.
transcript the conversation for history (save voice, transcript in text)
Embedded team chat experience
Contextual Embedded Teams Chat & Channels: A user within Dynamics 365 Sales can access their list of Microsoft Teams chats and channels that are:

Associated with the Dynamics 365 entity page they are on.
The most recent chat conversations.
Salespeople will be able to clearly distinguish the primary channel or chat session associated with the Dynamics 365 entity.

Create activities or notes on a Dynamics 365 record from the context of a Microsoft Teams message
Edit a Dynamics 365 record within a Microsoft Teams conversation
Business values:
Connect with customers: Meet, chat directly in Dynamics, read the history of your conversations.

Ex: keep the history of the exchanges on a deal

One unify view for your business processes: Call your customer directly in Dynamics without switching to Teams while updating your process

Ex: Customer service agent call the customer while updating the business process (escalation for example) on a case or mark the case as resolved.

Collaborate on deals: with your colleagues while accessing in the same place to the documents in sharepoint, the opportunity in Dynamics, and your last activities on this deal.

Ex: a sales team manage a big deal and collaborate on documentation, offers, estimation in one workplace

Update records in few clicks and save time: Allow sellers to quickly edit a record from a Microsoft Teams conversation to ensure the information is up to date before sending to teammates, customers, and other stakeholders.

Ex: while on the phone, can make rapid updates to a record, ensuring that you have the most up-to-date information.

Bring structure to sales collaboration: Dynamics 365 provides an organizing layer to sales activities
Put context in interaction: Sellers want to surface the context of sales conversations in Microsoft Teams, and they need a way to search and share CRM data directly in the message.
Our job is to identify and set up customers business processes while guaranteeing a simple, scalable and above all practical ecosystem for users which brings added value to their customers. Ainos as a Microsoft partner for Dynamics 365, Power Platform, Sharepoint, offers the right solutions that allow its customers to focus on their business.
We believe that tools are at the service of processes and customers and should make their professional lives easier.
Written by Estelle Fremaux, Head of Microsoft Business Applications
For your Dynamics 365 projects, contact us at info@ainos.lu