Dimension Data partners with ServiceNow in Luxembourg
Dimension Data partners with ServiceNow to offer the leading IT service management services to enterprises in Luxembourg. Dimension Data has a local team of experts with years of experience not only in ITSM, ITOM, but also in Security Operations and Governance, Risk and Compliance. While the local ServiceNow consulting activities in Luxembourg started recently, the official technology partnership between ServiceNow and Dimension Data aligns both companies since many years. Dimension Data is further one of the top 5 clients worldwide of ServiceNow. On group level, Dimension Data has a team of people that intensively develops the platform together with ServiceNow for more than a decade. Indeed, the SLA module of ServiceNow was initially developed by that team.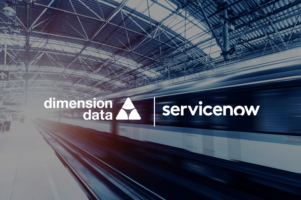 Dimension Data's ServiceNow platform, which is serving Dimension Data clients worldwide underlines this collaboration with some impressive statistics: 19.3 million CIs in the company's CMDB, 250,000 integration requests every week, half a billion transactions every year, and 22,000 new tasks every day.
Stepping into the local Service Now business Dimension Data Luxembourg leverages all this knowledge.
As a local PSF following the CIRCULAIRE CSSF 17/654 Dimension Data is able to offer ServiceNow as a Service (SNOWaaS) in Luxembourg. This offering is a real alternative for all the local companies in the financial sector, that for compliance reasons had to rely on local instances. ServiceNow is however a Public Cloud service that only scales in the public cloud environment. Running the service in a local Datacenter in Luxembourg reduces the footprint and has not only significant drawbacks on performance and availability of the platform but is further also a compromise on security and stability as patches, releases and security updates are not instantly available. The Dimension Data SNOWaaS offering eliminates all these drawbacks  by offering the platform in a way that makes it fully compliant with the new circular and enhances it with a managed service offering that provides additional value for clients in Luxembourg.
The 2nd key differentiator is the full integration of ServiceNow into Dimension Data's "Digital Business Solutions" (DBS) Go To Market. The Dimension Data "Digital Business Solutions" offering has dedicated focus on Enterprise Application Integration, API-led approach, Secure by Design Services, Identity and Access Management, Advanced Analytics and IOT. Service Now follows a full API first approach. By adding ServiceNow as a strategic partner into the DBS portfolio, Dimension Data is not only able to support its clients with the development of frontend Apps as business interface to ServiceNow but also to integrate the platform into an Enterprise Architecture. With that we have an API based access to Backoffice teams which can tremendously lower the Time to Market while releasing new services that depend on legacy backend Enterprise Applications.
Dimension Data collaborates with the industry's most trusted strategic alliance partners to provide clients with access to the latest technologies and premium technical support. This allows to provide specialist technology solutions that help clients accelerate their business ambitions.