Dimension Data BELUX is now APN Consulting Partner
Luxembourg, 19 January – Dimension Data BELUX has joined the Amazon Web Services (AWS) Partner Network (APN) as a consulting partner to help clients design, build, migrate, and manage their workloads and applications on AWS. By joining the APN, Dimension Data will have access to a range of AWS resources and training to better support its clients in their digital transformation journeys.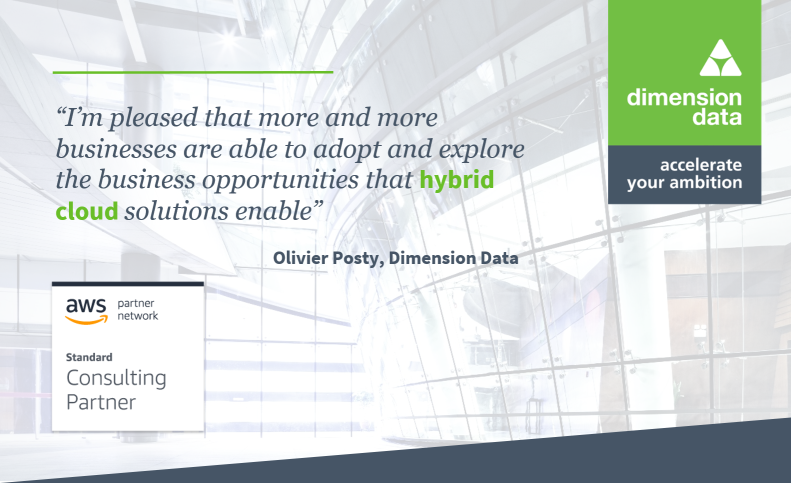 Dimension Data's integrated approach to hybrid IT enables clients to gain control of multi-cloud environments by consistently managing, governing and securing their hybrid IT using Dimension Data's management platform, unifying both existing infrastructure and multi-cloud environments.
This unified management capability provides complete visibility, a consistent interface and enables clients to relocate applications without having to re-architect them. The management of multiple clouds is performed with high degrees of automation, allowing clients to manage applications and workloads themselves or consume them as a managed service across all deployment models such as private or public cloud or on premises.
APN Consulting Partner status implies that Dimension Data has certified more than 50 people in its team on AWS technologies and has worked with various enterprise clients in Luxembourg. Dimension Data's clients can now easily leverage the flexibility of AWS in combination with Dimension Data's core services in digital infrastructure and transformation. By working with AWS, Dimension Data is providing a complete cloud services and cloud management portfolio that gives enterprise clients fast, flexible and secure access to the cloud.
Olivier Posty, Dimension Data Luxembourg's Country Manager said, "Becoming an APN Partner strengthens our ability to provide clients with enterprise hybrid IT solutions and in particular our public cloud capabilities, supporting our market positioning as a managed services provider across multiple clouds. I'm pleased that more and more businesses are able to adopt and explore the business opportunities that hybrid cloud solutions enable," he continued.