Devoteam Luxembourg strengthens its partnership with Microsoft by launching Devoteam M Cloud
Luxembourg, December 7, 2021 - Today, Devoteam Luxembourg announces the launch of Devoteam M Cloud: this new flagship brand is the result of the unification of all their Microsoft expertise across EMEA, expanding combined service capabilities to better serve customers in all sectors and industries through a simple and targeted model.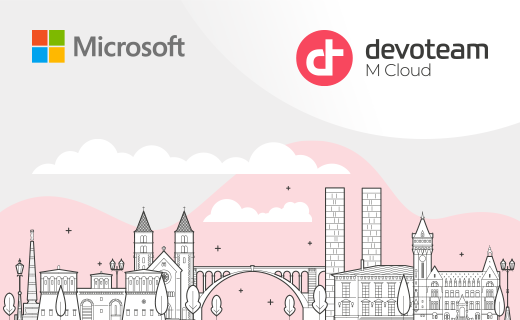 Founded in 1992, Devoteam Luxembourg has a long track record of collaboration and partnership with Microsoft. After being awarded 3 years in a row as "Microsoft Partner of the Year" – Luxembourg (FY19 & FY20) & France (FY21) – Devoteam M Cloud now has the ambition to develop a strong and structured strategic partnership. The amplification of the relationship with Microsoft will enable Devoteam to strengthen its capacity for innovation and but also to better support customers in their digital transformation with new service offerings. This newly created organization, led in Luxembourg by Jeremy Meisch, COO & Director Devoteam M Cloud Luxembourg, combines all aspects of the Microsoft product portfolio and thus covers key future technologies from Azure cloud services and collaboration tools to cybersecurity and managed services.
"The Launch of Devoteam M Cloud is a major step forward in our long-lasting relationship with Microsoft. All our clients are looking for new strategies and industry solutions to drive innovation and growth in the current and future digital era. Devoteam M Cloud is our response to this important market trend. It combines the Devoteam broad industry experience and transformation skills with powerful Microsoft digital technologies." said Jeremy Meisch.
Devoteam has also significantly invested in its talents. "As we are all aware, digital business and technology skills are key and still too rare to enable us to address the digital wave that is still right in front of us. That is why, we are continuously investing in upskilling, re-skilling and certifying our consultants", added Jeremy Meisch. Today, with more than 1.650 certifications achieved, M Cloud guarantees it always has the right skills to successfully to reach the highest performance with the Microsoft Cloud, enterprise-wide and secured. Above all, the M Cloud community is a very dynamic platform for learning, sharing and collaboration; allowing Devoteam to address customers' most challenging and innovative projects, but also to become a magnet throughout EMEA and therefore attract top talents.
On top of that, the international presence of M Cloud is a true asset to better serve the Luxembourg market. Indeed, with more than 1000 experts in EMEA, all Devoteam local customers can now also count on experts in strategy and management consulting, as well as managed Services and development Studios from all around the world. With this organization, all Devoteam M Cloud customers will receive the same high-quality services.
Some facts
1,650+ certifications in Microsoft technology
1000+ Experts in EMEA
16 Gold Competencies
5 Microsoft Advanced Specializations:

Windows & SQL Server Migration to Microsoft Azure
Modernization of Web Applications to Microsoft Azure
Adoption and Change Management
Kubernetes on Microsoft Azure
Threat Protection

Microsoft In Education Global Training Partner
Azure Expert Managed Services Provider (MSP) Certified
3-time in a row winner of Microsoft Partner of the Year – Luxembourg (FY19 & FY20) & France (FY21)
ABOUT Devoteam
Devoteam is a leading consulting firm focused on digital strategy, tech platforms and cybersecurity. By combining creativity, tech and data insights, we empower our customers to transform their business and unlock the future.
With 25 years' experience and 8,000 employees across Europe and the Middle East, Devoteam promotes responsible tech for people and works to create better change.
ABOUT Devoteam M Cloud
Devoteam M Cloud is a leading Partner for Premium Consulting, Solutions & Managed Services for Microsoft. We propose our clients to unlock the potential of Cloud with Azure, Microsoft Dynamics 365 and Microsoft 365. Microsoft Gold Partner with 16 gold competencies, 5 Advanced Specializations – Change Management, Threat Protection, SQL Server Migration, Kubernetes on Azure, and Application Modernization, our 1000+ Microsoft experts guide our customers to leverage a secure and unified Cloud platform from the ground up.