Cybersecurity in the Mobile-Cloud Era
What does it mean to live in the mobile-cloud era? By Luc Costers, country manager VMware Belux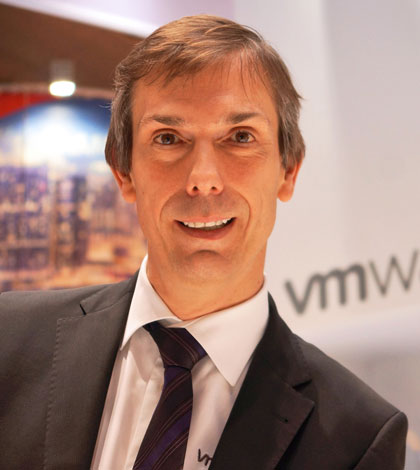 What does it mean to live in the mobile-cloud era? Employees are empowered to work wherever and whenever they want, on their devices of choice. Customers have grown used to speedy, on-demand delivery of products and services. And the mobile-cloud platform makes it possible for organizations to innovate in exciting new ways.
By Luc Costers, country manager VMware Belux
But if there's something holding CIOs back from fully embracing the mobile-cloud era, it's the complexity and risk that come with the territory.
Your Worst Nightmare?
Hacked vehicles. Hacked smartphones. Hacked electronic health data. No wonder cybersecurity is top of mind for CIOs today. Across industries, CIOs must fight rapidly evolving cyberthreats and minimize security risks to ensure customer trust and protect vital corporate assets. This challenge is compounded by the fact that CIOs must also account for the speed of technological innovation.
Security can be a significant barrier preventing organizations – particularly ones with a high level of digital maturity – from taking advantage of digital trends. According to The 2015 Digital Business Global Executive Study and Research Project by MIT Sloan Management Review and Deloitte, "while a lack of strategy hinders early and developing companies, security issues become a greater concern for maturing digital companies."
This point is echoed in The 2015 Technology Industry Outlook survey from KPMG, which found that security is the top challenge for U.S.-based tech companies when it comes to adopting key technologies such as cloud, mobile, and the Internet of Things (IoT): "Tackling security issues will remain paramount even as next-gen cybersecurity solutions emerge to deal with this challenge."
But do these security concerns really prevent CIOs from innovating?
Not generally, according to the Harvey Nash 2015 CIO Survey. The report states that 64% of CIOs believe the risk of possible exposure to IT security threats from 'open' technologies including public cloud, mobile, and bring your own device are worth the risk due to the potential competitive advantage these technologies can bring.
Don't Let It Keep You Up
More than ever, CIOs are looking to manage the growing diversity of – and reduce the risk created by – a proliferation of apps, data, devices, and cloud services. These technologies are breaking traditional IT. Security controls designed for the client-server era no longer meet the needs of the mobile-cloud era. "The transformation from a client-server, perimeter-based model of IT to the mobile cloud is inevitable," says Kevin Strohmeyer, senior director, product marketing, End-User Computing, VMware. "The economics and ability to differentiate and compete requires taking dependencies outside of the firewall."
To find the way forward, VMware CIO Bask Iyer recommends increasing focus and investment in three areas:
Promoting visibility across all environments
Enabling secure, pervasive identity and access management capabilities that are policy driven
Tightly coupling threat intelligence (internal, external, public, private) with proactive security strategies
A proactive strategy should include cultivating a culture of security throughout the organization. Often, employees may not know what constitutes risky behavior. When asked about the biggest challenges experienced or expected when securing mobile devices, 52% of respondents to a Spiceworks mobile security survey said it was limited end-user knowledge regarding risk.
Indeed, as more and more people do their work on mobile devices outside the office, value generation is shifting from the core to the edge. This move requires rethinking the people, processes, and technology required to modernize cybersecurity for the mobile-cloud era.