2017 Top Digital Business Trends
But what does 'digital' really mean? It's a term that's often used to describe a collection of many thoughts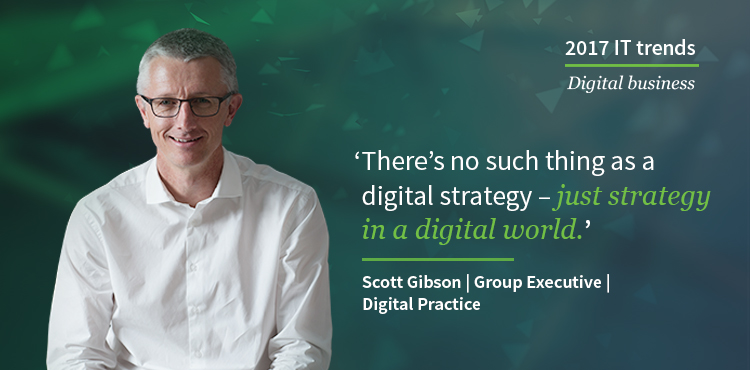 #1: Renewed focus on ownership and access to data ─ and metadata
Last year, when we shared our thoughts on the main technology themes for 2016, we spoke about digital transformation being high on the corporate agenda… and already reshaping the competitive landscape. Today, digital has moved well into the mainstream.
But what does 'digital' really mean? It's a term that's often used to describe a collection of many thoughts. Digital isn't something you can simply 'buy in' or adopt overnight. We believe that embracing 'digital' is about building truly customer-centric business models on IT ─ the network, data centre, applications, and other infrastructure ─ which may be on-premise, or cloud-based.
The digital business model is agile, it's cost effective, it's global, and it can scale. And we believe that the time to embrace it is now.
For some, the digital age is creating a degree of uncertainty… but it's also opening the doors to exciting possibilities. We believe it's an era of infinite potential.
Let's explore some of the key themes in digital business that we see emerging in 2017…
Trend 1: Renewed focus on ownership and access to data ─ and metadata
Control and ownership of data and metadata will emerge as a point of discussion and contention in the year ahead. That's because data and metadata are the 'gold dust' that allow businesses to gain rich insights about customer behaviour, and thereby differentiate themselves in the market.
Truly digital businesses are ones that have their customers firmly in their sights. Think of the businesses that we admire for being digitally-proficient: Airbnb, Amazon, Facebook, and Google. What differentiates them is their obsession with customer service and insights. Their entire business models are focused on tracking consumers as they move through the world.
So disruptors aren't the ones that own the technology … they're the ones that own the customer.
Behavioural patterns
The value of metadata is increasingly being recognised: while 'crunching' data allows you to derive business intelligence in order to make informed decisions, analysing metadata allows you to identify specific behavioural patterns.
As a result, businesses are becoming increasingly protective of their metadata and wary of who has access to it. Organisations don't just want ownership and control of their data for compliance reasons but more importantly, to ensure they can perform analytics. We expect that this will trigger some interesting discussions between businesses and their cloud providers. Where are the boundaries with respect to ownership? We foresee this issue resulting in a bit of 'push and pull' among the various parties.
Mastering the data ecosystem
If data and metadata are to be competitive accelerators for your business, you need to devise a strategy to ensure that you have control of, and access to, all of it – not just what's being generated by the IT function. The challenge here is that 'shadow IT' – that is, the independent sourcing of IT services by business units – is rife in most organisations.
CIOs need to strike a balance between granting business units the freedom to make application-related decisions and ensuring that data isn't being dispersed in an uncontrolled manner by various parts of the business ─ which may result in its loss and ultimately, the erosion of its value.
In 2017, forward-looking CIOs will turn their attention to developing a data model that ensures there's continuity and governance with respect to data and metadata, and most importantly, that they can extract business value from these assets.
This isn't easy. Our consulting teams are increasingly being asked by clients for help in understanding and adopting analytics. We enable them to determine how they can derive more insights from their data and metadata in order to make better-informed decisions than ever before.