A DAY WITH IBM:What's new IBM? – 24.05.2023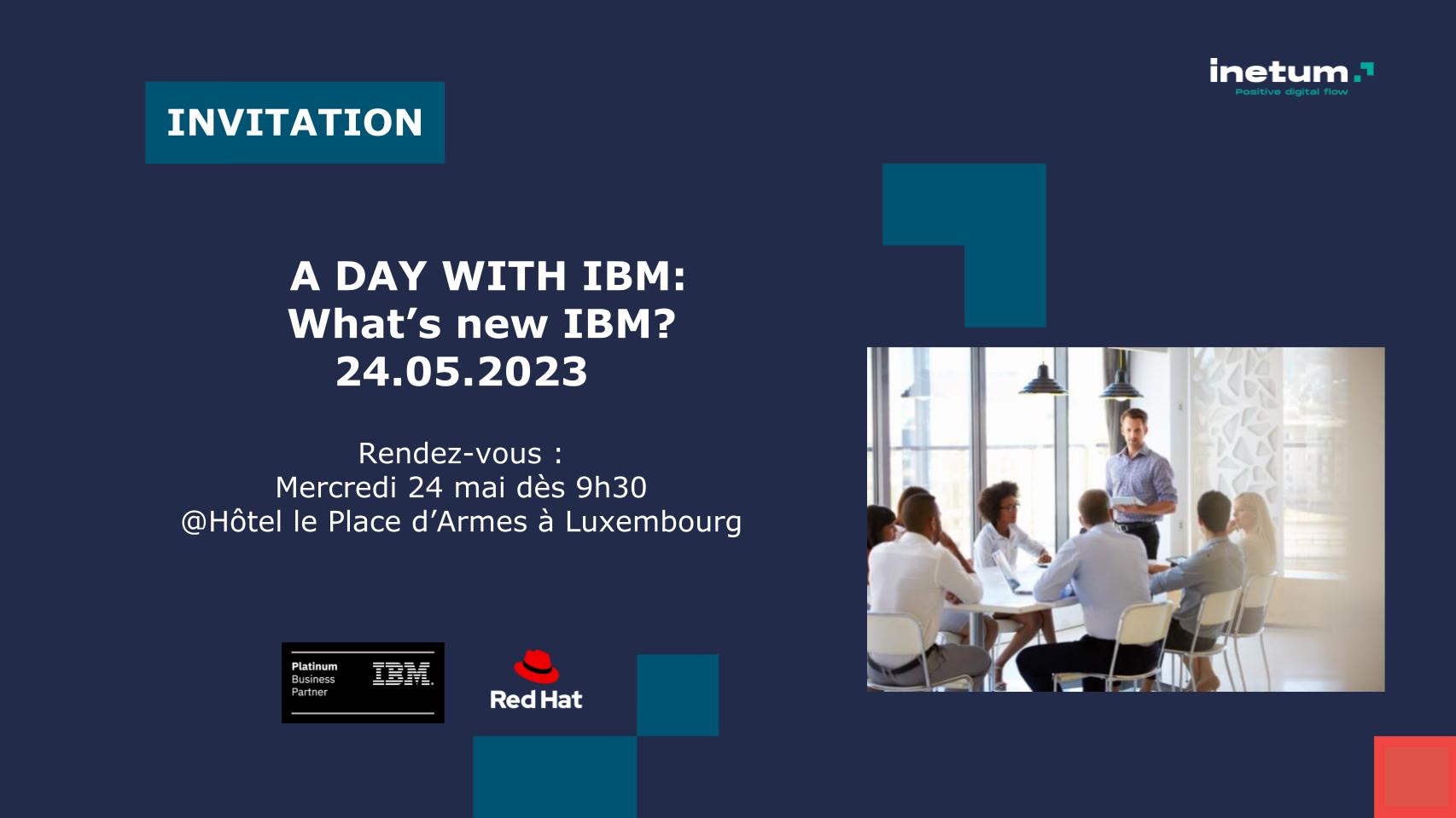 Inetum, IBM & RedHat are pleased to invite you to attend the event
"A DAY WITH IBM: What's new IBM?"on May, 24th 2023
@Hotel le Place d'Armes
You are: CIO, Head of IT, CTO, IT manager ? Register now!
AGENDA
9:00 – Welcome coffee
09:30 – Introduction by Loïc Le Gac (Inetum) & Jean-Paul Herman (IBM)
Morning Sessions
09:45 – 10:45 – Session 1: IBM Power 10 Modernization
Speaker: Ludovic Gasc – IBM
This presentation will be the opportunity for you to discover the full commitment of IBM to support latest IT standards patterns like DevOps or containers with the first-class citizen support of major OpenSource software on the Power platform with OpenShift, OpenStack, or even the .Net runtime, with the help of RedHat and the OpenSource communities.
09:45 – 10:45 – Session 2: How to respond on the latest regulation such as DORA with regards to data Protection/Resiliency/Recovery with IBM Storage Defender
Speaker: Hrvoje Stanilovic – IBMTo help with today's threat landscape, a resilient solution from a technology leader is required to protect, limit and recover from cyber-attacks. You will learn how our integrated solution will help you prioritize threats for a faster response, remediate in minutes / hours rather than days / weeks with best-in-class operational resilience, reduce risk of business disruption, achieve compliance and privacy related process efficiency, and reduce financial losses due to attacks.
BREAK – 15 minutes
11:00 – 12:00 – Session 3: Back up your Microsoft 365 data to IBM Cloud
Speaker: Matthias Eeckeleers – IBMBack up your Microsoft 365 data to IBM Cloud so that your business can recover emails and
documents with ease at any time and under any circumstances. Discover this new service from IBM Cloud.
11:00 – 12:00 – Session 4: IBM Storage & Tape systems update 
Speaker: Eddy Vandormael – IBM
Technology and portfolio refresh.
12:00 – 14:00 – Lunch time
Afternoon sessions
14:00 – 15:15 –  Session 5: IBM ENVIZI Sustainability & ESG report
Speaker: Olivier Roulent – IBM
Today's leaders are excited and energized by the chance to reimagine business and commerce with a sustainability-first mindset. IBM Envizi ESG Suite removes the challenges and complexity of ESG data collection, analysis and reporting so you can harness the power of data to fast-track your success.
14:00 – 15:15 – Session 6: Are you Cloud First or Cloud Last Open Hybrid Cloud ? RedHat Openshift may help you
Speaker from RedHatOver the last many years most organisations have adopted a 'cloud-first' or an 'open hybrid cloud' strategy.
Assumptions driving such a strategy have included responsiveness and scalability, improved customer experience and cost efficiency. But reality is now setting in and digital leaders analyse the real cost and feasibility of migrating to a multi-cloud environment. Factors such as security and compliance, workload balancing and data integration are muddying the cloud waters. RedHat's application container orchestration software OpenShift helps you to stay on track.
BREAK – 15 minutes
15:30 – 17:00 – Session 7: Cloud Pak For Data
Speaker: Herman Nielens – IBM
IBM Cloud Pak for Data is a data and AI platform with a data fabric architecture that makes all your data available for AI and analytics. It helps you predict outcomes. It helps you to improve productivity and reduce complexity. Collect, organize and analyze your data, no matter where it resides.
Discover why IBM is the top Data Fabric vendor. This presentation breaks down major concepts and architecture, and covers several use cases: Data Governance and Privacy, Multi-Cloud Data Integration, Customer 360, MLOps and Trustworthy AI. IBM Cloud Pak for Data deployment options include on-premises software version built on the RedHat's OpenShift container platform, or a fully managed version built on the IBM Cloud®.
15:30 – 17:00 – Session 8: Cloud Pak for Business Automation
Speaker: Malek Jabri – IBM
IBM Cloud Pak for Business Automation helps you achieve scale by providing an integrated, coordinated software platform to digitise your business operations. The platform provides applications in core areas where automation provides benefits: content, workflow, decisions, and capture. Depending on your company's challenges, you can use any of these areas as an entry point into the platform and mix and match capabilities as needed. Process mining is the latest module added to Cloud Pak. Process mining applies data science to discover, validate and improve workflows. By combining data mining and process analytics, organisations can mine log data from their information systems to understand the performance of their processes, revealing bottlenecks and other areas of improvement.
17:15 – Pleasant time together!