12ème Cérémonie Great Place to Work®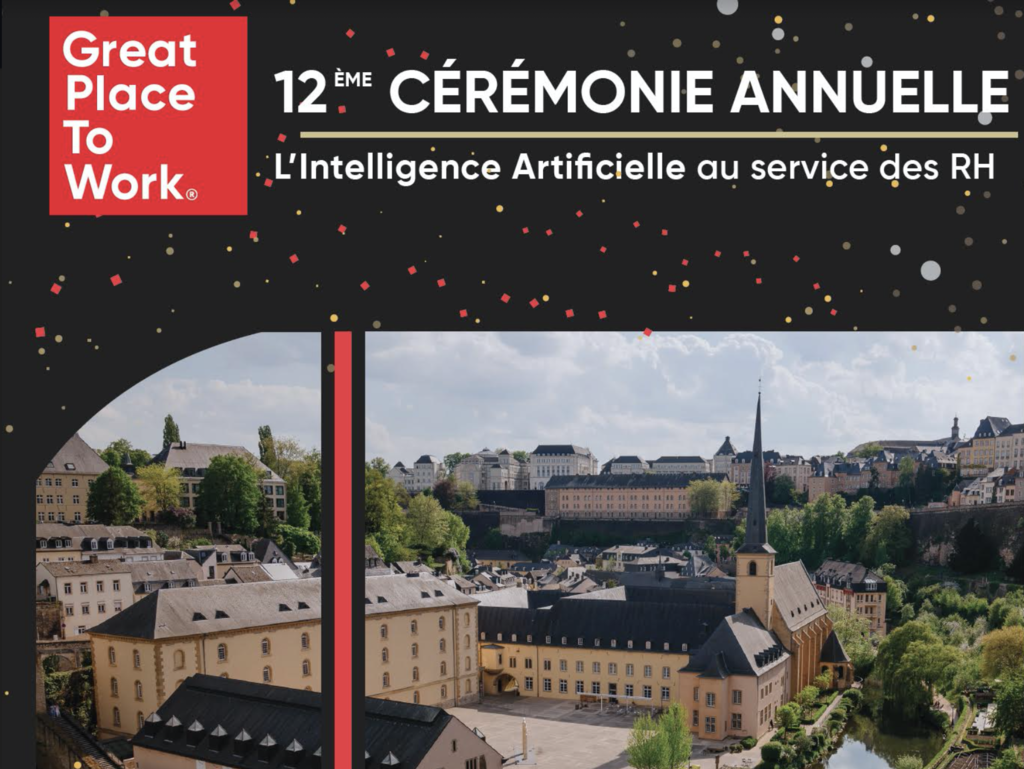 March 31, 2022 @ 17:30

-

20:00
Great Place to Work® Luxembourg organisera le 31 mars prochain sa 12ème cérémonie annuelle à l'Abbaye de Neimënster. Près d'une centaine de dirigeants d'entreprise et de professionnels des ressources humaines du pays se réuniront à l'occasion de cet événement.
Pour commencer, plusieurs intervenants prendront la parole lors d'une conférence qui portera sur la thématique « L'Intelligence Artificielle au service de la fonction RH ». La seconde partie de l'événement mettra en lumière le nom des entreprises où il fait bon travailler au Luxembourg en 2022.
L'Intelligence Artificielle au service de la fonction RH, de quoi parle-t-on ?
L'Intelligence Artificielle (IA) consiste à mettre en œuvre un certain nombre de techniques visant à permettre aux machines d'imiter une forme d'intelligence réelle et humaine. De plus en plus de sociétés utilisent l'intelligence artificielle, ses domaines d'applications sont nombreux et variés, mais comment pourrait-on les appliquer au sein de la fonction RH ?
Lors de cette conférence annuelle, nos intervenants aux compétences et expériences variées pourront échanger sur les bienfaits qu'apporte l'intelligence artificielle au sein du service des ressources humaines mais également sur les différentes « craintes » face à l'intégration de cette technologie dans les organisations.
L'Intelligence Artificielle ne remplacera pas les équipes RH, elle pourra cependant alléger leurs charges de travail, tout en conservant une place prépondérante à l'humain. En définitive, l'IA trouve sa place dans les RH partout où elle peut analyser des données, dans tous types de sociétés en passant par les start-ups, PME et grandes filiales.
Ainsi, nos intervenants partageront leurs expériences et compétences multiples lors d'une conférence, suivie d'une table-ronde pour permettre les échanges d'expériences et de points de vue.
Une dizaine d'entreprises où il fait travailler au Luxembourg en 2022
Pour la 12ème fois en 2022, l'équipe de Great Place to Work® Luxembourg aura l'honneur de remettre le Label Best Workplaces™ à une dizaine d'entreprises luxembourgeoises où il fait bon travailler après qu'elles aient mené une enquête de satisfaction interne auprès de leurs collaborateurs.
Ces entreprises sont engagées auprès de leurs employés pour leur permettre de travailler dans un cadre de travail agréable et propice à l'épanouissement professionnel.
Une belle valorisation pour les sociétés labellisées qui peuvent se démarquer et renforcer leur image avec une culture de la confiance bien installée, et une qualité de vie au travail reconnue et partagée par leurs collaborateurs. C'est également une valorisation en interne puisqu'elle accentue la fierté des équipes et la rétention des talents.
Toutes ces entreprises seront ainsi récompensées dans trois catégories d'effectifs :
Small companies : de 10 à 49 collaborateurs
Medium companies : de 50 à 99 collaborateurs
Large companies : plus de 100 collaborateurs
Les lauréats seront également éligibles au Palmarès Europe dont les résultats seront dévoilés en septembre 2022 : une très belle opportunité de valoriser son entreprise au-delà des frontières.
Inscrivez-vous à notre newsletter mensuelle pour recevoir très prochainement le programme de l'événement et plus encore !