TRANSFORMATION & ORGANISATION
This is the time for Hybrid IT
Cloud computing has evolved in recent years. There are two primary deployment models for clouds: public and private.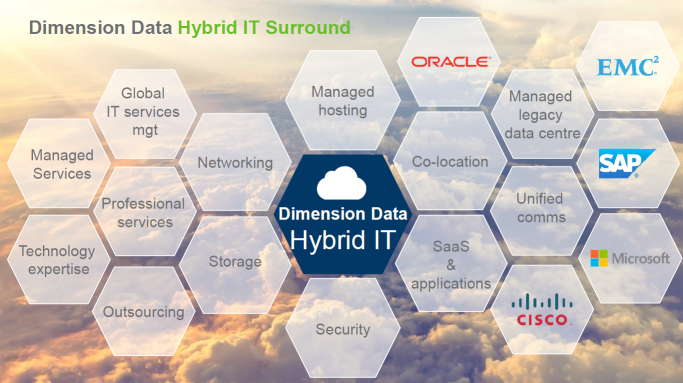 Cloud computing has evolved in recent years. There are two primary deployment models for clouds: public and private. Most organisations will use a combination of private computing resources (data centers and private clouds) and public services. The world of hybrid cloud is an environment that employs both private and public cloud services. By Patrice Chéret
As defined like this is very simple. Now how can this simple concept be implemented within the complete IT environment of a company that is not a startup and so by definition, has to manage many legacy environments? Is it reasonable to imagine that the entire IT infrastructure of the financial industry, which continues to depend on core legacy systems, can adopt a principle of hybrid cloud to transform its environment? We don't think it's something achievable in respect of budget, risks and regulatory constraints.
Does that mean that we believe that the IT environment cannot evolve to gain the efficiency and agility to respond better and more quickly to businesses? Certainly not! Cloud computing provides new ways to consume IT for all companies, and all IT departments should consider the cloud in every project they do. The cloud is not perfect but provides some key advantages that internal traditional IT environments have difficulty to provide.
The challenge here is how to manage my cloud strategy, maintaining control of resources, making sure that security remains intact and creating connectivity with various cloud providers.
The answer is Hybrid IT .
Many people define Hybrid IT as an approach to enterprise computing in which an organisation provides and manages some IT resources in-house but uses cloud-based services for others. That's quite a simple definition. Dimension Data defines Hybrid IT somewhat differently than others. We believe that realizing the true benefits that a Hybrid IT model can deliver involves more than just sourcing IT in a variety of ways. Our view is that achieving effective Hybrid IT involves the following:
A significant number of the business's IT assets leveraging the cloud, both on- and off-premise.
The organisation also has a significant reliance on dedicated infrastructure, as opposed to shared or cloud-based resources.
These two sets of assets are tightly integrated, through a secure network that allows the organisation to optimise the delivery of services.
What are the benefits you can expect from Hybrid IT?
The benefits that can be expected from a Hybrid IT approach are multiple. The first and the most important one, in my opinion, is the acceptance that one model or one platform cannot fit all needs and requirements. This acceptance is crucial to unlocking the breaks in infrastructure evolution. You need to stop thinking that only on-premise infrastructure can provide all the benefits expected by the business. This will not happen. And on the other hand, stop thinking that the entire legacy environment can switch to cloud-based environments in a timely manner. Trans-platforming, re-developments and migrations are risky and costly projects. Think about a new way of defining the IT infrastructure strategy through a Multi-Platform concept. This concept means that some specific platforms are particularly developed to host specific workloads. These platforms deliver more benefits in terms of performance or cost than a platform designed to "meet all needs". To illustrate this, Dimension Data has developed some platforms able to host, in the best performance/cost ratio, specific workloads like Oracle applications and databases, SAP Hana, containers for DevOps using Infrastructure as Code concept, VDI-ready platforms and standard workloads based on virtual machines. All of these platforms can be delivered both on- and off-premises.
Taking the opportunity to move to Hybrid IT means opening all opportunities to consume workloads from and where they are the most appropriate according to performance, agility, cost and compliance. Hybrid IT will allow IT organisations to identify low hanging fruit, concentrate on the Data, and provide quick and flexible solutions.
How to embrace Hybrid IT
Many enterprises don't recognize the mind shift required for a new approach to sourcing and enabling existing and new IT capabilities.
"One of the less obvious reasons is that people believe 'urban myths' about cloud, and they're making decisions based on these myths, which impedes adoption. For example, there's an assumption that business-critical workloads in the cloud aren't secure. However, even highly regulated industries like banking and healthcare are using cloud for these workloads successfully and securely. They can do this because they've invested in the right processes and automation."
Gerard Florian – Chief Strategy Officer at Dimension Data.
Often CIOs focus on finding the perfect cloud provider or the perfect "one-size-fits-all" platform to acquire and hope to be able to manage the new business challenges if they have made the right choice. To embrace Hybrid IT, the choice of platforms has never been as crucial as it is today. The most important part is to prepare the IT department to embrace Hybrid IT; in its network, in its security and in its processes.
Dimension Data has developed unique expertise in helping clients to prepare for Hybrid IT. Our Next Generation Data Centre framework is there to enable our clients to move to Hybrid IT. It includes everything required to transform the data center into a Hybrid IT data center:
The network inside and outside the data center
The different platforms able to host different workloads; on- and off-premises
The security of the connectivity but more importantly the security of data
The operations framework covering all the platforms
The automation and processes to manage all workloads over the Hybrid ITenvironment
Why Dimension Data?
Hybrid IT is the next generation of agile IT environments that have a mix of legacy and new applications. It represents a new way of thinking based on the view that one provider or one vendor cannot provide the best solution for all workloads.
At Dimension Data, integration has been part of our DNA for 30 years to help our clients in integrating best-of-breed solutions to deliver maximum benefits. We are uniquely positioned to help our clients in building this momentum, using our core competencies in networks, security and operations. We can leverage our global and world-class partners, our Public and Private technical platforms and our Great People fascinated by technologies and new trends.
We live in a world of infinite possibility. If you believe you can do anything, we're here to help you do it.