Safer Internet Day 2015: Le Luxembourg confirme son excellence 
Le Safer Internet Day (SID) a été lancé à l'initiative […]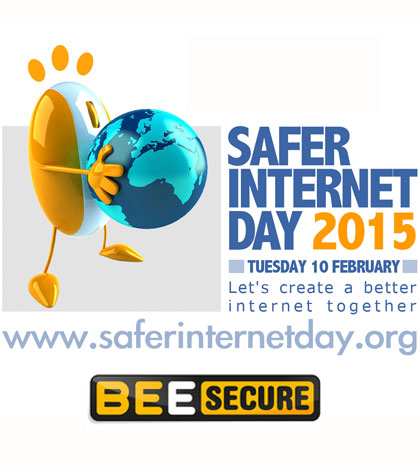 Le Safer Internet Day (SID) a été lancé à l'initiative de la Commission européenne et est organisé par le réseau international INSAFE. La 12e édition se tient dans le monde entier ce mardi, 10 février 2015 et a pour but la sensibilisation et la mobilisation pour une utilisation sûre et responsable des médias numériques. Au Luxembourg, l'initiative gouvernementale BEE SECURE initie et soutient 19 évènements dans le cadre de cette journée.
«Tout au long de l'année, nous sommes en contact avec 14.000 jeunes, que ce soit dans les écoles, les lycées et les maisons relais.» déclare Eric Krier, responsable de BEE SECURE. «Le Safer Internet Day est pour nous une belle occasion par laquelle nous touchons aussi le grand-public: les enseignants, encadrants, parents, grands-parents.»
À l'occasion du Safer Internet Day, BEE SECURE est présent avec l'atelier #BEEFirstAid à la Belle-Étoile. Les citoyens peuvent y faire contrôler les paramètres de sécurité de leurs appareils mobiles. L'équipe y est présente tout au long de la journée. Une série d'autres manifestations a lieu les jours précédant et suivant le Safer Internet Day, comme un atelier «Hack your museum» au Casino Luxembourg.
Tous ces efforts sont reconnus par la Commission européenne qui continue à cofinancer BEE SECURE. En effet, lors du récent appel à projets pour la période de janvier 2015 à juillet 2016, la Commission européenne a attribué un score de 14,5/15 aux projets de l'initiative gouvernementale BEE SECURE. Avec ce score, le Luxembourg se place parmi les pays les plus performants.
Agenda complet des activités 
Activités ouvertes au public
BEE SECURE for parents – Elternabende
09/02/2015, 19h-21h – Elternabend in Remich
09/02/2015, 18h-20h – Elternabend im Lycée Vauban
#BEEFirstAid @Belle Etoile
10/02/2015 Les visiteurs peuvent consulter des experts pour les faire examiner leurs appareils techniques mobiles (smartphone, tablet, etc.) et obtenir de bons conseils de sécurité.
Live Radiosendung
der Medienklasse aus dem Lycée Michel Rodange auf Radio ARA
10/02/2015, 15h-16h
Coding Workshop «Hack your museum»
18-19/02/2015, 14h30-17h30 @casino-luxembourg
Beiträge von Gust MEES
IT-Sicherheitsthemen im Blog von Gust MEES
"Digital Citizenship" Global Education Collaboration Blog
Präsentationen und Workshops zur Online-Sicherheit
05/02 und 10/02/2015 bei "Cooperations asbl", Wiltz
Eltern-Seminar in der International School of Luxembourg
12/02/2015 – Workshops zum Thema Cyberbullying, Digital Privacy, Online gaming, etc.
Hack4Kids dans le cadre de la «Code Class»
13/02/2015 Eis Schoul
BEE SECURE for school – Safer Internet Woche in verschiedenen Schulen
Lycée Vauban
Lycée Michel Rodange
Schengen Lyzeum Perl
BEE SECURE for youngsters
Polaroid campaign and workshops at JH Munneref
Polaroid campaign and workshops at JH Mutfert
BEE SECURE for seniors
04/02/2015 Club Haus an den Sauerwisen
06/02/2015 Club Senior Dudelange
11/02/2015 Senioren-Sicherheitsberater-Training
Treffen der vier öffentlichen und drei privaten CERTs.
13/02/2015 – Das Ziel dieses Treffens ist es, gemeinsame Projekte zu diskutieren und die CERT-Gemeinschaft unter dem einzigen Label CERT.LU zu fördern.