Sacred Heart University Luxembourg and Infrachain Announce Partnership to Promote Blockchain Education
Two key players in the Luxembourg business environment join forces to advance the competitive standard for Blockchain in Luxembourg.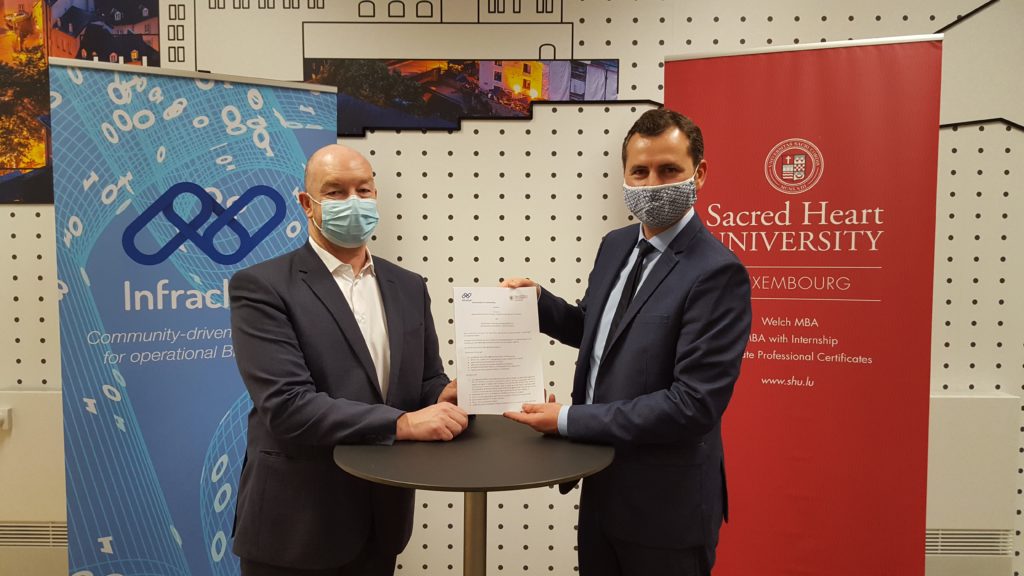 Sacred Heart University Luxembourg (SHULU) and Infrachain will pioneer a new partnership in Blockchain education in Luxembourg this spring. The agreement will inform the development of SHULU's "Blockchain, Big Data and Cryptocurrencies" course, consisting of 12 evening sessions, which will begin in May. The university's Blockchain classes will provide Luxembourg's business students with a hands-on introduction to Blockchain, distributed ledger and crypto-currencies.
Infrachain, a non-profit organization on Blockchain, will forward toward its goal to develop Blockchain in Luxembourg by promoting the course with its members and assisting with the recruitment of industry experts to serve as trainers and speakers in the program, together with the SHULU Professors. "We are excited to support the development of Blockchain education in Luxembourg through this partnership. We aim to develop this further with our partners within the Luxembourg Blockchain Lab" said Fabrice Croiseaux, chairman of Infrachain.
The aim of the venture is to ensure an international competitive standard for the industry's actors within Luxembourg. "SHULU is proud to continue developing its partnerships with local stakeholders to develop education and bridging it to the much-needed industries." said Antoine Rech, Head of Campus.
ABOUT
SHU Luxembourg
With more than 30 years of experience in Luxembourg and a network of more than 700 MBA Alumni, Sacred Heart University offers AACSB accredited MBA programs through evening courses. Answering the needs of professionals wishing to pursue their higher education and embrace new challenges, SHULU also offer Graduate Certificates in Digital Management, Leadership, Private Equity and an MBA combine with an internship.
More info: https://www.shu.lu/
Infrachain
Infrachain a.s.b.l. (association sans but lucratif) is a Luxembourg based non-profit organization with a European scope. The association was launched in May 2017 by several industry players under the impulse and with the support of Digital Luxembourg, the Luxembourg government's collaborative initiative that strengthens and guides the country's digital efforts. Infrachain is committed to create an on-top governance framework allowing Blockchain applications to become operational in the current regulatory environment.