Remise du trophée « Délégué national en normalisation » 2021
Le 14 octobre marque la célébration de la Journée Mondiale de la Normalisation. L'occasion pour l'ILNAS de remercier l'ensemble de la communauté des délégués nationaux en normalisation qui contribue à améliorer notre quotidien en participant à la création des normes de demain, que cela soit au niveau national, européen ou international. C'est aussi lors de cette journée que l'ILNAS récompense l'investissement exceptionnel d'une personne impliquée dans la normalisation via la remise du trophée « Délégué national en normalisation ».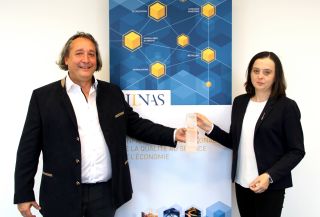 La cérémonie de remise du trophée « Délégué national en normalisation » s'est déroulée en comité réduit dans les locaux de l'ILNAS, en raison de la situation sanitaire. M. Jean-Marie Reiff, Directeur de l'ILNAS, a eu le plaisir de décerner cette récompense au Dr. Emilia Tantar, Chief Data and Artificial Intelligence Officer, chez Black Swan LUX.
Dr. Emilia Tantar a fait ses premiers pas dans la normalisation en 2018, en s'inscrivant en tant que déléguée nationale dans le sous-comité ISO/IEC JTC 1/SC 42 – Artificial Intelligence. Souhaitant également s'impliquer au niveau européen, Dr. Emilia Tantar a d'abord rejoint le CEN-CENELEC Focus Group Artificial Intelligence en 2020, puis le CEN-CENELEC/JTC 21 – Artificial Intelligence dès sa création en 2021. Elle est tout particulièrement impliquée dans le AdHoc Working Group « AI Conformity Assessment », dont elle est devenue Co-Convenor.
Sa contribution à la normalisation ne s'arrête pas là puisqu'elle participe également à d'autres groupes et comités techniques au niveau international : IEC/SEG 10 – Ethics in Autonomous and Artificial Intelligence Applications, ISO/IEC JTC 1/SC 40 – IT service management and IT governance et ISO/IEC JTC 1/WG 13 – Trustworthiness.
En lien avec ses activités de normalisation, Dr. Emilia Tantar est aussi devenue membre du groupe de travail technique sur l'intelligence artificielle de l'EU Observatory For ICT Standards (TWG AI) et, dans le cadre du travail effectué, elle a participé à la préparation du rapport « Landscape of AI Standards », publié en mai 2021.
Son implication l'a aussi amenée à représenter les intérêts des PME au sein de la normalisation technique. Elle assure ainsi la liaison entre l'ISO/IEC JTC 1/SC 42 et Small Business Standards depuis mai 2021. En juin 2021, elle a également été invitée à prendre la parole devant le groupe de travail « Standards » de la European Digital SME Alliance, afin de partager le parcours de sa PME vers la normalisation.
Pour sa contribution importante à la normalisation technique, son investissement personnel et son implication dans de nombreux comités techniques européens et internationaux dans le domaine de l'intelligence artificielle, l'ILNAS tient donc à féliciter Dr. Emilia Tantar.
La Journée Mondiale de la Normalisation est également l'occasion de saluer le travail de l'ensemble des délégués qui œuvrent pour représenter les intérêts du Luxembourg dans le domaine de la normalisation, et de les remercier pour leur participation.