Open Insurance comes to Luxembourg in joint initiative between Bâloise Assurances and LUXHUB
THE FIRST OPEN INSURANCE API IS NOW AVAILABLE IN THE LUXHUB MARKETPLACE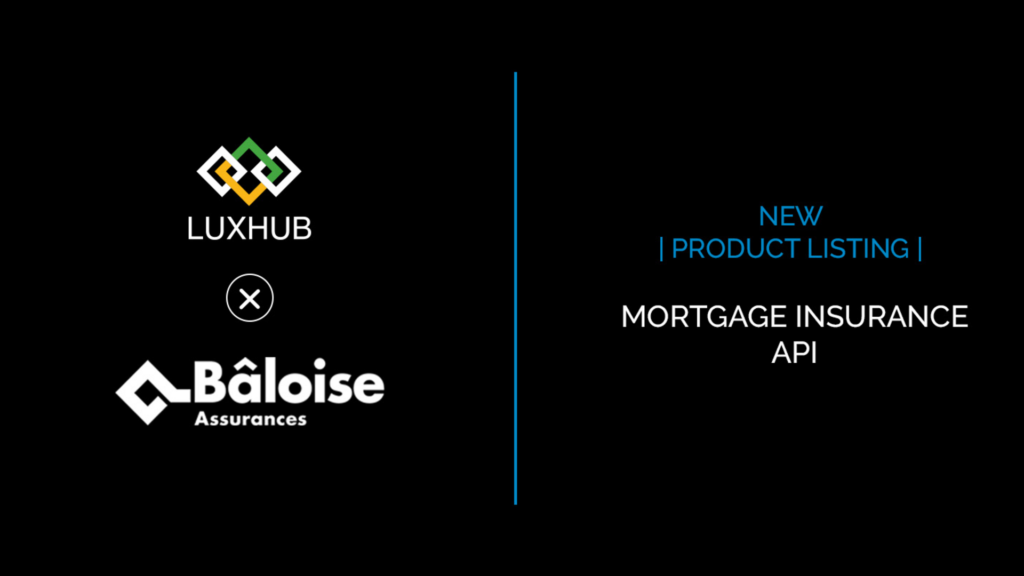 Bâloise Assurances, an already recognized leader of retail digital insurance, and LUXHUB, an award-winning European Open Finance Hub, are announcing today the launch of a joint initiative in the field of Open Insurance. This partnership will enable financial institutions to integrate mortgage insurance quotes directly within their core banking systems. The Bâloise Open Insurance API (Application Programming Interface) is now available in the LUXHUB Marketplace.
As is the case with Open Banking, Open Insurance seeks first and foremost to provide added value services to both partners and the end users. This is primarily achieved through improved user interface, data-driven customization and more seamless integrations with third-party platforms.
In concrete terms, Bâloise's Open Insurance API will enable client banks to embed real-time, tailored mortgage insurance quotes directly into their core banking systems – all in just a few clicks – with access, testing and integration taking place within LUXHUB's established Marketplace. Now listed within LUXHUB's Open Finance Marketplace, Bâloise's Open Insurance API is easily accessible, with comprehensive commercial and technical documentation, as well as Sandbox access, freely available to the public.
With the IT complexity having been effectively removed, the only limit for interested partners is the imagination. Everyone, from CTOs to business development managers, can be free to experiment with the APIs and to conceptualize added value services specific to the profile of multiple end users.
Xavier ROBLIN, Head of Corporate Development & International Relations at Bâloise Assurances Luxembourg, explains: 'In a world where connectivity is the condition of all successful business models, and where ergonomics and intuitiveness are so important, Bâloise now enables the interconnection of its services directly into the interfaces that bank advisors, and their customers, are already so familiar with.'
'We have, since our very inception, been convinced about the potential of Open Finance to drive tangible and sizeable impact beyond banking and into the wider financial services sector. Our mantra of 'innovation imposes collaboration' is again clearly evidenced, and it is a pleasure to form a partnership with a company so committed to pioneering developments in this direction,' adds Jacques PÜTZ, CEO of LUXHUB.
A partnership that inaugurates the digitalization of Open Insurance
Bâloise Assurances is proud to be able to further support B2B partners through its ever-broadening expertise in connectivity and APIs. The insurance company is committed to simplifying the lives of its customers through digitalization and, in doing so, optimize the service experience of the end user.
Xavier ROBLIN, one of the key drivers of the initiative adds: 'It is the beginning of a fantastic journey and we very much intend to extend the scope of our products, the breadth of our services, and the number of partner banks, both in Luxembourg and beyond.'
LUXHUB has always been firmly committed to enhancing the potential of 'open innovation' across multiple sectors, through collaborative endeavor. And it is this shared vision that served to catalyze a combined propulsion towards Open Insurance in Luxembourg.