Next "ISTQB Agile Extension Level" Training 100% confirmed at q-leap!
The next ISTQB Certified Agile Extension Level Training session at q-leap premises will take place from Thursday, 12th July 2018. This session is 100% confirmed and spots are still available!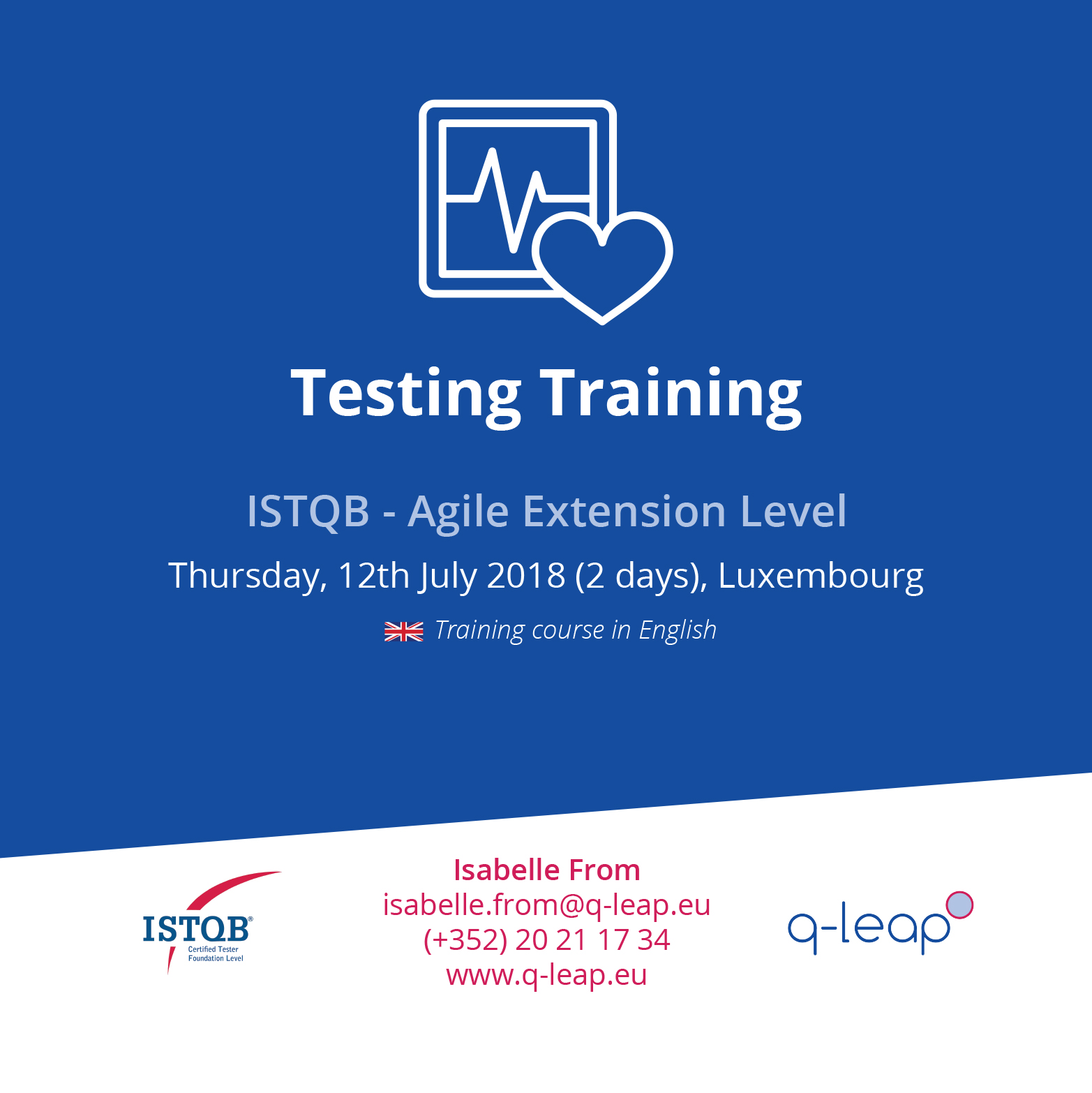 ISTQB Agile Training and Certification Extension give testers the knowledge they need to be part of an Agile testing team. You will learn about agile software development and fundamental Agile testing principles, practices, and processes.
The Extension Level qualification is aimed at anyone involved in software testing such as:
Testers or test managers with experience in traditional development life cycles
Developers unaccustomed to the test on an Agile project
Testers
This Extension Level qualification is also appropriate for anyone who wants a basic understanding of software testing, such as Project Managers, Quality Managers, Software Development Managers, Business Analysts, IT Directors and Management Consultants.
Holders of the Extension Level certificate will be able to go on to a higher-level software testing qualification.
Would you be interested in this training and certification? 
Date: Thursday, 12nd July 2018
Location: q-leap SA | 13 rue Beaumont L-1219 Luxembourg (Luxembourg City)
Duration: 2 days
Language: English
Status: 100% Confirmed
Exam & certification: This course provides you with the necessary knowledge to take the certification exam after the course. The exam session takes place on the last afternoon of this training session.
[button color="cyan" link="https://www.q-leap.eu/trainings/istqb-agile-extension-level/"]Register [/button]
[colored_box color="grey"]Should you require a training course and/or a date that is not listed, or require additional information, please do not hesitate to contact us: 
Isabelle From
Training Sales Manager at q-leap
Email: isabelle.from@q-leap.eu
Tel: (+352) 20 21 17 34 [/colored_box]
[toggle title ="About q-leap"]
q-leap is a Software Quality company, founded in 2012 and based in Luxembourg.
With over 25 experts in Software Engineering, Testing, Architecture, Business Analysis, and Project Management, we advise, train and implement for our customers, quality processes and technologies that fit their objectives so that they can deliver better quality software.  We have a dream that one day, applications will fully satisfy their users.
With extensive experience in industry sectors such as Banking & Financial Services, Healthcare, ICT, Telecoms, the Public Sector, Transportation, and Aviation to name a few. Our experts possess recognized certifications such as ISTQB, TMMi, Scrum, BBST, RST, Prince 2 and IQBBA, to deliver better quality solutions and quality management to the business.
We adhere to the highest quality standards at all levels, helping our clients find and mitigate shortcomings before they reach their customers or end-users.
At q-leap, we pride ourselves in attracting passionate and talented individuals that make up our teams, which are all based in Luxembourg. All experts, whatever their role, are used to working closely with other team members to deliver the expected quality as the top priority. Aiming for that, each project is managed with a direct link between q-leap and the customer.
We are guided by a set of values that dictate our actions as individuals and collectively as a company:
Quality
Trust
Expertise
Engagement [/toggle]
[colored_box color="grey"]
More info and to contact q-leap:
www.q-leap.eu
contact@q-leap.eu
(+352) 20 21 17
[/colored_box]