LUXITH set up helpline within 24 hours to assist COVID-19 patients
Hundreds of patients receive technical assistance from remote operators to fight and contain the spread of the virus.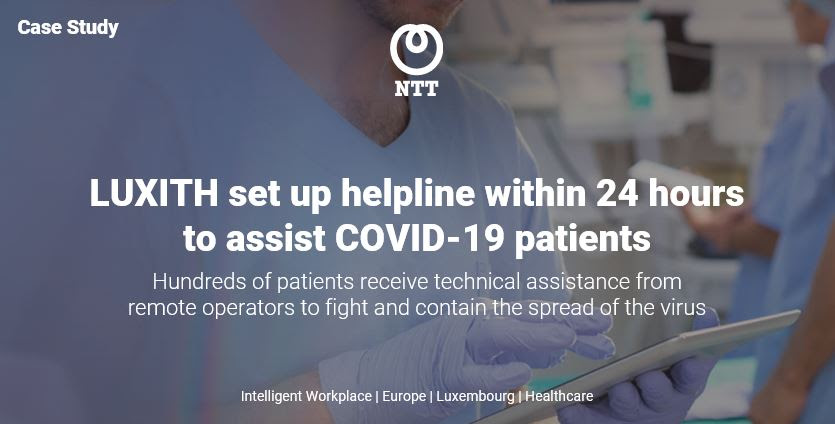 Challenge
LUXITH is an Economic Interest Group established by the Luxembourg Hospitals Federation to provide IT services, software and shared IT infrastructure to hospitals in Luxembourg.
In the wake of the COVID-19 crises Luxembourg's government required the creation of a helpline to assist patients to connect to a medical consultation platform. Given the exceptional circumstances, that helpline had to be operational the very same day.
Solution
NTT Ltd. helped LUXITH with the set up of a service desk directing phone calls to LUXITH's technical crew. Thanks to the dedication of both teams, the help line was operational within the next 24 hours, and ready to face the peak of calls. The contact centre enabled COVID-19 patients to connect to remote LUXITH operators who provided technical assistance to monitored patients to troubleshoot the dedicated medical web platform.
NTT Ltd. provided the expertise to configure, test, and optimize the call flows based on various sets of data, like logic, call waiting time, and availability of the operators within a planning. The technical solution is based on PeterConnects ServiceDesk.
Outcome
The rapid deployment of the solution allowed to respond to a mounting number of patient calls in a critical moment for society. COVID-19 patients of all ages and backgrounds could be guided through the medical platform, monitored from distance and therefore contributing to containing the spread of the virus in Luxembourg.
Indeed, LUXITH continue to contribute to the successful strategy of the Luxembourg government in the fight against COVID-19 while setting an example for other countries.

'In fact, at its core, healthcare information technology is all about communication – communication between devices, between team members, between patients and platforms. The rapid set up of the help desk enabled us to assist patients when they most needed it.'
Christophe Nardin, Director, LUXITH G.I.E.