LUXHUB partners with SnT: Powering Open Finance with AI
The Fintech and ICT research project aims to provide Open Finance with Federated Learning methods.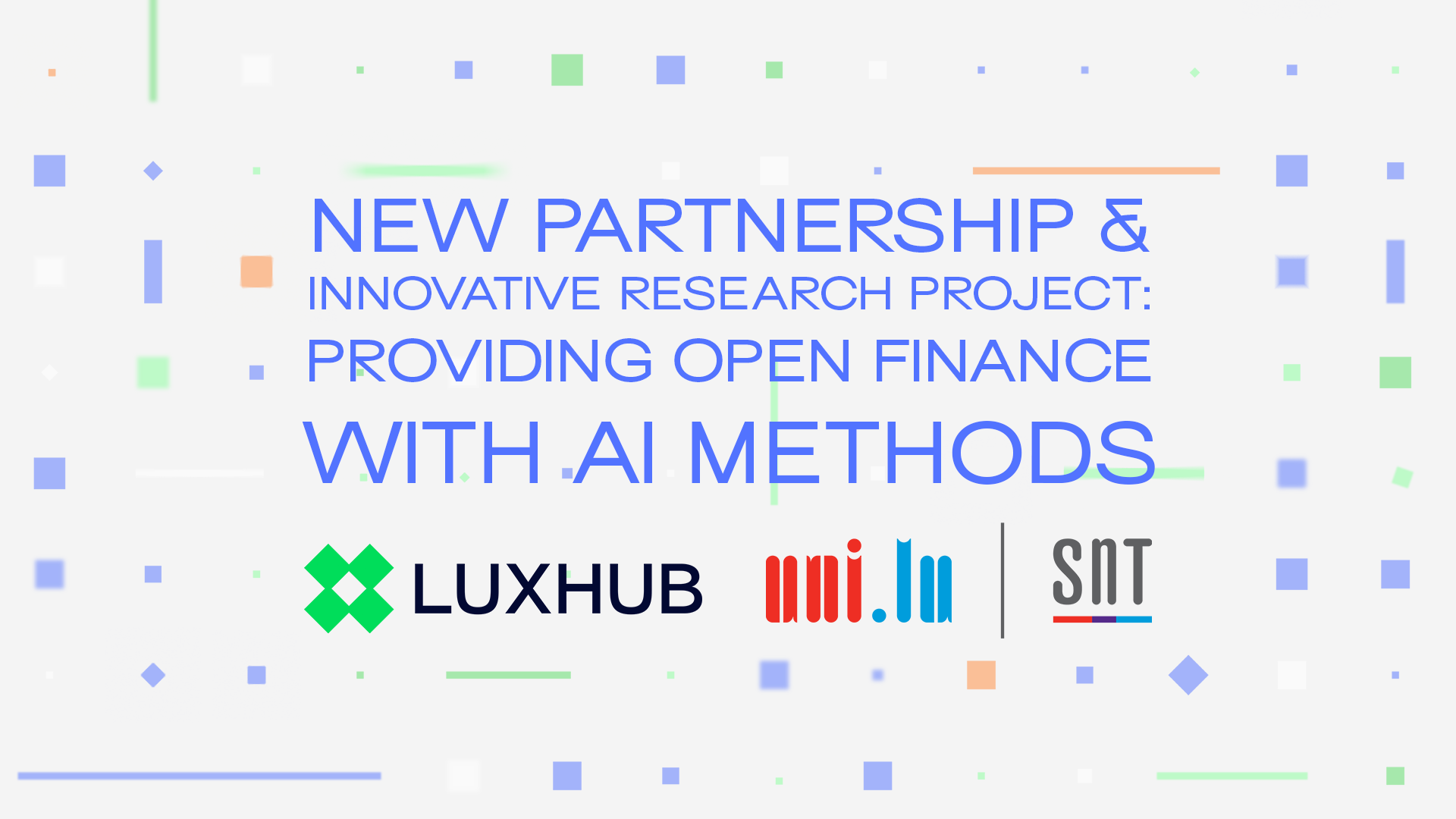 Strassen/Luxembourg, 03 February 2022 – Today, Open Banking pioneer LUXHUB is announcing a strategic partnership with the University of Luxembourg's Interdisciplinary Centre for Security, Reliability and Trust (SnT) to create added value services based on financial data. The partnership will implement ground-breaking technology in the field of artificial intelligence while respecting the industry's main concerns – the safety and privacy of sensitive data – through the federated learning model.
"In the era of Open Finance – with financial service companies collaborating, co-creating new products and services by taking advantage of the API economy – it makes sense for them to opt for the federated learning model, and keep building the future of finance. Together," first explains Claude Meurisse, COO of LUXHUB.
Federated learning consists of a machine learning procedure, where the goal is to train a high-quality model with data distributed over several independent providers, such that the data remains locked on each provider, and no centralized data storage is actually needed.
Federated learning differs from most machine learning models, as the algorithm – and NOT the data – travels. Claude Meurisse comments: "Joint predictive models are shared and created by what is called the federation. And eventually, all participants learn from everyone without learning from anyone."
A secure and confidential learning model
Through this federated learning model, LUXHUB and SnT are making sure data never leaves the premises of the client/participant, and therefore security and confidentiality are ensured.
"Federated learning allows the training of a model with your own data but without sharing the data with anyone else; you just share updates to a global model. The data stays on each client's premises – in the case of a bank, down to a single branch – to avoid any risks, but the system allows every participant to leverage the collective intelligence to train the global model. It's a win-win: everyone is better off by collaborating, while ensuring data security and privacy at the same time," highlights Prof. Radu State, Principal Investigator of the project at SnT.
Moreover, leveraging federated learning in the financial sector counts more benefits, from lower latency and less power consumption, to a significant decrease in false positives and therefore an important decrease in operating costs.
Key use cases within the financial sector
LUXHUB, as a central and neutral piece of this data puzzle, aims to enable more interaction and innovation within the financial services industry. "LUXHUB is all about fostering innovation and collaboration," underlines the COO.
More concretely, the participants will power an algorithm, making it more efficient and accurate, allowing the financial institutions to take better-informed decisions. The training of the algorithm will be assumed by the LUXHUB team in collaboration with SnT researchers.
Phase 1 of the project will consist of the design and management of a secure federated learning platform. In parallel, the teams will be focusing on several key use-cases that will benefit the entire financial services industry, such as fraud detection, anti-money laundering, loan risk prediction, and transaction categorisation. The model could then be extended to additional use cases, dealing notably with key compliance topics, and more.
"Leveraging data and the knowledge of SnT researchers, this project with LUXHUB on federated machine learning is highly innovative, aiming at identifying illicit financial activity by enabling shared learning, but without any risk in sharing data. The project outcomes have tremendous potential allowing the design of solutions that leverage data across several stakeholders in a secure and compliant manner," said Björn Ottersten, Director of SnT.
About LUXHUB
LUXHUB emerged from the combined vision of four major Luxembourgish banks – Banque Raiffeisen, BCEE, BGL BNP Paribas & POST Luxembourg – to become a key catalyst of the European financial industry's evolution towards Open Finance. Built on compliance; driven by innovation – although LUXHUB's initial objective was to provide an efficient and effective PSD2 compliance product for financial institutions in Luxembourg and throughout Europe, the award-winning Fintech has always harbored ambitions far beyond this. Through innovation and collaboration, LUXHUB has already grown into one of Europe's leading Open Finance hubs and is a REGTECH100 2022 company.
More information: www.luxhub.com
About SnT
The Interdisciplinary Centre for Security, Reliability and Trust (SnT) at the University of Luxembourg conducts internationally competitive research in information and communication technology. In addition to long-term, high-risk research, SnT engages in demand-driven collaborative projects with industry and the public sector through its Partnership Programme. The resulting concepts present a genuine, long-lasting competitive advantage for companies in Luxembourg and beyond.
More information: www.snt.uni.lu
About the University of Luxembourg
The University of Luxembourg is an international research university with a distinctly multilingual and interdisciplinary character. The University was founded in 2003 and counts more than 6,700 students and more than 2,000 employees from around the world. The University's faculties and interdisciplinary centers focus on research in the areas of Computer Science and ICT Security, Materials Science, European and International Law, Finance and Financial Innovation, Education, Contemporary and Digital History. In addition, the University focuses on cross-disciplinary research in the areas of Data Modelling and Simulation as well as Health and System Biomedicine. Times Higher Education ranks the University of Luxembourg #3 worldwide for its "international outlook," #20 in the Young University Ranking 2019 and among the top 300 universities worldwide.