TRANSFORMATION & ORGANISATION
Les 13 entreprises où il fait bon travailler au Luxembourg en 2021
Chaque année, l'Institut Great Place to Work® récompense les meilleures organisations où il fait bon travailler dans près de 100 pays. À l'occasion de la 11ème édition en 2021, l'Institut a misé sur un format hybride pour diffuser sa conférence annuelle, et révéler les 13 Best Workplaces™ Luxembourg 2021, qui ont su maintenir et proposer un environnement de travail agréable pour tous malgré la crise.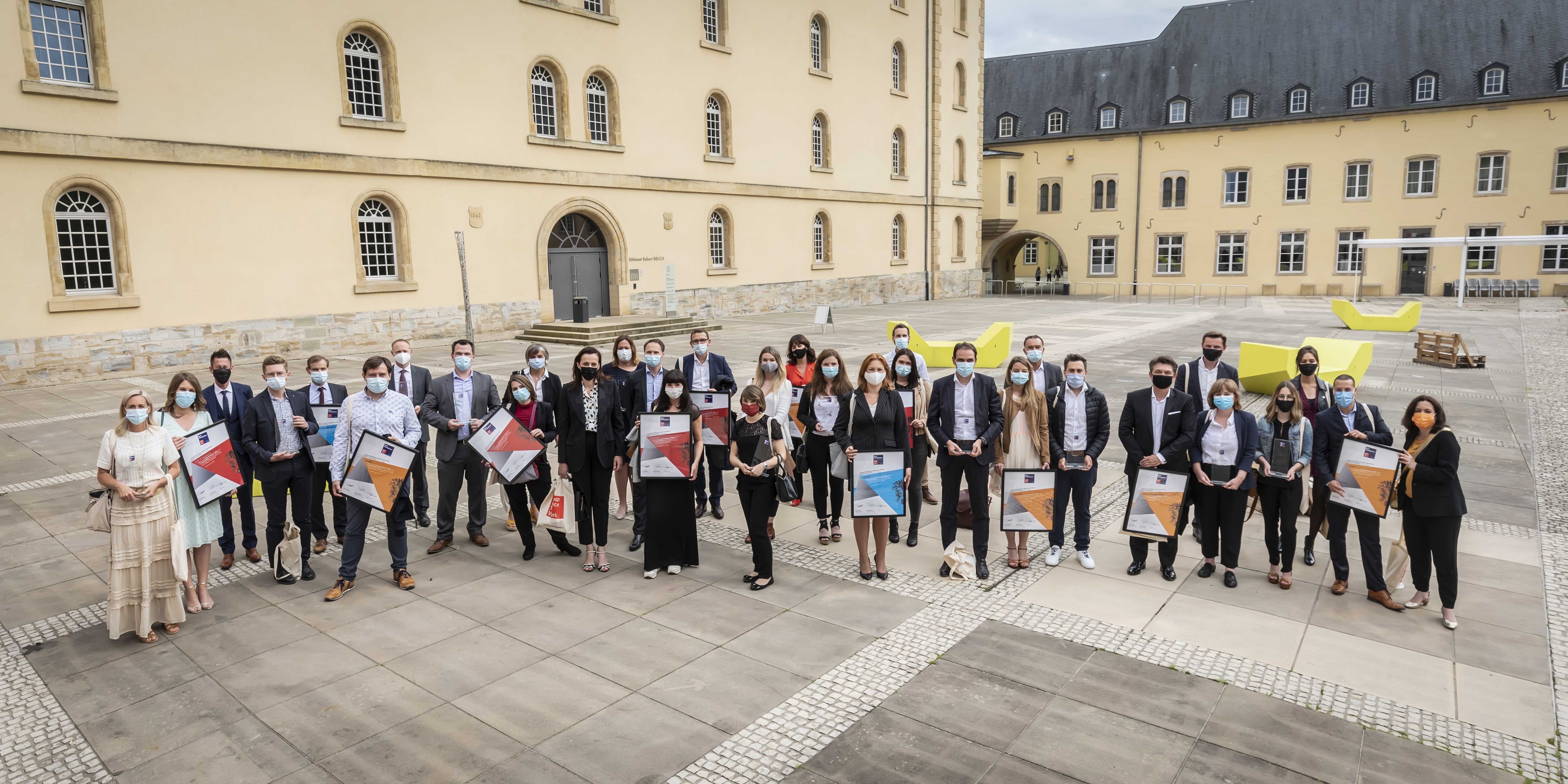 Une 11ème édition phygitale
Alors que la cérémonie 2020 était entièrement en virtuelle, la joie de se retrouver était immense ce jeudi 4 juin à l'Abbaye de Neimënster où une quarantaine de participants ont pu assister physiquement à la Conférence et Cérémonie Great Place to Work® Luxembourg 2021. Une centaine de personnes ont également pu se joindre aux labellisés à travers un direct diffusé sur les réseaux sociaux.
L'événement a débuté par une conférence sur la thématique « L'entreprise à l'ère post-covid : à quoi aspirent les collaborateurs ? ». Un sujet complexe mais d'actualité auquel Françoise Thoma de Spuerkeess et Wilfrid Lagrange de Devoteam ont apporté leur vision, leur expérience terrain et le quotidien de leur secteur d'activité et de leur entreprise depuis mars 2020.
La révélation des Best Workplaces™ a mis en lumière la grande tendance des enquêtes menées par Great Place to Work® entre mars 2020 et mars 2021 : les résultats globaux n'ont pas chuté, mais au contraire grimpé de 5% par rapport à l'année 2020. Ce constat se confirme avec les labellisés de 2020, qui ont à nouveau décroché le label en 2021 puisqu'ils ont en moyenne augmenté leur résultat global de 4%.
D'après les collaborateurs qui travaillent dans une entreprise labelisée Best Workplaces™ en 2021 :
94 % affirment que les nouveaux collaborateurs sont bien accueillis.
94% déclarent que la Direction gère l'entreprise de façon honnête et en respectant des règles éthiques.
92% disent qu'ils sont fiers de déclarer à d'autres qu'ils travaillent pour cette entreprise.
Zoom sur les 13 entreprises où il fait bon travailler, même en 2021
L'évaluation de Great Place to Work® repose sur deux outils complémentaires qui permettent :
d'avoir la perception des collaborateurs à travers le questionnaire de satisfaction Trust Index™
de faire l'état des lieux des raisons qui font de l'entreprise évaluée une entreprise où il fait bon travailler, même en 2021, à travers le dossier Culture Audit™
Palmarès des petites entreprises (de 20 à 49 employés)
#1 REAZN
Palmarès des moyennes entreprises (de 50 à 99 employés)
#1 System Solutions Luxembourg SA
#2 Mixvoip
#4 AkaBI
#5 Talan
Palmarès des grandes entreprises (plus de 100 employés)
#2 ATOZ
#3 InTech
#4 Devoteam
#5 Cocottes
Félicitations aux 13 organisations labelisées cette année qui se démarquent par la qualité de leur environnement de travail et les conditions de travail dont disposent leurs collaborateurs en 2020-2021.
Vous souhaitez voir votre entreprise labélisée en 2022 ? En savoir plus sur la démarche Great Place to Work® ? Contactez l'Institut dès à présent à info@greatplacetowork.lu.
 [toggle title ="À propos de Great Place to Work®"]Great Place to Work® est un institut international d'enquêtes et de consulting qui aide les sociétés de toutes tailles à être plus productives en se concentrant sur l'expérience de travail pour chaque collaborateur. Nos recherches montrent le lien direct entre l'engagement des collaborateurs et la performance financière de l'entreprise.
Depuis 30 ans, nous avons questionné plus de 100 millions de salariés à travers le monde et aidé les sociétés à identifier et construire des cultures de confiance et de haute performance. Tout ce que nous faisons est dicté par notre mission : construire un monde meilleur en aidant les organisations à devenir des entreprises où il fait bon travailler pour tous d'ici 2030.[/toggle]