Lead an agile transformation with Impact mapping
Le nouveau RDV Tech d'Agile Partner.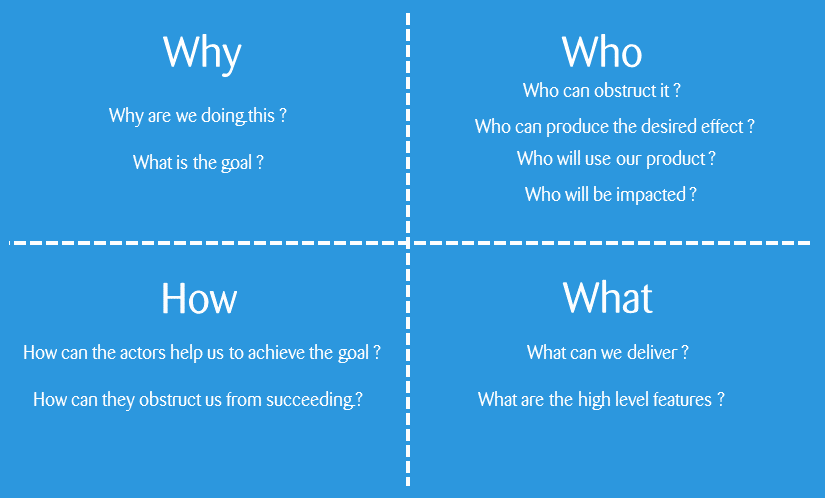 Did you know that 45% of the features that are developed in products are never used?
One of the reasons of those 45% is a flawed product vision.
A flawless product vision would highlight the entirety of the impacts on customers and stakeholders which leads to a proper focus while developing a product with valuable features (The always/often used features in our pie chart).
The most important word here is IMPACT (you will understand soon).
When you do not think about all the impacts of your product, it will result in a tremendous amount of issues like scope creep, design of wrong solutions/features, wrong assumptions, ad-hoc prioritization…
In short, a cost in time and money!
Analyzed by Cédric Tamavond – Agile coach and Yoan Thirion – Senior software craftsman at Agile Partner
Identity card
Name : Impact mapping
Type : Planning technique
Specific aspects : Visual management tool
What is an impact map?
The Impact mapping is a mind-mapping kind of exercise.
To be efficient this exercise needs to be done in collaboration.
An impact map is answering the following questions:
The main goals of an impact map are:
Create a big picture view
Facilitate strategic planning
Help to manage project roadmap
Improve communication
How to build an impact map
Impact mapping by example
To illustrate it, we did the exercise on a trendy subject in Luxembourg and might probably interest you: Agile transformation.
Context
Let's imagine that the top level of your organization has decided to go on an Agile transformation and is relying on your expertise to lead it. But you don't even know where to start.
That's where the impact mapping comes in handy:
Don't hesitate to rely on the "Why, Who, How, What" model.
We decided to focus our attention on the C-level, and Middle management layers, and not on the Team level that is better known.
To go further…
We gave you an example of how to use the Impact Mapping technique but it can be applied to a wide range of contexts and answer questions like:
What is the product vision?
What is the business goal of my project? I don't understand the objectives.
Who is involved in this project?
Is this feature relevant for someone?
…
However, pay attention that an impact map, like every other visual tool, is useful only if it is shared with everyone and if it is used collaboratively.
If you want to know more about the impact mapping and/or about Agile transformation, feel free to share with us on our blog or by twitter @agilepartner.