KPMG Luxembourg reveals new Executive Committee
KPMG Luxembourg announced today the new Executive Committee that will work with David Capocci when he becomes Managing Partner on 1 October 2020.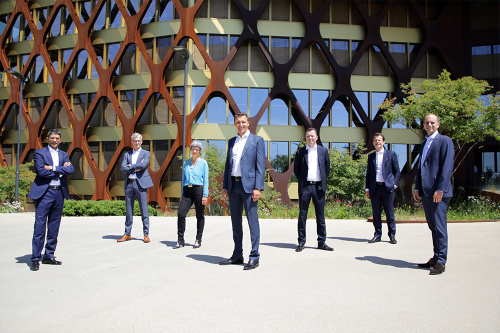 KPMG Luxembourg announced today the new Executive Committee that will work with David Capocci when he becomes Managing Partner on 1 October 2020.
The new Executive Committee will include seven positions. As in previous years, the Managing Partner, Head of Tax, Head of Advisory, Head of Audit and Chief Operating Officer (COO) all sit on the committee. A Chief Innovation Officer (CINO), Head of Sales & Markets, have been added as permanent members to support the central goals of client centricity and innovation.
David Capocci, the future Managing Partner, commented:
"The new Executive Committee will guide our firm into a new era as we face the new reality of Covid-19 together. By selecting the leadership team now, we can work closely with the current leadership team to ensure a smooth transition during the difficult days ahead and enable us to be ready and fully operational on day one. I am convinced that this dynamic team will serve the collective interests of the clients and firm in the years ahead."
"I look forward to working with the current leadership team during the transition and would like to acknowledge their work in growing the firm over the past four years. And, more recently, extend to them a heartfelt thanks for their leadership during this extraordinary time of crisis. I believe they are leaving the firm in a better place than when they started ¾ which is also what I hope to do as well."
Building on the innovation in the firm's DNA
David Capocci, the future Managing Partner, explained how the new Chief Innovation Officer will play a role in building on the firm's history of innovation to help clients:
"A Chief Innovation Officer (CINO) has been added to Exco to accelerate implementation of innovative ideas, technology, and processes that will augment quality, improve our margins, and increase scalability. The CINO will also collaborate closely with functions and sectors to develop new revenue streams and improve efficiency in our operations."
This new position will be filled by Ravi Beegun, a tech enthusiast and well-known face in the financial industry who will bring his passion and proven track-record in innovation, technology, data and analytics and digital transformation.
"As we enter this new era for companies and the global economy, the need for digitalization will be greater than ever before. By taking a bolder approach to integrate innovation as part of our DNA, and at the highest level possible, we are not only stretching the digital potential of our clients to the max — we are also looking at how technology will empower us to achieve sustainable growth for KPMG. This marks a turning point in the history of the firm, and I am delighted to see this new role evolve in the future."
The Head of Sales & Markets will now join the Executive Committee as a full member to foster collaboration between service lines, solutions and accounts to facilitate and ensure revenue growth.
As Head of Sales & Markets, Stanislas Chambourdon will bring his strong executive presence and relationships with top clients to develop our go-to-market strategies and lead our sectors community. His main focus will be ensuring that the client is firmly at the center of all initiatives and strategies to ensure that the right solutions are applied to the challenges of the coming months.
Working closely with the Chief Innovation Officer, Stanislas will facilitate the development of cutting-edge customer experience with a culture of innovation.
A passion for people
Driven by motivating and empowering people, David believes one of the core responsibilities of a Managing Partner is to be invested in the growth of the firm's greatest asset: its people. Consequently, he is incorporating a strong people element in his role as Managing Partner:
"Technology is an enabler but cannot replace a human touch. I have a natural passion for people, and I love to exchange, discuss and generate ideas together with my fellow colleagues across the firm. To motivate and empower our exceptional people, our responsibility is to make sure they have the right tools and environment to flourish. This will allow us to serve our clients with excellence and professionalism and will retain my personal attention. Attracting talents and keeping them is paramount to the firm, and I am happy to lead a conversation that will enable the firm to remain competitive and attractive."
New faces to the team
Sébastien Labbé will continue to drive the tax activities as Head of Tax, and Fabrice Leonardi will stay on as Chief Operating Officer (COO). Stephen Nye will also continue as Head of Quality & Risk Management. They will be joined by a new team of leaders with a wealth of experience within the firm when David and the new Executive Committee assume their positions on 1 October. In addition to Ravi Beegun as Chief Innovation Officer and Stanislas Chambourdon as Head of Sales & Markets, Petra Schreiner will take on the role of Head of Audit, while Yves Courtois will become Head of Advisory.
David Capocci commented: "I am proud to lead a new team that will bring a special spark and style to the firm as we face the new challenges that lie ahead of us. Innovation, creativity, flexibility and agility will become the key drivers when navigating through, what appears to be, the greatest level of economic uncertainty that we have seen in decades. We are, more than ever, resilient and there for our clients in these troubled times. This year will be challenging, but I have no doubt that with such a strong and dynamic team we'll be able to tackle today's challenges and build a sustainable future."