Jean-Luc Martino wins 2015 European CIO of the Year Award for Medium-sized enterprise
CIONET International and Cegeka today announced the winners of the 2015 European Chief Information Officer (CIO) of the Year Award. Jean-Luc Martino, CIO of Raiffeisen Bank in Luxemburg receives the award in the category SME.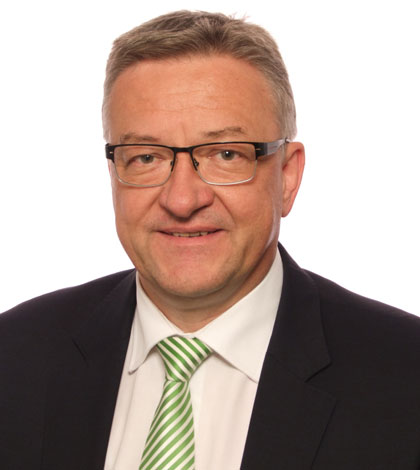 CIONET International and Cegeka today announced the winners of the 2015 European Chief Information Officer (CIO) of the Year Award. Jean-Luc Martino, CIO of Raiffeisen Bank in Luxemburg receives the award in the category SME Small and medium enterprise.
Presented by UNESCO Director of Digital Society Indrajit Banerjee, the awards recognize the success of CIOs who have increased their organisation's competitiveness by using information and communication technologies (ICT) to create significant business value.
For the fifth time in a row CIONET, together with Cegeka, brought together a committee of experts to select three winners from a selection of 23 prominent finalists from 9 European countries. Judges selected the top three in the following categories, each representing an important type of business value that CIOs help organisation achieve: Public Sector, Medium Sized Enterprise and Large Enterprise.
The following CIOs earned this year's award:
Medium-sized enterprise: Jean-Luc Martino, CIO, Raiffeisen Banque, Luxemburg;
Large enterprise: Mattias Ulbrich, CIO, Audi AG;
Public Sector (ex aequo): Paul Danneels, CIO of VDAB, Belgium and Piera Fasoli, CIO of Gruppo HERA, Italy.
Selection criteria included examining how well CIOs adjusted their IT strategy to meet business needs; how successful they were in deploying ICT and related teams to meet business requirements and to effectively manage business priorities. The final three winners were selected on the basis of their own and their team's accomplishments.
"It is striking to notice how much more business impact these CIO's are having," said Frederic De Meyer, Program Director at CIONET International. "Virtually all of this year's candidates have put programs in place to get their ICT teams work closely with business people."
According to member of the jury Nils Fonstad, Research Scientist at MIT Center for Information System Research "This year's Finalists reveal that in the most successful firms, CIOs are sharing digital leadership responsibilities with other CxOs, collaborating tightly to build the digital capabilities necessary to be innovative and competitive".
"As a pan-European IT service provider we experience how CIO's can make the difference for their businesses", says Christoph Neut, Chief Commercial Officer of Cegeka Group. "The jury of this prestigious award has elected four CIO's that have shaped their IT organisation in a clever and innovative way, and made their organisations more agile to prepare them for the digital future. Organisations that invest strategically in digitalisation will obtain a sustainable competitive advantage."
[colored_box color="blue"]
About CIONET
CIONET is the largest community of IT executives in Europe. Bringing together more than 5000 CIOs, CTOs and IT directors from wide-ranging sectors, cultures, academic backgrounds and generations, CIONET's membership represents an impressive body of expertise in IT management. CIONET's mission is to feed and develop that expertise by providing top-level IT executives with the resources they need to realise their full potential.
CIONET develops, manages and moderates an integrated array of tools and services from the online CIONET platform – the world's first social network for CIOs – to a range of offline networking events, conferences, workshops and executive education programmes all tailored to top-level management. CIONET also provides exclusive access to the latest research through regular online and offline publications and a number of value adding partnerships with key players from the academic and corporate worlds.
Faced with the rapidly changing role of today's IT executive, CIONET not only helps its members keep up with the pace of change but empowers them to take an active role in shaping the future of their field, always challenging them with "What's next."
About Cegeka
Cegeka Group is an independent ICT service provider, established in 1992. Cegeka has its head office in Belgium with branches in Belgium, Germany, France, Italy, Netherlands, Luxembourg, Austria, Poland, Romania, Czech Republic and Slovakia. The company provides services to clients throughout Europe: enterprise cloud services, application services, agile coaching and outsourcing services to reduce costs, increase productivity and enhance business success for customers. The group has 3,200 employees.
[/colored_box]