Imagine your Digital Transformation with nvision & Fujitsu
Fujitsu and Nvision organise a presentation at Namur on 25th february at 18h15. Your new digital story through 5th chapters.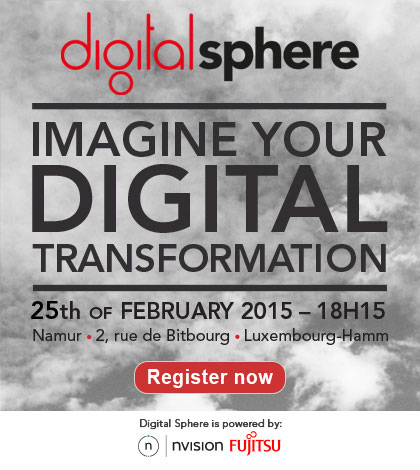 nvision & Fujitsu hold a presentation at Namur on 25th February at 18h15. 
Your digital transformation through 5 chapters.
Digital strategy "In the heart of your business": Transform your business model, multichannel and customer centric services;
User experience "between emotion and perception": Define your brand identity, a new level of experience, design smart interfaces;
Technology "Make it simple whilst it's complex": Digital technology and experience, digital security, a mix of technologies;
Conversation "Involve users and they will learn": use of social networks, understand your customers, a connected company;
Optimisation "Spreading the word everywhere": From the push to the pull, content is kind, give a meaning to your data.
[button color="blue" link="http://www.digital-sphere.lu/#home"]Register [/button]