How Fujitsu is driving Digital Transformation around the globe
More than 12,000 attendees expected at Fujitsu Forum, which takes place in Munich on November 16 and 17.
Comprehensive program shows how Fujitsu is partnering with customers to co-create businesses that are fit for digital.
Event also highlights continued Fujitsu investment in digital technologies – Cloud, the Internet of Things, Artificial Intelligence and Cybersecurity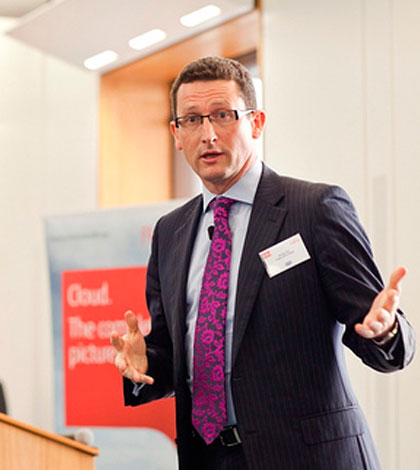 Driving Digital Transformation is the key theme at Fujitsu Forum 2016, Europe's largest single-vendor technology event, taking place in Munich, Germany on November 16 and 17, 2016. The event – expected to attract more than 12,000 attendees from all over the world – will demonstrate how Fujitsu is partnering with its customers around the globe to co-create a digitally empowered future, accelerating innovation through human-centric digitalization and delivering valuable business outcomes across all industry sectors, from retail to finance and from logistics to healthcare.
Digital transformation is driving sweeping changes across all industries. Fujitsu Forum will demonstrate how Fujitsu is continuing to invest and innovate in key digital areas such as Cloud, the Internet of Things, Artificial Intelligence and Cybersecurity, helping customers to navigate the challenges and opportunities of digital transformation.
Duncan Tait, SEVP and Head of EMEIA and Americas region at Fujitsu, says: "Digital disruption is changing our world. New digital technologies and services based on the cloud, big data, mobile services and the Internet of Things are turning market dynamics on their heads and creating entirely new customer requirements. Fujitsu is responding by partnering with our customers to co-create a new digital world. At Fujitsu Forum we will provide powerful demonstrations of how this co-creation approach is enabling Fujitsu customers to take advantage of disruptive market forces to gain a true competitive advantage. With digitalization driving sweeping change across all elements of business, the Fujitsu approach of co-creation is enabling our customers to maximize their possibilities and push through boundaries."
As part of its strategic focus on enabling customers to drive digital transformation, Fujitsu is making the following announcements at Fujitsu Forum:
New Fujitsu survey confirms that digital disruption is the new norm: More than half of business leaders (52%) say that digital disruption means their organizations will not exist in their current forms by 2021, per a global study commissioned by Fujitsu. While almost all (98%) said their organization has already been impacted and will continue to be impacted by digital disruption, 92% recognized their business needs to evolve to thrive in a digital world and 75% believe their sector will fundamentally change in the next five years.
Continued momentum in the rollout of Fujitsu Cloud Service K5, a key element of Fujitsu's cloud enablement and digital transformation strategy. Fujitsu is continuing the rollout of its K5 PaaS public and private sector cloud services, giving customers a wider choice of regions and local data residency to meet legislative requirements for the management of sensitive information as they take advantage of new Fast IT and cloud technologies.
New Cloud IoT Platform: The Fujitsu Cloud IoT Platform, underpinned by the Cloud Service K5, simplifies and accelerates the design, delivery and management of robust, high performance IoT-based enterprise solutions. It eliminates the complexity of traditional IoT deployments, and makes business intelligence data from multiple sources easily accessible for integration into all business areas and mainstream business processes.
Creation of a new Cybersecurity business in EMEIA: Fujitsu is launching a Cybersecurity business in Europe, Middle East, India and Africa (EMEIA) region – helping businesses to strengthen their resilience against cyberattack as part of a new, globally-integrated security offering. Fujitsu is aiming to protect customer assets and underpin business continuity through providing continuous system monitoring to strengthen resilience against any form of online threat or attack.
An increased focus on Fujitsu Artificial Intelligence (AI) Solutions, such as a new healthcare solution designed to improve clinical decision-making, following a successful field trial with San Carlos Clinical Hospital in Madrid. This solution, developed on the back of in-depth research into applying advanced data analytics for healthcare applications, deploys Fujitsu Laboratories' state of the art anonymization technologies and Fujitsu's data analytics technologies, tailored to meet the specific needs of the local Spanish healthcare sector. The technology will form the basis of a new Health Application Programming Interface (API), to be deployed in the Fujitsu cloud or delivered locally in a private cluster or cloud.