Hitachi is putting the "smart" in smart cities
Transportation systems stand to benefit significantly from mobile optimization and […]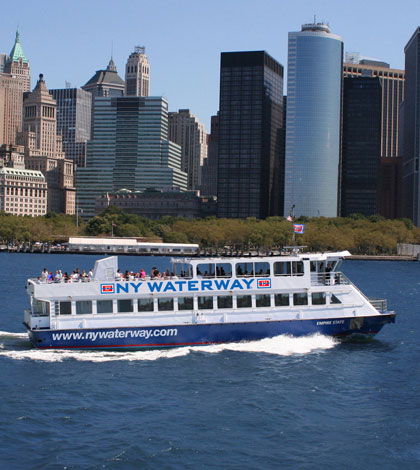 Transportation systems stand to benefit significantly from mobile optimization and digitalization, placing them squarely among the frontline use cases for smart cities.
Forward-thinking organizations are now applying predictive and prescriptive analytics to video and machine data captured from connected sensors and devices, commonly known as the Internet of Things (IoT), to support a new wave of intelligent public transportation systems.
"Safe, intelligent public transportation systems are a foundational element of smart cities…"
Hitachi Data Systems (HDS), a wholly owned subsidiary of Hitachi, Ltd. (TSE: 6501), said today that its customer, NY Waterway, a privately owned marine transportation company that offers ferry services in the Port of New York and New Jersey, is successfully using Hitachi Visualization to support its intelligent transportation system.
Support a unified, digitally & optimized solution
The company uses Hitachi Visualization Suite and the Hitachi Visualization Platform together with third-party technologies to support a unified, digitally optimized solution for monitoring and communicating with its vessels on the dock and as they move across the water. The new system has helped NY Waterway to enhance passenger safety, improve mobile network connectivity and stability, and dramatically increase operational efficiency by providing consistent real-time and remote visibility across its fleet.
"The Hitachi Visualization solution addresses both public safety and operational efficiency use cases"
"Safe, intelligent public transportation systems are a foundational element of smart cities," said Ruthbea Yesner Clarke, director of global smart cities research at analyst firm IDC. "Public and private entities looking to benefit from the application of smart technologies ultimately require multifaceted solutions that can address multiple use cases. The Hitachi Visualization solution holistically addresses both public safety and operational efficiency use cases for transportation agencies, as well as law enforcement, governments, municipalities and private companies. This capability uniquely positions it for a broad range of applications in the context of a smart city."


Be the fastest and easiest mode of transportation
Just as taxicabs are ubiquitous on New York City streets, ferries in the city's harbor and rivers are a vital part of the region's transportation system, helping residents from Manhattan, Brooklyn, Queens and New Jersey get where they need to go. Since its operations began in 1986, NY Waterway has provided safe passage for more than 200 million passengers and continues to be the fastest and easiest mode of transportation to and from Manhattan.
Managing fleet operations and public safety systems on New York ferries can be challenging due to the region's harsh weather and inconsistent cellular and network connectivity as boats move across the city's waterways. NY Waterway had an aging video surveillance system onboard its vessels and in its terminals, and an automatic identification system (AIS) that ran on local servers to track each boat's location, but no practical way to view video feeds in real time. Further, the fleet's cameras were continually subjected to extreme temperature, water spray, adverse lighting and inclement weather, which would frequently render them unreliable.
"They can now more quickly and accurately respond to an event"
To help modernize its operations and public safety systems, NY Waterway tapped Hitachi channel partner, A.A.S Technologies, a voice, data and security systems integrator, to manage the selection and integration of complementary technologies from various manufacturers into a single, seamless solution that could be managed via a central and easy-to-use dashboard interface. A.A.S selected Hitachi Visualization to serve as the core management software and hardware platform for its unified solution.
"Leveraging Hitachi Visualization as the foundation of our solution, we helped NY Waterways to streamline its operations and implement a holistic environment for public safety and disaster preparedness," said Anil Sookoo, principal of A.A.S Technologies. "They can now more quickly and accurately respond to an event whether it occurs on the water or in a terminal. Whenever needed, cameras can be repositioned remotely and customized alerts can be sent to pre-designated personnel. It's all possible from any network device – at any time or place – and can be shared simultaneously as the situation demands."
The brain of Hitachi Visualization is Hitachi Visualization Suite (HVS) software. Designed to aggregate data from incoming sources in a central, operational dashboard in real time, HVS offers full situational awareness to support a myriad of public safety, smart city and operational systems. It delivers a highly visual and integrative map that intuitively organizes and manages sensor data, multiple video feeds and public safety systems like AIS. HVS also offers advanced analytic features that can tap public information sources, such as social media networks, online news and weather data, to rapidly make correlations, identify anomalies and show valuable predictive insights.
"You can literally click on any vessel on the dashboard map, see where the cameras are located on that boat, and then click on a particular camera to view the video as it is recording – very impressive," Sookoo commented.

Fast roaming and mobile-optimized network
A.A.S Technologies also installed Hitachi Visualization Platform (HVP) gateways to manage data integration, transcoding and ingest services from various sources, including NY Waterway's 350 new cameras. The HVP gateways promote optimal video recording and live streaming from the cloud, and offer workflow capabilities to act on any sensor or alarm data. Information is collected, shared and analyzed via built-in wireless network feeds that deliver video and data streams in real time. This capability complements NY Waterway's new fast roaming and mobile-optimized network that offers consistent connectivity along the one hundred miles of waterways the ferry system serves. The new network provides clear communication in its terminals and on its vessels, supporting data streaming, video capture and monitoring up to 100Mb per second on ferries that travel at speeds up to 35 knots.
"The possibilities are endless."
"Hitachi Visualization has dramatically increased the security and efficiency of our fleet operations. HVS has provided a centralized communication system that allows real-time visibility across our fleet and terminals, which means our operations run more smoothly," said Jonathan Figueroa, Director of Facilities for NY Waterway's Billybey Ferry Company. "We now have expanded opportunities to enhance passenger safety – both in our terminals and onboard our vessels – and can be more agile in tracking telemetry across our fleet. The possibilities are endless."
"NY Waterway is a prime example of a forward-thinking transportation company that is putting the "smart" in smart cities."
"NY Waterway is a prime example of a forward-thinking transportation company that is putting the "smart" in smart cities. They are advancing the efficiency and effectiveness of their operations while improving public safety and the user experience of their passengers through the implementation of leading edge technologies. We're pleased that Hitachi Visualization offered the versatility and flexibility to meet their requirements," said Mark Jules, vice president of public safety and visualization solutions at Hitachi Data Systems. "The knowledge and experience of our partner, A.A.S. Technologies, was invaluable to this project. Their deep domain expertise and understanding of the locale enabled us to develop the best possible solution for NY Waterway and the transportation industry."
Hitachi Visualization Suite 4.5 software with Predictive Crime Analytics and Hitachi Visualization Platform solutions are available now. For more information, visit https://www.hds.com/solutions/social-innovation/public-safety.html