Dimension Data's Hybrid Cloud event with AWS and VMware
Dimension Data, Amazon Web Services and VMware team up to […]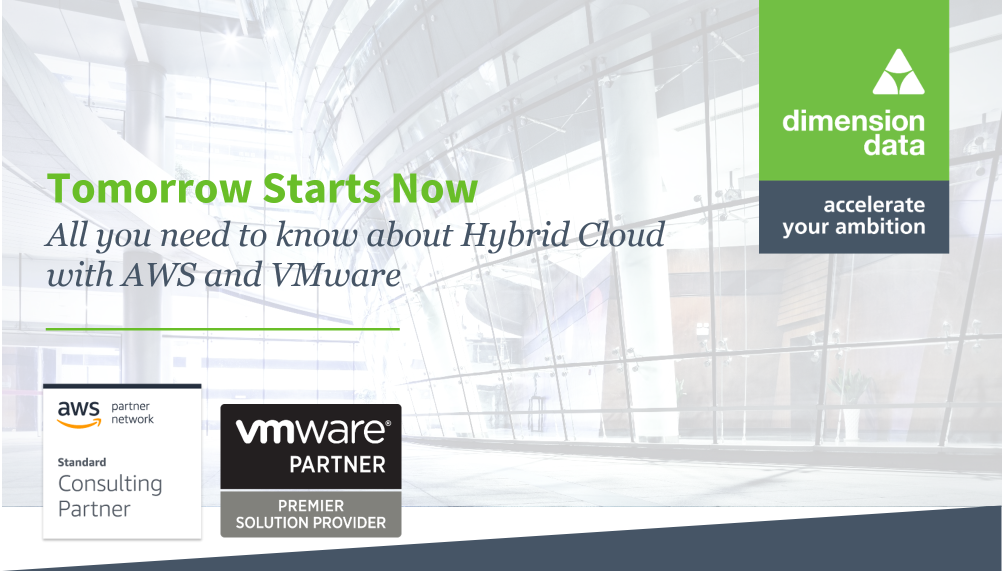 Dimension Data, Amazon Web Services and VMware team up to present "Tomorrow Starts Now: All you need to know about Hybrid Cloud" on 7 February (09.00-14.00) at Melia Luxembourg.
Disruptive New Year
The first session of the event, delivered by Michael Mossal (Dimension Data) is covering the topic of what's changing 2018 for CIOs in Luxembourg due to public cloud services. Pubic Cloud Services are available and mature. Hybrid Cloud solutions become reality with VMware Cloud on AWS. Regulators are opening up their framework towards Public Cloud Services with the CSSF Circular on cloud computing & the European Banking Law. This leads to an incredible amount of changes that will all be addressed in the introduction of the event.
VMware Cloud on AWS
This session will focus on making hybrid IT a reality, going through the new way to open up your current Datacentre to the pubic cloud. Charles Thise (VMware) will talk about cost savings, leveraging VSphere investment and reduced risk associated with a new operating model for legacy workloads. But there is much more than Lift and Shift migration. VMware Cloud on AWS removes the complexity of private network integration with AWS by placing workloads within the same data centre as other AWS products. By that it becomes easy to use the tremendous and competitive world of AWS public cloud services. APIs for VMware and AWS work hand in hand. VMware recently gave the example of using Amazon Elastic Block Storage (EBS) as a storage provider to VSAN inside of VMware Cloud on AWS but especially all cases around Databases and Deep Learning, obvious when it comes down to define Hybrid Cloud use cases.
Customer Reference Case: Big and Fast Data
Data Essential defines its mission as enabling customers to build a new class of applications, leveraging big and fast data as well as native cloud infrastructure. Data Essential selected AWS as platform for their customer lab and training environments. Even important names from the financial sector in Luxembourg trust the Data Essentials platform when it comes down to develop innovative ideas and shape the future of their business strategy around extraction of knowledge from their data. Jonathan Basse's speech will focus on Modern Data Architecture, Big Data and Analytics.
News from Re-Invent in Las Vegas
Disruptive announcements were made at AWS's conference, which left the entire IT world breathless. Dan Vultur from Amazon Web Services will introduce some of the news during the event.
VMware Cloud on AWS Demo 
Dimension Data teased this last year when we provided the first demo of VMware Cloud on AWS in Luxembourg. As announced in the first event of the series, we now go much beyond that and Benjamin Degand (Dimension Data), will demo some exciting use cases. We do not have to rely any longer on video recordings as we got as a first partner an exclusive access by VMware to the real VMware Cloud on AWS environment. If you want to learn how to build a simple application for self-service virtual machine creation based on VMware Cloud on AWS, AWS Lambda, Amazon Cognito and Amazon S3; If you want to know how to use AWS Cloud Watch events firing up a Lambda function every day to query VCenter for Inventory information, that is then posted into a Slack channel; If you want to see how to create VMware Virtual Machines in AWS based on Alexa Voice Recognition; if you want to ask Alexa about the health state of your VMware environment; Or if you are simply just curious to see the future then… you should be there!
Fireside Chat
Further to the success of our last event, we will have all the speakers plus two other experts, Ulf Theobald (JOIN) and Gilles Chekroun (VMware Europe), teaming up in an exciting discussion around FAQ. Become part of it and bring your stories to the table. We have the ambition to answer even the most difficult questions!
Go here to learn more about the new partnership between Dimension Data and Amazon Web Services.
Click here to register for the event.