Dimension Data also certified as European and Global Top Employer
Dimension Data, the USD 8 billion global technology integrator and managed services provider, has been certified as Top Employer Europe and Global by the Top Employers Institute for the fourth year running.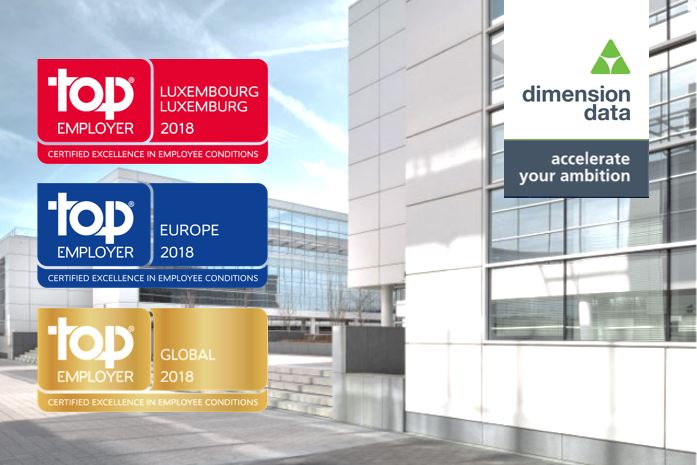 The Top Employer certification was obtained in 31 countries across five regions. In Europe, besides Luxembourg, there are another 11 Dimension Data countries that obtained the prestigious label:  Austria, Belgium, Czech Republic, France, Germany, Italy, Netherlands, Poland, Spain, Switzerland and the UK.
Andrew Coulsen, CEO Europe for Dimension Data, said: "Our success is due to our great people, and we truly believe that. This certification is testament to the emphasis we have as a company to continually strive to make Dimension Data a great place to work."
Olivier Posty, Country Manager for Dimension Data Luxembourg added: "Dimension Data is in a unique position to be able to offer its people to build their careers with a local and global top employer recognised for the best working environment in Luxembourg and worldwide. We offer talents to be part of a diverse and global team, working to help great clients do really innovative projects. Dimension Data's success lies in the success of the people we believe in, support, and nurture."
The Top Employers Institute, an independent global certification organisation, measures excellence in the conditions that hundreds of companies around the world create for their people including Talent Strategy, Workforce Planning, On-boarding, Learning and Development, Performance Management, Leadership Development, Career and Succession Management, Compensation and Benefits, and Culture. The results are audited by a third party to ensure the integrity of the Institute's process.
Follow Dimension Data Luxembourg on LinkedIn for the latest job opportunities.