Devoteam x Reforest'Action – Our Blossom Engagement
Devoteam gives superpowers to its newcomers by inviting them to protect biodiversity, fight against climate change and offset their carbon impact.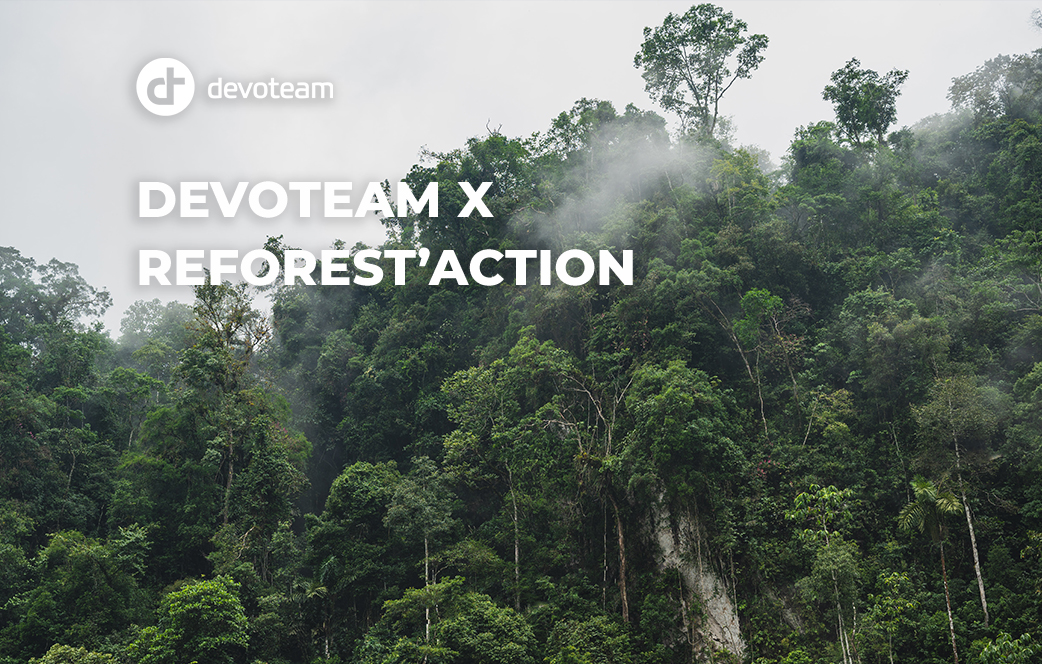 Environment and more precisely climate are major issues of our century. Scientists alert governments, associations, societies, and companies to change their way of producing and consuming. Today people commit more and more to make the planet green again and so does Devoteam. All individuals have a carbon footprint and Devoteam is responsible for the carbon emitted by its collaborators during their daily work activity. The average carbon footprint generated by one Devoteamer is 1.42 tons of CO2 per year and planting 1 tree permits to compensate for 10% of this footprint.
Therefore, Devoteam offers trees to plant for each recruitment via its partner Reforest Action's website, in one of the world's forests of the choice of the newly hired person. The goal is to show newcomers, on the one hand, that Devoteam is a company that tries to answer global issues and on the other hand, to give them the possibility to be actors of the society by planting trees.
At Devoteam, we believe in the power of technology and the potential of people to amplify and scale actions with positive societal impacts, reforestation being one of them. We encourage our employees to act for the environment & strengthen Devoteam's sustainable development policy, working as a team. Reforestation is one of the environmental causes close to the company's heart. It promotes biodiversity and fights against climate change thanks to the compensation of CO2 emissions produced by trees.
Finally, these seeds and trees, are the symbol of the new collaborations that Devoteam wants to grow and see flourish thanks to personalized follow-up and initiatives (career support, training, etc.). We are committed to making sure that each new Devoteamer has everything he needs to literally grow his/her roots within the company. We want our newcomers to blossom & thrive in both their professional & personal lives. Offering a tree is a symbol of the sustainability of the relationship we want to start with our new collaborators. We welcome our newcomers for a long-lasting adventure (as long as a tree lifespan)!
We hope our Devoteamers will identify themselves as well as their own social engagements through this initiative.  We want to raise awareness and make them responsible actors of the environment.
Devoteam's " Blossom Engagement " initiative, initially launched in its headquarter in Paris end of 2018 and started in Luxembourg in September 2019. Since then, more than 80 trees have been planted in the world's forests. This has an impact on the climate (46,320 kilometers by car compensated), biodiversity (240 shelters created), health (320 months of oxygen generated), and employment (80 hours of work).