Devoteam Training Institute is organizing a MasterClass "Windows PowerShell Version 4 & 5
Following the high interest for our last two courses 10961- Automating Administration with Windows PowerShell, Devoteam Training Institute is organizing a MasterClass "Windows PowerShell Version 4 & 5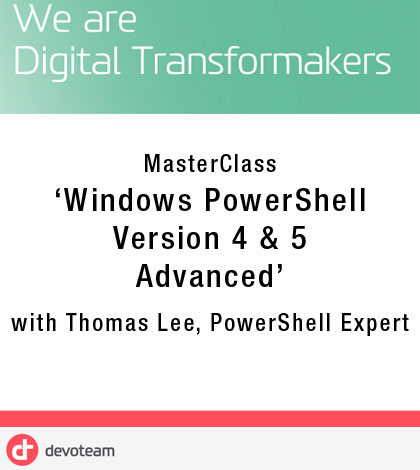 Every Microsoft System Administrator looks for ways to ease their workloads, to automate processes and to fulfil tasks more efficiently.
PowerShell is the strategic Microsoft task automation engine that enable all these things. This key component is fully part of all newer versions of Microsoft products. Even 3rd party firms like VMware, Symantec, Cisco and EMC support PowerShell.
Every IT Pro needs to have a good working knowledge of PowerShell
Following the high interest for our last two courses 10961- Automating Administration with Windows PowerShell, Devoteam Training Institute is organizing a MasterClass "Windows PowerShell Version 4 & 5
Advanced " with Thomas Lee,  PowerShell Expert.
When? From Monday 25thJanuary to Thursday 28th January
Duration: 4 days
Language? In English
Price: 2.295 € ex vat
Thomas has been involved in PowerShell and the community since it was first publically introduced in 2003. He has been awarded the MVP – Microsoft Most Valuable Professional award 17 out of the past 18 years.
This course takes your basic PowerShell skill set to the next level as we do deep dives into PowerShell and the underlying technologies.
For more info and registration, please contact us :
Vanessa Mameri
Training Manager