CTG IT Solutions reconnue Première Société où travailler au Luxembourg
Pour sa toute première participation, CTG IT Solutions, filiale du groupe CTG au service des Institutions Européennes, s'est classée au 1er rang des sociétés labellisées Great Place To Work lors de la cérémonie annuelle organisée ce jeudi 3 juin. Une performance exceptionnelle qui démontre un souci constant du bien-être de ses employés, d'autant plus en temps de crise Covid.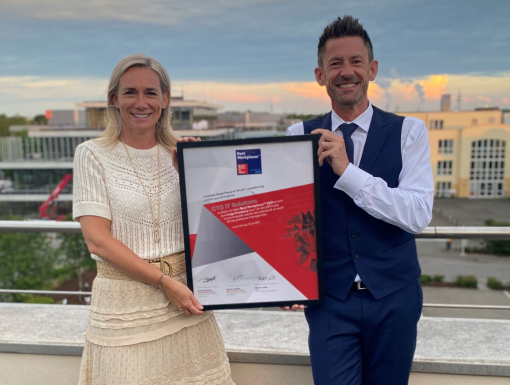 Offrir des conditions de travail épanouissantes est l'un des principaux objectifs poursuivis par CTG IT Solutions, filiale du groupe CTG active auprès des Institutions Européennes. « 94% des employés considèrent que CTG IT Solutions est une entreprise où il fait bon travailler », se félicite Stéphanie Hayart, HR Director de l'entreprise qui compte 167 collaborateurs au Luxembourg et 48 en Belgique. « D'importants efforts sont consentis quotidiennement pour y parvenir et c'est donc une énorme fierté de voir ce travail reconnu par une institution tierce. »
Ce jeudi, en étant désigné 1ère société où il est le plus agréable de travailler au Luxembourg, CTG IT Solutions a vu son important travail de fond reconnu par ses pairs.
Le respect et l'épanouissement, valeurs fondamentales
Depuis de nombreuses années, CTG IT Solutions place l'humain au cœur de sa politique. Le personnel y est considéré comme la ressource la plus importante. « Nous travaillons dans un marché un peu particulier qui est celui des Institutions Européennes. Nos collaborateurs travaillent sur différents sites pour y assurer le support informatique, notre cœur de métier, mais aussi d'autres missions liées au développement, au testing ou encore à l'infrastructure », explique Stéphanie Hayart. « Dans ce contexte, il est important pour nous d'être en contact régulier avec chaque collaborateur, d'obtenir son feed-back, d'aller à sa rencontre. Nos clients apprécient eux aussi cette proximité que nous entretenons avec nos équipes. »
Garder le lien, même en temps de crise
En raison de la pandémie de COVID-19, CTG IT Solutions a veillé à renforcer le lien avec les équipes, qu'elles soient en télétravail ou sur le terrain. « Pour notre gestion de la crise du Covid-19, nos collaborateurs nous donnent la note de 94 % », précise la HR Director. « Nous avons voulu être très présents durant cette période difficile. Nous avons notamment beaucoup communiqué avec chaque collaborateur afin de donner les bonnes informations et de répondre à toutes les questions le plus rapidement possible. » Cette attitude positive voulue par CTG IT Solutions a permis de renforcer des relations de travail saines et durables et de favoriser leur engagement au cœur d'une société en plein développement.
« Entre décembre 2018 et décembre 2020, le staff est passé de 125 à 205 collaborateurs. 25 % de nos recrues sont simplement recommandées par notre personnel, sur le mode de la cooptation. »  En veillant à l'épanouissement de chacun, CTG IT Solutions assure sa croissance et garantit la satisfaction de ses clients.
[toggle title ="Great Place To Work, qu'est-ce que c'est ?"] Great Place To Work est un institut actif à l'échelle mondiale qui évalue la qualité d'un lieu de travail par rapport aux relations de haute qualité qui s'y construisent. Great Place To Work aide les entreprises à améliorer leur environnement de travail et à instaurer ce type de relations. Chaque année, un label « Great Place To Work » est attribué aux sociétés qui se sont démarquées par les efforts fournis pour parvenir à un environnement de travail de meilleure qualité. [/toggle]
CTG IT Solutions Luxembourg et CTG ITS, en Belgique, sont des filiales du groupe CTG dédiées aux Institutions Européennes. Plus de 200 consultants de 25 nationalités différentes travaillent à travers l'Europe pour plusieurs Institutions prestigieuses telles que le Parlement Européen, la Commission Européenne, la Cour de justice de l'Union européenne, la Banque Européenne d'Investissement et le Comité des Régions de l'Union Européenne.
Plus d'informations ?
Contactez => Info.its@ctg.com / Jobs.its@ctg.com