Common Amcham-APSI-PwC event
Common Amcham-APSI-PwC event: Save the date, 28 september !! "Action - Reaction - Managing the first hour of an IT crisis"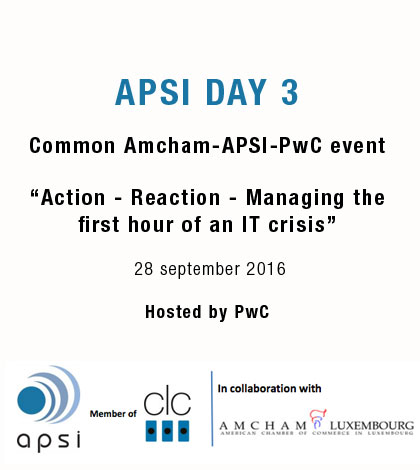 Common Amcham-APSI-PwC event: Save the date, 28 september !! "Action – Reaction – Managing the first hour of an IT crisis"
In IT Security the 1st hour after a breach is the most important hour to act. Board of directors, PR staff, IT Security officers should work together to be prepared. Why is this first hour so important and how can you be prepared? The potential damage is too high to consider this a mere IT Security issue. The upcoming event will address these aspects.
You will meet with experts and business partners that have a unique point of view on how to tackle and manage all the possible issues and consequences of an unexpected It crisis.
The event will take place at PwC (2, rue Gerhard Mercator, L-2182 Luxembourg) on 28 September 2016 at 18:00. The detailed final  program and invitations will be sent out second half of August.
But right now more informations are posted on our website, please visit it.  www.apsi.lu/apsi-amcham-event-28-september/