Claude Wagner, entrepreneur de l'année
Claude Wagner a remporté ce lundi soir le prix de l'Entrepreneur de l'Année décerné par EY.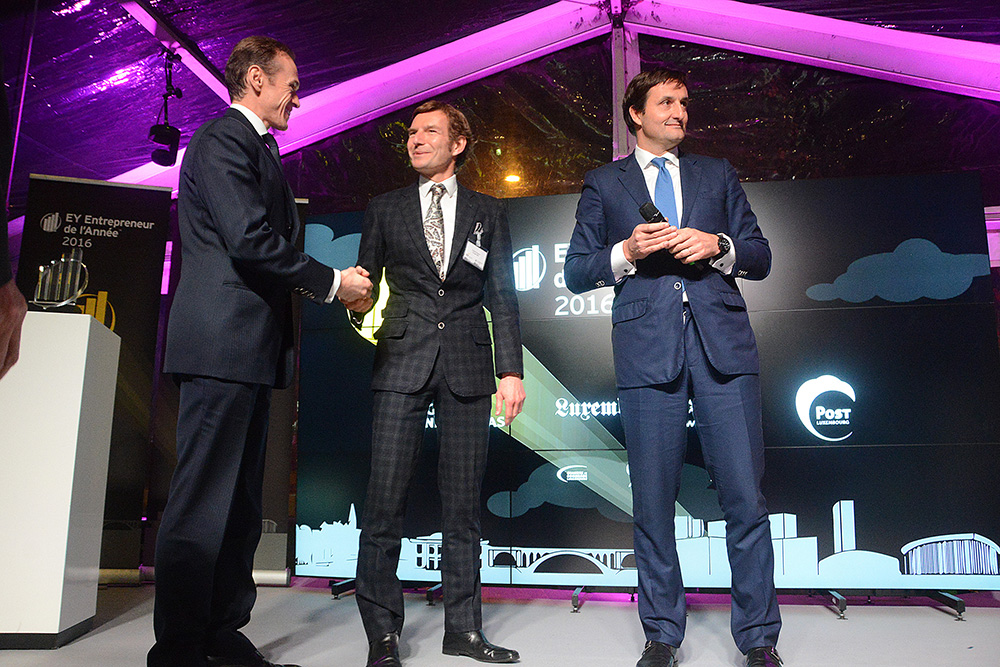 À la tête d'une vingtaine d'enseignes bien connues au Luxembourg telles que Bati C, Citabel ou Intersport, Claude Wagner a remporté ce lundi soir le prix de l'Entrepreneur de l'Année décerné par EY.
Ils étaient six finalistes à prétendre au titre de l'Entrepreneur de l'Année 2016. C'est finalement le brillant parcours de Claude Wagner, 51 ans, qui a séduit le jury présidé par Nicolas Buck, lauréat du même prix lors de la première édition du concours en 2004 et aujourd'hui président de la Fedil.
De la banque à l'entrepreneuriat
Après un début de carrière professionnelle dans le secteur bancaire, Claude Wagner se lance dans l'aventure entrepreneuriale en 1994. Il entre alors dans le capital de la société Batichimie, devenue aujourd'hui Bati C. Au fil des ans, la création de nouvelles enseignes et la reprise d'autres négoces s'enchaînent : Hoffmann-Schwall, Bâtiself, Mobilier Jardin, Intersport, Citabel, Wolf-Moritz ou encore, plus récemment, S-Cape et Poliform Varenna.
En tout, son groupe baptisé CWA rassemble une vingtaine d'entreprises spécialisées dans la construction, le bricolage, le mobilier et le sport, qui font partie des nombreuses passions de Claude Wagner.
La concurrence n'attend jamais
Ce n'est pas la première fois que Claude Wagner est candidat au prix d'Entrepreneur de l'Année d'EY. En 2004, il figurait déjà parmi les prétendants. Son parcours et son évolution, cette fois, ont suffi à convaincre le jury. S'appuyant sur des fonds propres limités à ses débuts, « Claude Wagner a réalisé un parcours exceptionnel, a déclaré Nicolas Buck au moment de la remise du titre. Il a commencé avec 2-3 millions de chiffres d'affaires, pour atteindre aujourd'hui 220 millions d'euros ». En 15 ans, il a créé en pas moins de 800 emplois. Une belle évolution qui permettra à Claude Wagner de représenter notre pays à Monaco en juin prochain lors du « World Entrepreneur of the Year ».
Claude Wagner a tenu à remercier les banquiers qui l'ont soutenu dans tous ses projets. Il a mentionné l'importance de l'équipe qui l'entoure, sa famille et ses collaborateurs. Il a également incité chaque personne qui le souhaite à avoir le courage de se lancer dans l'entrepreneuriat. « La concurrence n'attend jamais. Soyez là au bon moment, au bon endroit, soyez persévérant, vivez votre passion, votre métier et vos idées ! », a-t-il conseillé.
Des initiatives en faveur de l'IT
La cérémonie de remise de prix s'est notamment déroulée en présence de la Secrétaire d'État à l'Économie, Francine Closener. Elle a rappelé combien le Luxembourg constitue une plateforme intéressante pour les entreprises. « La force de notre pays, c'est sa diversité, ses fondements macro-économiques solides, son PIB aux performances impressionnantes. Cela nous permet de mettre en place des réformes qui renforcent la compétitivité des entreprises et le positionnement du Luxembourg au niveau international, a-t-elle expliqué. Nous adaptons en permanence notre cadre légal pour encourager l'entreprenariat ». Francine Closener a ainsi souligné les nombreuses initiatives mises en place en faveur de la diversification de l'économie, notamment dans le domaine de l'ICT.
Si un quart des candidats au titre prestigieux d'EY étaient actifs dans l'IT, aucun d'entre eux n'avait su émerger parmi les finalistes. « Le secteur, en pleine explosion, doit encore doit encore mûrir », avait précisé Yves Even, associé en charge de l'entrepreneuriat au sein du Big Four.