Trois prix pour EBRC !
Jamais deux sans trois ! EBRC a fait carton plein.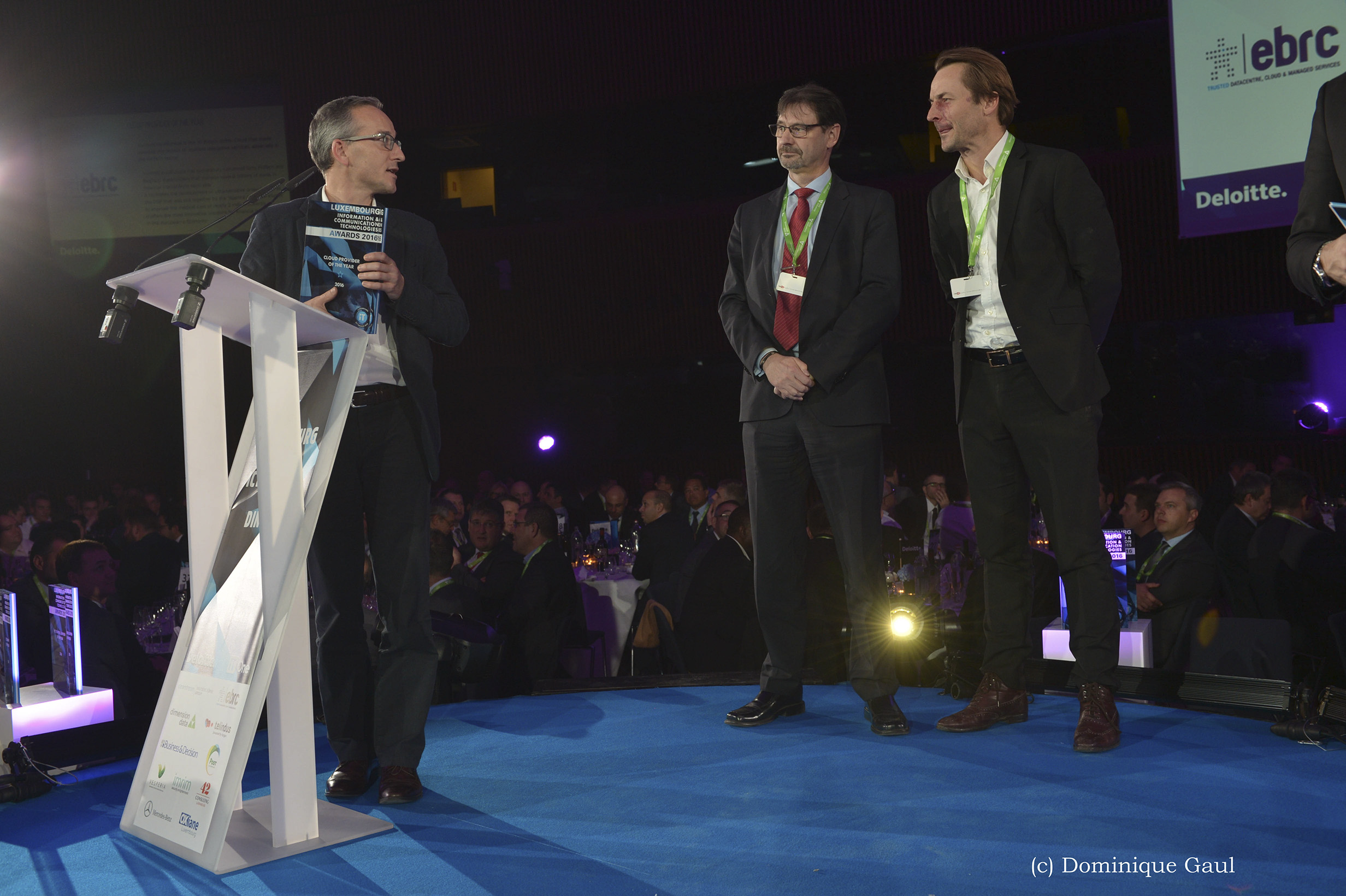 Ce premier décembre, des entreprises du secteur ICT ont vu leurs solutions 2016 récompensées. Jamais deux sans trois ! EBRC a fait carton plein.
Cloud Provider of the Year 2016: EBRC TrustedCloudEurope
La solution a rendu possible le lancement de multiples services disruptifs, notamment dans le secteur des FinTechs.
Le Jury a consacré EBRC comme business enabler dans le secteur des FinTechs. Grâce à la solution TrustedCloudEurope, ces dernières peuvent offrir des solutions de gestion de transactions financières à plus de 1 000 fournisseurs de services de paiement électronique. En réduisant les délais et en respectant les régulations strictes en vigueur, la solution Cloud d'EBRC promeut l'économie digitale, industrie désormais vitale au Grand-Duché.
 Managed Services Provider of the Year 2016: EBRC TrustedManagedServices présente
« Mission Impossible, projet sensible de mise en place – en moins de 10 mois – d'une banque en ligne servant 20 millions d'utilisateurs dans 4 pays ».
Forte de son succès en 2015, EBRC a souhaité entretenir cette dynamique. Et grâce à sa solution TrustedManagedServices, c'est aujourd'hui mission accomplie. Offrant flexibilité, sécurité et protection des données, TrustedManagedServices préserve le core business des clients d'EBRC. La cerise sur le gâteau ? L'architecture assure un haut niveau de disponibilité en mode 24/7.
IT Security Services Provider of the Year 2016: La sécurité, facilitateur de transformation
L'équilibre entre flexibilité et sécurité est entre de bonnes mains. Avec POST & EBRC, tout est sous contrôle.
« Act now, tomorrow will be too late… » Tel est le mot d'ordre de POST & EBRC. Aujourd'hui, la préoccupation principale a glissé de l'optimisation vers la transformation digitale, avec la donnée comme pierre angulaire. Pour EBRC et POST, la révolution est en marche. Ce qui compte, c'est la protection des systèmes d'informations, la sécurité de l'information sensible, le tout dans une approche client centric. Voilà où se trouvent la pérennité, l'innovation et la crédibilité de notre marché actuel. Et de demain.